Las Vegas, NV —  The re-match that everyone had been talking about exceeded the hype. And while both fighters exuded tremendous will, Canelo Alvarez walked away with the middleweight world title on Saturday. His competitor, Gennady Golovkin (GGG), left the building with the first loss of his career.
"We appreciate all of the support but we can't be hypocritical and complain about every decision we receive," said GGG's coach, Abel Sanchez. "Canelo fought a great fight tonight and we can't take that away from Canelo."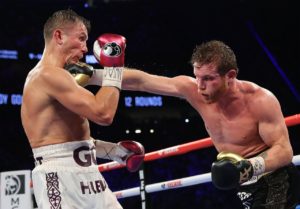 The fight went the full 12 rounds and kept going back and forth on who was dominating each round.  Both were throwing a plethora of jabs and body shots to start off the fight. Canelo was the more aggressive one in the first four rounds, which surprised everyone since the last fight he wasn't.
"I showed my victory with facts. He was the one who was backing up," said a very confident Alvarez. "I feel satisfied because I gave a great fight. It was a clear victory.
"As a fighter and a boxer, I will continue to do my job, I will continue to work and do my best," GGG stated on learning from his mistakes from Saturday night.
What ended up being such a big decision maker in the fight was how aggressive Canelo was — and how he constantly had GGG on his heels. Canelo took advantage by keeping GGG on his toes, as well as tiring down GGG. Another benefit for Canelo Saturday night was using his quickness to change the momentum of the fight.
"It was very difficult and [GGG] is a great fighter. I tried to do [the knockout], but in the end, it was a great victory for Mexico," Canelo said.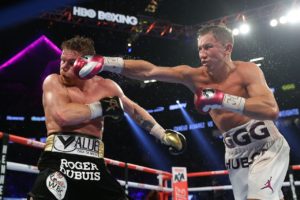 As it was a very even fight, it really came down to the decision of the three judges. One judge actually had a 114-114 score. The other two had 115-113 in favor of Canelo. If one of those judges would have been in favor of GGG, this match would have ended up in another draw.
When asked about maybe a third fight, GGG thought about it.
"Yes, of course, I would like a third fight, but we will continue to keep pushing [as a team]," he stated after the match.
At the end of the night, the fiery war between these two is not over. It may never will be.