By Ally Bechtold
New York, NY — An intense game between Orlando City and New York City FC kept over 20,000 MLS fans screaming and chanting until the very last second — even in overtime. Tension arose since the last time these two teams battled, which resulted in a 2-2 tie. On Saturday, April 27th, at Yankees Stadium in New York City, fans were in for a treat as they watched a fierce competition that once again ended in a tie between the two clubs.
Weather conditions were not the most optimal since the wind was strong for the entire game. But regardless, both teams continued to put on an aggressive attack all over the field hoping to get the advantage over its opponent. Orlando City debuted one of their most recognizable players, Nani, who set the stage (and tone) for zealous game play. Nani scored a goal in the first 18 minutes of the game.
In fact, during the first half of the game, Orlando City dominated. They came close to scoring two more goals, but just missed them.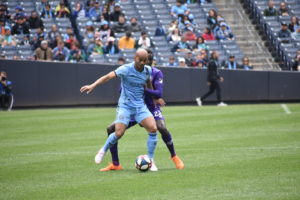 However, one goal that actually entered the net, was overturned from an offside call in the 33rd minute. Still, Orlando City remained aggressive and in control of the game with their one-point advantage, 1-0.
Even though Orlando City made a grand entrance, New York City FC was not giving up. They came back to the field after intermission making an impression that they were hungry for redemption of the first half.  During the 51st minutes, Héber Araujo dos Santos kicked in a goal that tied the score at one goal apeice.
Orlando City's half of the field was being attacked, where the teams battled for the ball mostly during the second half of the game. New York City FC took over, with a 65% possession of the ball. They accumulated a total of 15 shots with five that came extremely close to scoring.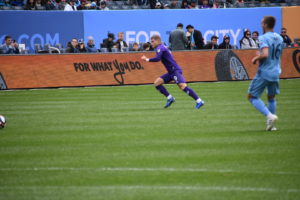 At the end of regulation though, neither team held the lead as three extra minutes were added to the game clock for overtime. Neither Orlando City, nor New York City FC refused to relaz in overtime and not one second was taken advantage of.
From the stands, you could see the expressions of both teams hunger for the winning goal and an increase in aggression as well.  In fact, three yellow cards in total were dished out during the game: two given to Orlando City, and one given to New York City FC.
Both teams did not slow down in the slightest, but were equally as powerful. New York City FC and Orlando City ended up with a tied score of 1-1, even after a three minute overtime.
New York City FC continues on its unbeaten streak of five consecutive games and will return to the field on May 4 against Montreal Impact to start its four game road trip. Orlando City will return home for its game against Toronto FC on May 4.
Podcast: Play in new window | Download