Seattle, WA — The Lady 12's Fashion show was an event that will not be forgotten! From the second I stepped into the event at Safeco Field, the environment was so friendly and full of Seahawk fans that it felt right at home to a Seattleite.
The Lady 12's fashion show supported multiple charities and even featured the "Motley Crew" which is an animal rescue that takes in over 400 animals per year! Dogs and cats were actually featured in the show which was something super unique and something that I personally loved! The fashion show had a silent auction, shopping section, DJ, and live band for entertainment for the attendees.
The fashion show itself was utterly amazing. Something that really stood out to me was all the models that designer Brandelyn Tafoya used. All the models were all different shapes and sizes and it really displayed the idea that we are all women and it doesn't matter what shape or size you are. I really loved that message and think that other companies should start to do the same thing.
One spectator shared her thoughts on the night and also voiced the versitality of the Lady 12 models.
I feel that every woman felt included within the fashion show and saw something that they could see themselves wearing. Being a fashion designer myself, I thought the look of each piece was super fun and would gravitate towards lots of people and personalities. There were some sporty tight fitting tops, and there were flowy tops as well, resulting in a look for everyone. Multiple different colors and cuts were made to show the full line and how unique it is.
A majority of tops had sequins really playing into the femininity of the line and how it represents the "Lady 12's." One look that I really loved was a pair of joggers that were blue and green and bedazzled with the famous number 3 representing the Seahawks quarterback, Russell Wilson. Not only were the looks super cute, but super versatile which is something that customers love.
After the show, I chatted with Brandelyn Tafoya about the line. With her husband being a former Seahawks player, she had the desire to create looks for female football fans that were "cuter" than the typical apparel sold online.
The entire show was a hit and really left the audience feeling connected to not only the Seahawks but the "Lady 12's" and what they stand for.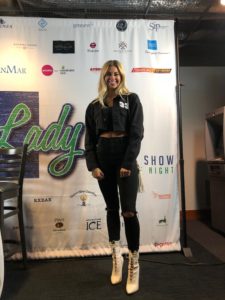 Podcast: Play in new window | Download