Aventura, FL — Yesterday, I had an amazing opportunity to attend an exclusive ribbon-cutting event for the Espacio Vogue Miami pop-up store, located on the rooftop of the Aventura Mall in Aventura, Florida.
Karla Martinez, the CEO of Vogue Mexico and Latin America, kicked off the event with her opening speech and cut the ribbon alongside the main ambassadors. The event attracted many celebrities, fashion designers, and bloggers.
Back in 2020, Espacio Vogue began as an initiative to promote Mexican and Latin American brands during the pandemic. A couple of years later, it has now become an international event.
The pop-up store is great for finding the most recent trends in design, fashion, and jewelry. This year Espacio Vogue took place in Miami, a tropical destination with Latin flavor, luxury hotels, brands, contemporary artists, and first-class gastronomic proposals.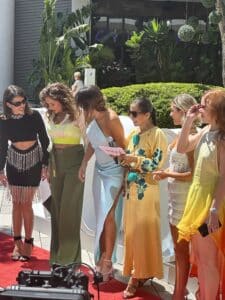 Discovering the Best of Latin American and International Talents
Espacio Vogue Miami is undoubtedly one of the hottest fashion events in Miami. The pop-up store showcases the upcoming and established designers that keep emerging to make their mark in the fashion industry. The store's carefully curated selection includes over 40 different international brands from around the world.
Some of the brands featured in the store include Xico, an eco-friendly handmade jewelry brand; Vajillas de Ultramar, a table-setting brand; and Valeria Bazante, a Colombian footwear designer who supplied me with the most beautiful and comfortable shoes I have ever worn. Her shoes are created with an intricate design process, with every pair being handmade and individually inspected for quality.
Espacio Vogue Miami pop-up store offers an ample variety of design, fashion, and jewelry pieces, all in one place. Additionally, the store is not just for women's fashion, but offers different styles and pieces for men and children as well.
Experience First-Class Fashion in Miami
Espacio Vogue Miami is an ideal destination for designers, fashion enthusiasts, and trendsetters. The pop-up store seeks to unite Miami's cultural diversity by featuring diverse brands from Latin America and around the world. Whether you are looking for chic accessories, contemporary designs, or just want to be wowed by international talent, it has something for everyone.
The event is also an excellent opportunity to connect with like-minded fashion enthusiasts, bloggers and influencers. The rooftop terrace not only offers a spectacular view of the city but also provides ample space to connect with individuals who love fashion and design.
Don't Miss Out on Espacio Vogue Miami
Espacio Vogue Miami is definitely a fashion event that you don't want to miss. The pop-up store is open from Thursday, May 4th, till Sunday, May 7, 2023. The store opens its door from 11 a.m. till 7 p.m. on all four days.
In conclusion, Espacio Vogue Miami is a fashionable extravaganza and a great way to experience the best of international fashion. From the beautiful selection of clothing, accessories, and jewelry, to the opportunity to connect with some of Miami's most fashionable people, it is an event worth attending. So, mark your calendar for the next Espacio Vogue Miami event and enjoy one of Miami's most fashionable experiences.
For more fashion coverage, follow our fashion section.