As the NFL trade deadline was reaching its end, there were some familiar faces that are now headed to different places. Many of these players were dealt with teams that are looking to make deep runs in the playoffs and hopefully a chance at the Super Bowl.
Demaryius Thomas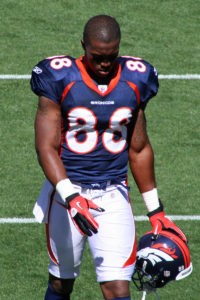 The Denver Broncos traded their star receiver, who was second on the team in receptions (36), receiving yards (402) and tied for the team lead in receiving touchdowns (three) this season, to the Houston Texans. The Broncos received a fourth-round draft pick from the Texans and both teams will swap seventh-round picks.
This was more of a salary dump for Denver and Houston needed an answer at the receiver position. In the final year of Thomas' contract (2019), the 30-year-old wide receiver was scheduled to make $17.5 million. Denver, with rookie Courtland Sutton showing promise, saw an opportunity to get from under Thomas' contract, prepare for the future and spread that money in other places where they need help instead of giving that money to Thomas.
However, Houston now has not one but two big threats at wide receiver. Thomas and DeAndre Hopkins have been two of the league's best receivers since Hopkins came into the league in 2013. Both are top 10 in receptions, receiving yards and receiving touchdowns. Deshaun Watson is now a kid in the candy store with these two at his disposal.
Golden Tate
The defending champion Philadelphia Eagles acquired Golden Tate from the Detroit Lions Tuesday. The Lions received a third-round draft pick in return. This is an Eagles team that has struggled in finding ways to score this season. Philadelphia is 4-4 on the year and ranks 21st in the NFL in points per game this season (22.3) after averaging 28.6 points per contest last year.
Nelson Agholor with 372 yards on 41 receptions this season has been the teams No. 1 target. However, no receiver on the team is averaging more than 11.8 yards per reception that has at least 15 catches. So you bring in Tate, who has 44 passes for 517 yards and three touchdowns in seven games and is averaging 73.9 receiving yards per game. Tate now gives you a consistent target in the lineup to go along side of Agholor.
Dante Fowler Jr.
The undefeated Los Angeles Rams acquired the 2016 third-overall pick in exchange for a 2019 third-round pick, 2020 fifth-round pick. Fowler now joins an already stacked defense with names that include Aaron Donald, Ndamukong Suh, Michael Brockers, Aqib Talib, Marcus Peters, and Mark Barron.
With guys like Suh and Donald, who combine for have combined for 13 of the Rams' 22 sacks you already have the inside rush figured out. Fowler now gives you a guy who can become the Rams edge rusher that they've been looking for this season. In addition, although he's had injuries and off the field issues, the Rams feel that they can make that championship push this season and feel Fowler can help make their cause.
Ha Ha Clinton-Dix
The Washington Redskins are sending a fourth-round pick to Green Bay in exchange for the veteran safety. The No. 21 overall pick in the 2014 draft is the final year of his rookie contract and expected that he wouldn't be in Green Bay for too much longer.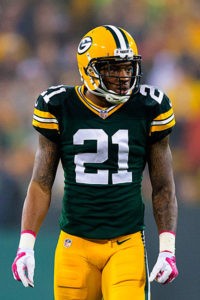 Washington probably felt that this is a move that will help them in the second half of the year. They're first place in the East at 5-2 and have an opportunity to win the division with the New York Giants, Philadelphia Eagles and Dallas Cowboys not being all that great this season.
The Redskins have had a solid defense this year who ranks top five in total defense in yards per game (322.4) and do a good job stopping the run, allowing 80.1 rushing yards per game. Clinton-Dix in his young career has 378 tackles, 25 passes defended, 14 interceptions, 5.5 sacks, and three forced fumbles.
Washington, according to the Pro Football Focus, now has two of the top three safeties in the NFL in D.J. Swearinger and now Clinton-Dix. This could be a team to be reckoned with come the second half of the year, especially on the defensive side of the ball.
Ty Montgomery
 The Baltimore Ravens received the Green Bay Packers' running back in exchange for 2020 seventh-round draft pick.
Baltimore was on the lookout for a running back as the team worked out five running backs Friday. When Montgomery was made available after essentially pissing off Aaron Rodgers and the Mike McCarthy, the Ravens as a great opportunity to get some help in their rushing attack which hasn't been all that great as they rank towards the bottom half of the league and their running backs have failed to convert a run over 20 yards.
Montgomery could be a nice option for Baltimore and he's a back that can both run and catch the football. Montgomery's recorded 1,676 yards from scrimmage (849 rushing on 177 attempts and 827 receiving on 97 catches) during his career and has scored 10 touchdowns (seven rushing and three receiving).
Amari Cooper
Amari Cooper, who was traded last week, was the only player that was swapped for a first round pick this season. Dallas Cowboys quarterback Dak Prescott said they didn't need a No. 1 receiver after the Dallas Cowboys let go of Dez Bryant last season. That hasn't worked out so far this year as the team ranks 29th in passing yards per game (183.1).
You can make the argument that Dallas overpaid for Cooper. Yes, is only 24 and the Cowboys believe he's a "proven" talent, but his numbers say otherwise. He's only had 22 receptions, 280 yards, and one touchdown this season and hasn't had 10 touchdowns in a season since entering the league. Is this is the guy you want as your No. 1?
Dallas made a desperate move for a guy that could turn out to be a nice player and is without question their No. 1 option in Dallas. However, the price they got him for… should've been a lot cheaper. Not saying he isn't great or has potential, but he's not worth a first-round pick. However, hopefully, a change of scenery brings out a different Cooper for the second half of the year.
Other trades this season included:
Damon Harrison (Detroit Lions from New York Giants)
Eli Apple (New Orleans Saints from New York Giants)
Carlos Hyde (Jacksonville Jaguars from Cleveland Browns)
Josh Gordon (New England Patriots from Cleveland Browns)