Springfield, MO — The Missouri State Bears (4-3) fell short, 31-14, against the Western Illinois Leathernecks (3-4) in their homecoming game on Saturday.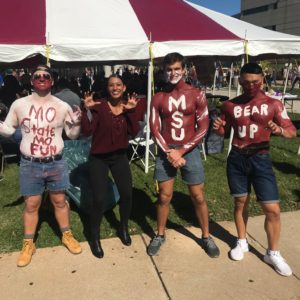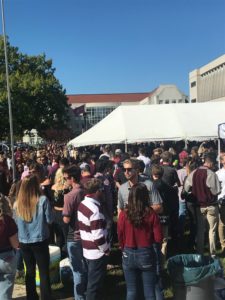 Fans began trickling on to Missouri State's campus around 10:30 AM to secure their tailgating spots for the 2018 homecoming game versus Western Illinois. The smell of barbecue was in the air and fans enjoyed nice, cold drinks out of the cooler while they waited for the game to begin. Seeing fans tailgate on campus was not always a thing you know.
Once upon a time, Missouri State was a dry campus and tailgating was forbidden on the grounds. University President Clifton M. Smart fought for a wet-campus in hopes that tailgating practices would attract more football fans to come out and support the Bears.
"President Smart really pushed for rules that allowed tailgating on campus," said Senior Associate Athletic Director Casey Hunt. "People have really taken to it and have been coming out."
Heading into Saturday's game, the Bears had a 4-2 overall record with only one loss in conference play. With about four minutes to go in the first quarter, the Leathernecks' wide receiver John Brunner caught a 13-yard pass from quarterback Sean McGuire for a touchdown. The Bears responded quickly as star tight end Jordan Murray and quarterback Peyton Husling completed their own touchdown pass to end the period.
Western Illinois scored three points just before the half off of a 31-yard field goal taken by Sam Crosa. The visiting team held a slight lead, 10-7.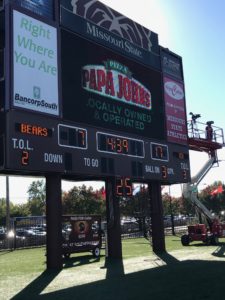 Missouri State looked a little relaxed starting the second half and Western Illinois took advantage of the change in energy. With under five minutes to go in the third period, the Leathernecks scored a 52-yard passing touchdown. From there, Western Illinois didn't let up as the Leathernecks struck again early in the fourth quarter scoring off running back Steve McShane's 37-yard run. At this point in the game, Western Illinois was up 24-7.
The Bears looked defeated but quickly made things interesting again when running back Jeremiah Wilson ran 92 yards for a touchdown off of a kick return bringing the game to 24-14. Western Illinois sealed the deal with a 71-yard passing touchdown with a little under five minutes left in the game to conclude a final score of 31-14 Leathernecks.
Missouri State players McNeese Egbim and Jordan Murray contributed their team's loss to a lack of execution.
"A lot of sloppiness on both ends, especially from my side (defense)," said Egbim. When asked about what the Bears could have done differently, Egbim emphasized the importance of knowing the plays and sticking to the game plan.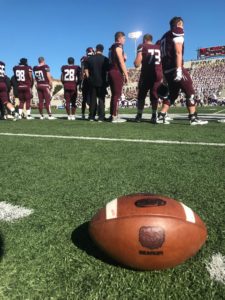 "We just didn't execute honestly," Murray continued after Egbim. "We have to go out there and execute and do what we do, and we didn't do that. We just didn't play up to the standard we expected to."
It is safe to say that Bears Head Coach Dave Steckel agreed as well.
"We got out coached. We got outplayed. We got out-executed, and all those are my responsibility. We went in with a great plan; we didn't execute the plan. We didn't coach the plan. We didn't make enough adjustments."
Missouri State struggled to convert on third down possessions on offense and defense all game. Coach Steckel was aware and extremely unpleased.
"Third downs were embarrassing on both sides of the ball. We didn't execute, we didn't stop them, and we didn't get past the sticks."
When Coach Steckel was asked what it is he would be taking away from this loss into next week's game he said they would "look at the video" and "get back to the fundamentals" with the team.
The Missouri State Bears will be looking for some home redemption against Southern Illinois University next week in Robert W. Plaster Stadium. They will fight for their third MVFC season win on Saturday, Oct. 27 at 2 PM Central.