Las Vegas, NV — With a crowd of 2,782 fans at the MGM's Park Theater, the underdog fighter took over the ring tonight. Rob Brant was the challenger against champion Ryota Murata. But, Saturday night, Brant left the ring as a new champion and with his head held high. The Minnesota native proved everyone wrong and now stands as the WBA Middleweight champion by unanimous decision.
"I am a firm believer you have to beat the champion," said Brant who is very happy to see his hard work has paid off. Even though Brant entered the match as the underdog, he fought with an intensity and focused like no other. He knew he deserved to be in the ring with Murata and his fight never let up.
Brant started off the match as the more aggressive fighter where Murata stayed back and tried to play more defensively. Brant threw 1,262 punches compared to Murata, who threw 774. To no one's surprise, Brant landed 356 of his punches whereas Murata only landed 180.
"I wasn't thinking about punch output. I was thinking about winning," shared Brant after the fight.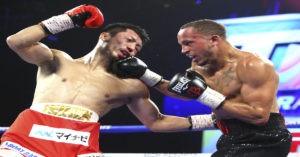 In the fifth round, the crowd was on their feet. Both fighters were heated and were getting confident about their skills. As for Brant, he knew that he had to take each round like it was its own.
"I learned a lot. In every round you have to do everything to win because if you stay back and try to hold on to your unbeaten record you will lose a fight," Brant reflected on after the fight. "You aren't doing everything you could be doing."
While Murata, the 2012 gold medalist for his native country of Japan, didn't find a way to win, he didn't give up and showed much resilience.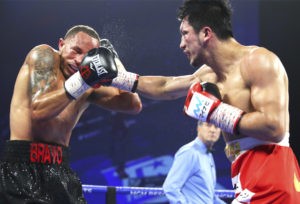 "This was a great middleweight championship fight," said Top Rank CEO Bob Arum. "Both fighters showed tremendous heart. Congratulations to the new champion. He deserved to win."
The fighters will both go their separate ways, but there is much on the road ahead.
"I say this [about the win] like I'm content but the journey keeps going," Brant said.