Las Vegas, NV — The middleweight title showdown. A debut headliner. In Las Vegas. It doesn't get much better than that. Ryota Murata and Rob "Bravo" Brant are ready to fight it out this weekend on Oct. 17th at MGM's Park Theater at 10:30 p.m. ET.
Murata (14-1, 11 KOs) from Japan, is making his debut as a Las Vegas headliner. He is looking to defend his WBA middleweight title against Brant (23-1, 16 KOs).
"I am honored to be here in Las Vegas. I want to show everyone a great fight. Brant is a great fighter, and beating him would mean a lot for my career," Murata stated on media day.
Even though this is Murata's first time headlining a fight in Las Vegas, he has a resume that stands out to his competition. He was a 2012 Olympic gold medalist for his home country – a huge deal – and despite having fought less than his competitor, Brant is expecting nothing short of a championship fight.
"This is definitely the best I've ever felt," Brant explain, "I've been in Las Vegas for eight weeks preparing for this fight. Murata is a champion and an Olympic gold medalist, so I know I will have to be at my best."
Despite Brant and Murata not stepping in the ring yet to fight, many spectators are already questioning Murata on fighting against Canelo or Glolvkin next. Yet, the defending WBA middleweight champ isn't worried about future fights, but the one coming up on Saturday.
"Everything will happen after the result of this fight, so I'm not thinking ahead. I am looking forward to getting the victory on Saturday. I am happy to be a headliner, but there is more to come. I think there are bigger and better fights for me. This is just the start," Murata stated earlier this week.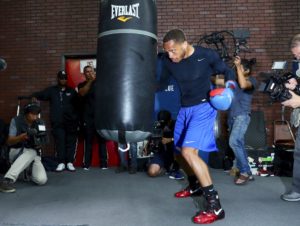 On the opposing side, Brant does believe his preparation will lead him to hold the middleweight championship belt after a victory.
"I have the utmost respect for Murata as a fighter, but this is my time to shine. I have worked so hard for this opportunity. It's a dream come true to fight for a world title, and it's in the Mecca of Boxing, Las Vegas. It doesn't get better than that."
The entire fight night will be streamed live on ESPN+ beginning at 7 p.m. ET on Oct. 20th in Las Vegas.