Dallas, TX — As fans filled the American Airlines Center an hour before the Dallas and Minnesota game, there was a flurry of excitement tucked in the corners waiting for players to sign basketballs.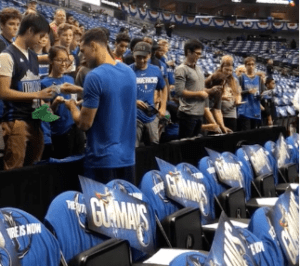 Then there was the sea of blue "The Future is Now" shirts that was placed on every seat in the arena, that fans were putting on. It's a statement that exudes excitement and optimism that Coach Carlisle and company have stood by. But now, Dallas fans did their part to amp up the energy to kick off the first regular season home game.
The first quarter got off to a rocky start for Dallas. The Minnesota Timberwolves seemingly exhibited the NBA's evolution of three-point shooting by going 6-of-8 from the arc. As the period went on, Minnesota continued to exploit the Mavericks lack of transitional defense. By the conclusion of the first 12 minutes of the game, Minnesota had the lead, 46-37.
"We had a really disastrous first quarter, defensively, giving up 46… I [don't think] any Mavericks team has ever done that," Carlisle stated.
Unfortunately for Dallas, Dirk Nowitzki and Harrison Barnes were benched for the game dealing with injuries. Coach Carlisle had to call in reinforcements to create some momentum.
One player who did bring the energy was DeAndre Jordan. The starting center managed to get five blocks that brought the crowd their feet. With excitement overflowing, Jordan even walked over to a fan and gave them a high-five after completing one.
While Jordan was able to create some havoc in the paint, rookie Luka Doncic shook off his first quarter jitters and drilled two back-to-back triples to tie the game, 56-56 in the second. After much back and forth play, JJ Barea's stealthy assist to Jordan in the second frame, gave the Mavericks their first lead in the period with three minutes and 19 seconds left before intermission.
Although Minnesota had a strong start out of the gate, Dallas caught up and was tied at intermission, 69 apiece.
Still, in the third stanza, Minnesota never took its foot off the gas in transition. Derrick Rose and Karl Anthony-Towns scored 28 of Minnesota's 30 points.
Despite the Timberwolves high scoring offense being a handful, there were some unsung heroes found for Dallas. Dwight Powell and Wesley Matthew both played big role. Powell snagged six rebounds, 19 points in 17 minutes of play off the bench, while Matthews scored three crucial three pointers in the fourth quarter.
All in all, the game was a high scoring affair with lots of energy from the players and crowd. Thanks to clutch performances from the Mavericks' rookies and veterans, Dallas took home a 140-136 victory.
"A game like tonight, you cannot be thinking or looking at statistics. You got to stay in it," Coach Carlisle explained on the mentality his young team needs moving forward. "The game is too long. There are too many events and too many plays. There were 108 possessions for us. You can never drop your head. And in this game if you dropped your head, there was someone there saying keep your head up and keep playing."
Powell also discussed what the team can learn from tonight's game, including cutting back on fouling: Dwight Powell Interview