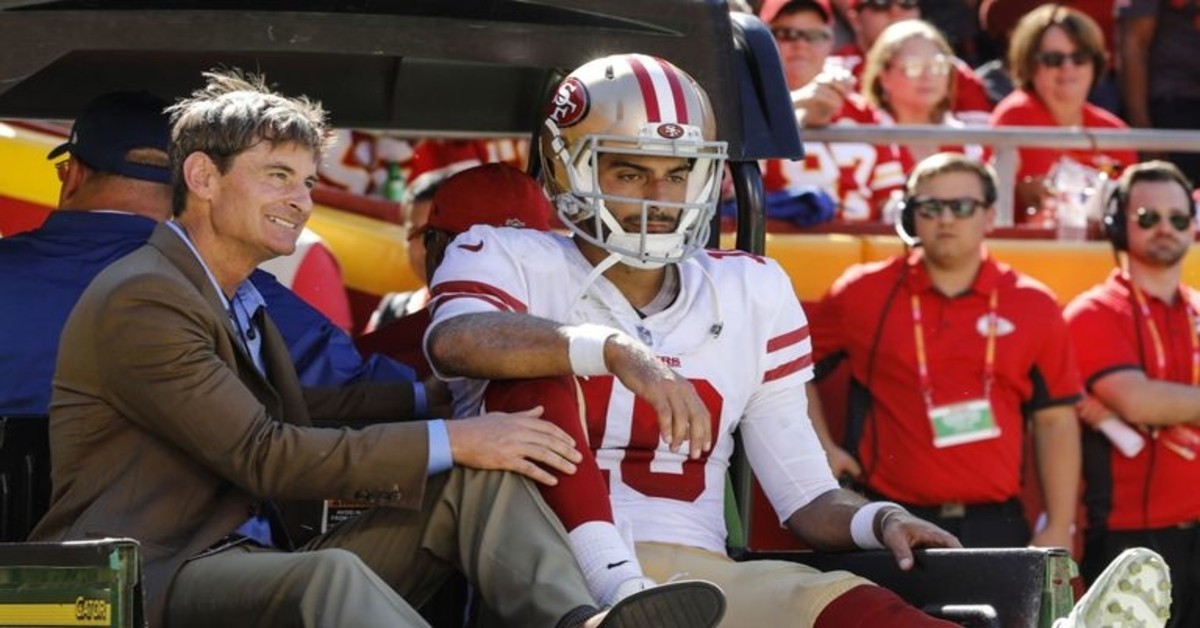 An ACL tear is a devastating injury for athletes. Unfortunately, on Sunday, two players tore theirs during their respective games. San Francisco feared yesterday its quarterback Jimmy Garoppolo tore his during the fourth quarter – today an MRI confirmed he did. Miami's Wiliam Hayes also tore his ACL during his Sunday game.
Garoppolo took an awkward step on his left leg while running from Kansas City's defense with 5:35 remaining in the game. Instead of stepping out of bounds after his scramble, Garoppolo embraced a clean hit from the Chief's cornerback before falling to the ground. After laying on the ground in pain, the quarterback eventually limped to the team's bench but then left the stadium on a cart.
Prior to his injury, Garoppolo was having a solid game going 20-of-30 for 251 yards with two touchdowns, and no interceptions.
The 49ers will now have to rely on C.J. Beatherd to step up as the starting quarterback. Last season with San Francisco, Beatherd started five games including the 49ers victory over the New York Giants.
"I have got a lot of confidence in C.J.," said 49ers' coach Kyle Shanahan. "He came in today, made a helluva throw on that fourth down. No hesitation. C.J. is a gamer. Everyone in here has a ton of respect for C.J., how he handles himself. He's a man out there, and he's a very good quarterback, and we're fortunate to have him."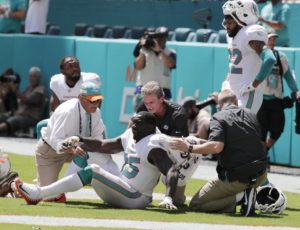 For the Dolphins' losing Hayes is also a big hit to the team's defense. Hayes was considered their best run stopper and rotational edge rusher. According to Miami's coach Adam Gase, Hayes was hurt trying to tackle Oakland's quarterback without landing directly on Derek Carr.
"He was trying to not put body weight on the quarterback. His foot got caught in the ground. It hurts. He's one of our leaders. That's going to be a tough one to swallow," shared Gase.
The league has made it a point for defenders to avoid putting their body weight on opposing team's quarterbacks or be penalized 15-yards. Players have voiced their thoughts on how the defensive line is supposed to tackle a quarterback.
In fact, San Francisco's Richard Sherman shared his thoughts on the rule from the NFL.
They don't care about the rest of us getting hurt. Long as the QB is safe https://t.co/ihjlz3lVQl

— Richard Sherman (@RSherman_25) September 24, 2018
Hayes' teammate, Akeem Spence, also addressed the issue after learning the diagnosis of his teammate's injury:
"It sucks because he was trying to protect the quarterback while still trying to make the play, and it's a double-edged sword. What do you expect us to do? We know the rule, but we don't know the ins and outs. And then I saw Clay Matthews, he had another one yesterday. What do you want the guy to do? You gotta put the guy down. How much is too much weight? What technique do you use? How do you go about it? We are still asking questions just like y'all are.

"Let's be honest, that's a difficult rule to gauge."
After his game, Matthews did not hesitate to call the NFL "soft" with the rule protecting quarterbacks.
With Hayes done for the season, Miami will now look to its 2017 first-round pick, Charles Harris, to step up.