Memphis, TN — It's safe to say that the Memphis Grizzlies are finally no longer the "Mike-Conley-less" Grizzlies. The Memphis roster is now full of rookies, newcomers, veterans…all of the above. It's time to embrace the new potential and put together all the moving parts.
After being out for eight months and only playing in 12 games last season, star point guard Mike Conley is done being looked at as the player that everyone says is "injury prone." In fact, he fuels that fire by seeing it as motivation now.
Head Coach J.B. Bickerstaff stressed that he's as done as Conley is with all the injury talk as well.
"He looks as quick as he's been and as shifty as he's been. His shot looks great, his body looks good, and I couldn't be more excited about where he is right now," Bickerstaff said.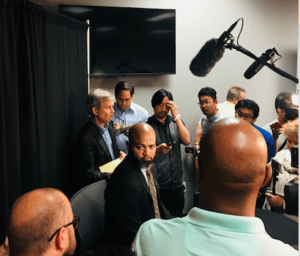 Bickerstaff isn't the only one who can't wait to have a veteran like Conley back on the FedEx Forum court. Players like Chandler Parsons, rookie Jaren Jackson Jr., and Marc Gasol all spoke highly of the things Conley can do this season for the team.
"To see Mike healthy and see him moving the way he's moving, and just to see him smile: nobody's more happy than me. Trust me," Gasol said.
Conley has played 12 seasons in the NBA and is focusing most of his attention on the future.
"To come back, show the world, and wake them up again in order for them to understand that I'm not that guy from last year that was hobbling around," Conley stated.
Perhaps the other hot topic surrounding Memphis Grizzlies Basketball is: how will the newcomers mesh with the highly accolated veterans?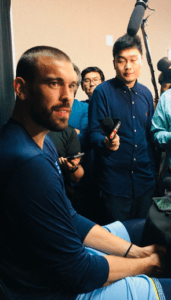 Gasol explained that the age discrepancy, new minds, and new ideas have helped the team so far build that good relationship that was lacking last season.
"The new swag on the team is fun, I love it, and I think we needed it. There are many different ways to do things, and having Jaren (Jackson Jr.) around and the other young guys… it's good as long as they have the mindset of winning, improving, and the growth mindset."
Bickerstaff is even included in the newcomer conversation. He may not be new to the Grizzlies organization, but he is fairly new in the head coach position.
Bickerstaff said that having the summer to put together his staff, who he thinks is going to be together for a long time, has been one of the best parts about being the official head coach.
As far as the challenge to this year, it's figuring out how to put together all the moving parts into a cohesive unit. Bickerstaff explained that training camp will be a huge part of seeing where everyone is at, but it also has a lot to do with the guys he picked out to be on the team.
"We put together guys who have extremely high IQ and have the ability to pick up things quickly. When you get a group of guys like that together, you don't have to take baby steps," Bickerstaff shared.
He also stressed that because he put together a group of guys who are very unselfish, it prevents having to break down any walls or bad habits going into this season.
The Grizzlies will hold its 2018 training camp in Memphis from September 25-28. The full-team scrimmage will be the first look at the 2018-2019 Memphis Grizzlies, including Jackson Jr.
https://www.instagram.com/p/BoHXaqch25Z/?taken-by=theballout