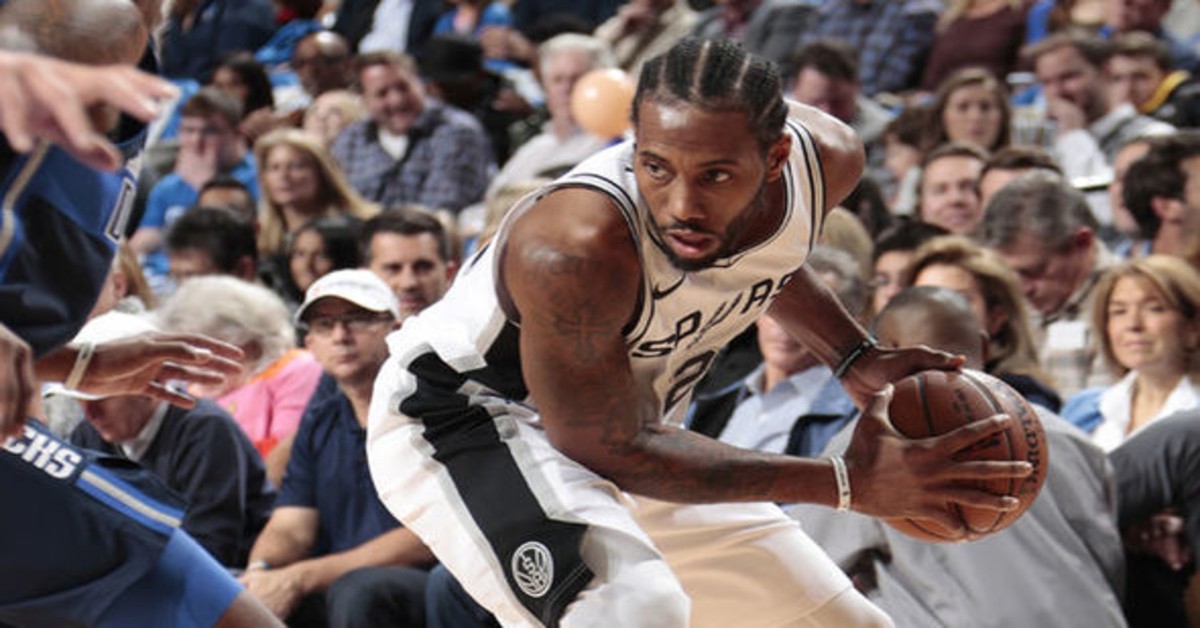 The NBA summer went from hot to scorching on Wednesday morning.
Around 8:30 a.m. EST, Adrian Wojnarowski of ESPN reported that the San Antonio Spurs and Toronto Raptors agreed in principle to a trade that will shake the Eastern and Western Conference for the immediate future:
Spurs have agree to trade Kawhi Leonard and Danny Green to Toronto for DeMar DeRozan, Jakob Poeltl and a protected 2019 first-round pick, league sources tell ESPN. Trade call with league office is starting shortly.

— Adrian Wojnarowski (@wojespn) July 18, 2018
The protected pick, as reported by Wojnarowski, is protected 1-20. If the Spurs choose not to cash it in this year, then the pick will become two second-round picks in 2020.
This blockbuster trade is definitely one that a lot of people didn't expect. While the Spurs and Leonard have been at odds since March, there was never an inclination from Toronto that DeRozan would be made available in a trade. However, there are multiple reasons that this deal was made. And we'll break them down the best we can here.
SAN ANTONIO MADE THE BEST MOVE POSSIBLE
Ever since Kawhi Leonard's camp put out the word that he no longer wanted to be in San Antonio after disagreements about the severity of his quad injury caused a falling out, there had been multiple teams that reach out to the Spurs for his services.
The team that had been most linked to Leonard was the Los Angeles Lakers, whom Leonard and his team had said all along was his preferred destination. The Boston Celtics and Philadelphia 76ers were also seriously interested. The Spurs made clear what they wanted in any deal for Leonard: a package of draft picks and young players, using the 2017 trades of Kyrie Irving and Paul George as a baseline for what they were expecting.
Boston just made the Eastern Conference Finals and was one game away from dethroning the Cleveland Cavaliers as the best team in the East; getting Leonard would have only made them better. However, the prospect of having to get rid of one of their young stars in Jaylen Brown, Jayson Tatum or Terry Rozier along with their stockpile of draft picks was a deal killer. Philadelphia was in a similar situation: they were not willing to part with any of their main core (Ben Simmons, Joel Embiid, and Markelle Fultz) just for a potential one-year rental.
The Lakers were the team that had the most to win from this deal, but also lost a lot of leverage when they let Julius Randle go to the New Orleans Pelicans. They could've offered Randle, a couple of future first-round picks and either Brandon Ingram or 2018 Summer League MVP Josh Hart, and they probably could've pulled this trade off. But ultimately, they may have made the same mistake that they last season, and that's not being aggressive enough. In 2017, when Paul George made it clear he wanted out of Indiana so he could go to the Lakers in 2018, they didn't make a serious offer to the Pacers. Ultimately, George was traded to the Oklahoma City Thunder and re-signed with them this summer.
They most likely assumed that because Leonard only has one year left on his contract and he wants to be a Laker anyway, it wasn't worth giving up their young players or assets for. That being said, if Leonard doesn't end up a Laker going into the 2019-2020 season, we'll all be looking back at this trade and asking Lakers management why they didn't go all-out.
2. LEONARD AND HIS CAMP MISPLAYED THEIR HAND
We hear this all the time when talking about contract negotiations and the NBA: unless the player is a free agent, the initial team has all the leverage. This couldn't have been any more true for the San Antonio Spurs.
Sure, Leonard reportedly threatened to sit out this upcoming season. And for all we know, Leonard may have followed through with it. But ultimately, the Spurs held all the leverage: they still had Leonard under contract for one more season and didn't have to trade him, especially if they weren't going to get back anything that was close to what an MVP-caliber player like Leonard is worth.
On top of that, if anything, you could look at the trade to Toronto as sending a message not only to Leonard, but to other players: it doesn't matter who you want to play for. If a team has your rights, they can send you to wherever they feel they will get the most value…even if it's to a team you don't want to play for, as is the case with Leonard.
Now, the Spurs get back a serviceable backup center in Poeltl, a dependable scoring threat in DeRozan (23 PPG last season), and a first-round pick that could net a potential sleeper.
3. DID TORONTO MAKE THE RIGHT MOVE?
The general consensus in any trade is that if you have an MVP-caliber player available on the market, you do whatever it takes to make that move. But does that mean that it is the right move?
That is going to be the question that the Toronto Raptors will have to ask themselves not only this season, but potentially longer.
With DeMar DeRozan, the Raptors finally had a player they could call their own. DeRozan not only embraced the Toronto lifestyle, but chose to stay when he could've left for greener pastures (Chris Bosh, Tracy McGrady). With DeRozan and Kyle Lowry, the Raptors had a duo that kept them consistently in playoff contention.
However, as good as that duo was, the Raptors were never able to get over the hump. In the last five seasons, the Raptors have won four Atlantic Division titles, but never capitalized on them. During that span, the Raptors have lost in the first round of the playoffs twice, in the conference semifinals twice (swept both times) and the conference finals once. And in each of those playoff collapses, both DeRozan and Lowry wilted when it mattered the most.
While it makes sense that they made the trade for Leonard, a former Finals MVP and two-time Defensive Player of the Year, the Raptors also have a history of players who refused to suit up for them. In 1998, Kenny Anderson refused to report after being traded from the Portland Trail Blazers.
Then in 2004, Alonzo Mourning never reported to the Raptors after being traded from the New Jersey Nets in the deal that shipped Vince Carter from Toronto. With the report that Leonard has no desire to play for the Raptors, will he ever suit up for them, or will he sit out for the season?
If Leonard does end up not reporting, then the Raptors are going to be in for a long season. And you can bet good money that the Toronto faithful will make sure that general manager Masai Ujiri remembers the day he traded "Mr. Toronto".