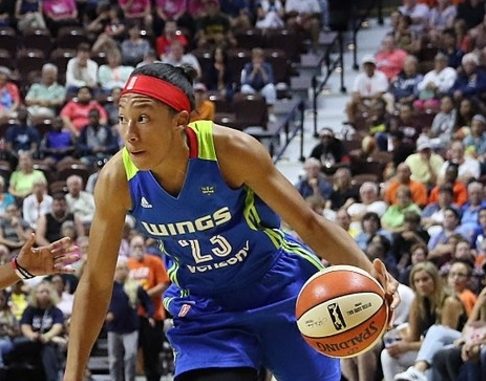 Sometimes during the middle of the season, teams decide they can no long hold on to a player and part ways. Unfortunately, that can mean being cut from the team, or traded. Luckily for Aerial Powers and Tayler Hill, the two will be suiting up for new teams the rest of the year after Dallas and Washington completed a trade involving the two.
The Wings sent Powers to Washington and acquired Hill in the transaction, as well as the Mystics' 2019 second round draft pick. Dallas also will have the option to switch their 2019 first round pick based on Washington's record.
In a press release, Dallas head coach mentioned qualities Hill will be bringing to the team.
"Tayler is an exceptional perimeter player," Head Coach Fred Williams stated in a press release. "She has great outside skills, can shoot the three, penetrate the paint, and also be a good floor general. She is a great addition to our club that will give us balanced scoring inside and out."
President & CEO Greg Bibb of the Dallas Wings also voiced his excitement to add Hill and what she can bring to the franchise.
"We are excited to add Tayler to our team. She is a proven scorer in our league who has demonstrated the ability to shoot with range while also bringing versatility to the roster in playing her natural two-guard position, but also logging minutes at the point. She can get to the rim off the dribble, she is a proficient pick-and-roll player, and she is a consummate professional. We believe the addition of Tayler Hill will help us realize our goals of qualifying for the playoffs, and ultimately competing for a WNBA Championship."
Hill could be a reliable back-up for starting point guard Skylar Diggins-Smith or even play alongside Diggins-Smith. Dallas is a high scoring team who likes to get up and down the floor. Adding Hill allows for the Wings to have another player they can outlet the ball to and push the ball up the court.
As for Washington, their addition of Powers brings another player who can play multiple positions. Powers also can be a dynamic scorer for the Mystics off the bench. Not only can she score, she's a long defender and gives Washington another player at least six-foot, whose length can be a problem for opposing teams.
"We had an overload at the guard position as Ariel Atkins has proven herself as a starter on this team," head coach Mike Thibault said. "We had an opportunity to add a bigger wing player in Aerial Powers, who is versatile enough to play positions two through four. With Tayler Hill's minutes decreasing, we thought it best to give her the opportunity to find more playing time elsewhere."
Powers has already taken to social media to express herself as she makes the move to Washington.
Washington here I come!!!????????
Thank you to all the wings fans that stuck with me from day one but it's time for a new chapter in my life. I'm so excited for a opportunity to play with the @washmystics and the amazing talent they have on their team. See you soon D.C. ???????? pic.twitter.com/UFR6Bznmm4

— Aerial Powers (@aerial_powers23) July 23, 2018