By Gianna Gotterba
San Francisco, CA — The perfect night: a hot summer evening, a rooftop bar, a chilled glass of white wine, and a sampling of caviar. …Caviar? Weird I know…. but bare with me.
 San Francisco's very own, Hotel Via, hosted its 3rd annual Wine and Caviar Event on Wednesday on the rooftop of the hotel, which also was National Caviar Day around the world.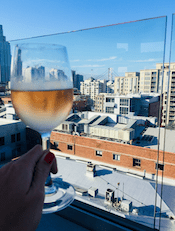 As soon as you walked in, guests were instantly encouraged to choose either a wine or cocktail that was listed on the menu. Each type of alcohol had its own station. The options included a glass of Veuve Cliquot Champagne, a Ketel One Vodka cocktail, Revel Avila, Bucher Vineyard Wines, and Château La Gordonne Rosé. My favorite? Rosé all day of course!
 Each station wasn't only focused on the specified alcohol though, as all the stations also included a bowl of some of the best caviar in the world. Immediately after you got your drink, employees placed a spoonful of caviar on your palm.
 Essentially, the trend was to chase your alcohol with the caviar!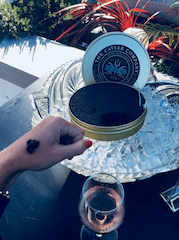 Hotel Via featured some extremely tasty caviar appetizers as well.
The most popular: a smoked salmon caviar taco. People rushed to grab one as soon as they hit the table.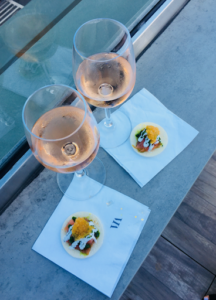 The most oddly satisfying appetizer: a caviar-topped fried chicken strip. Who doesn't like chicken strips though?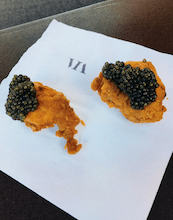 Even though each dish and glass of wine was amazing, for me the highlight was my dessert. It was the most decadent dish of caviar-topped onto a piece of fine white chocolate. Sweet, salty, and divine.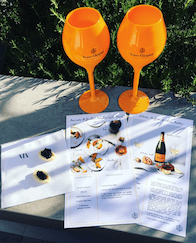 The buzz of voices, laughter, and music kept people ready for more entertainment. The event had a live DJ, comfortable patio seating, and my all-time favorite game: corn hole.
Overall, I experienced food and wine that I never thought I'd get the opportunity to try tonight. As a self-proclaimed "foodie," I consider myself extremely lucky and would recommend caviar to anyone who hasn't tried it yet.
 Cheers to the best National Caviar Day ever!