By Nikki Spahn
Milwaukee, WI — It was a dinner out of this world as Monday's beer pairing event at the Three Lions Pub in Milwaukee. The Pub showcased beer from the award-winning local brewery Third Space Brewing.
It was a formal dining setting where the pub's chef served us all locally sourced food. Most of the members at the table were from the Shorewood neighborhood. I sat across from Laurie Glass, a woman who has somewhat adopted the three young owners of the pub: Christopher Tinker, David Price, and Luca Musker.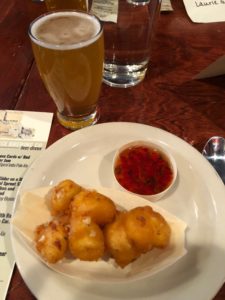 Laurie shared stories with the table of the boys doing community work in the neighborhood and even shoveling her sidewalk on a random snow day last April. To my left sat Mr. Price, who originally came to the area on a soccer scholarship and had a dream of making a gastro pub style pub for the community, somewhat replicating the types of place he knew in his home village in Whalley, Lancashire. All of the food in this British pub is high quality, but served at normal bar prices. When the Pub first opened, they mostly served Price's mum's recipes, and slowly branched out to other family member's favorite dishes until the restaurant's style of food took on a life of its own.
Tonight's menu featured four courses. The first, a take on a Wisconsin classic — cheese curds. These weren't your standard curds though: they were crafted from happy and free roaming goats local to Wisconsin.
The chef came out to speak about the goats, and I'll admit I was a little jealous at how good these furry friends live. You can taste their happiness in the goat cheese curds, which was paired with a delectable red pepper jam that was perfectly sweet. To wash down the cheese curds, we enjoyed a fresh glass of Upward Spiral India Pale Ale.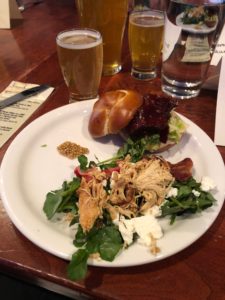 For the second course, we enjoyed a plate of Bourbon BBQ bacon slider on a MKE Pretzel bun with a brussel sprout slaw with a chicken watercress salad. This entree was paired with Third space Brewing's Summer Home Hoppy Blonde Ale.
Afterwards we enjoyed a London Broil Hanger Steak. The sides were delicious with ramp pesta, stewed tomatoes and carrote and potato mash.
The London Broil Hangar Steak was paired with a Unite the Clans Scottish Ale, a beer which won a gold medal in 2017 and a silver in 2018 at the Great American Beer Festival in Denver. It paired perfectly with the meat, with notes of caramel, toffee malt a bit of a toasted bread taste. It had a healthy dose of 5.8% alcohol.
For our final course, we had one of Price's mum's recipes, a coffee cake with house-made ice bear porter ice cream. Dessert was paired with an ice bear baltic porter.
Dinner was followed by trivia, where Andy Gehl, co-founder of Third Space Brewing, asked questions and gave out prizes.
The Three Lions Pub doesn't just have beer dinners, but also enjoys whiskey-themed meals. The pub also hosts World Cups events and is very community focused. On holidays, they often have free dinners for the regulars and New Year's Eve is always a huge party!
Podcast: Play in new window | Download