By Shayla Worlin-Smith
Sydney, Australia — I covered the most insane event last night at Jack Daniel's tasting by Black Bear BBQ in Sydney, Australia. 
I'll admit, this has been one of the best things  I've done in a long time and if you love meat and Jack Daniel's as I do, this is the place for you.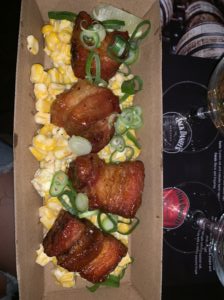 The people, the atmosphere and most importantly, the food, what Aussie doesn't love a good BBQ? We had five courses over the three hours we were there, and I have never tasted anything like it — it was incredible! 
They welcomed us with a Lynchburg Lemonade. Apparently, Tennessee is a dry country, and it was illegal to consume alcohol, so Jack Daniel's replicated the experience of drinking Jack Daniel's without actually consuming any. Which in turn, the Lynchburg lemonade was created … pretty cool huh? I thought so. 
The first meal of the night was pork belly bites with a honey whiskey glaze-served on a bed of cheesy corn. The dish was paired with the Gentleman Jack Whiskey.
 Next, we were served a beef short rib with chimichurri and coriander slaw. We also drank Jack Daniel's single barrel to go along with the second dish. 
For our third meal, we were served Jack Daniel's single barrel rye along with smoked sweet potato wedges with sour cream and sweet chili jam. Finally, for the fourth dish, we finished with the point end brisket with dill pickled onions and pickled cucumbers. Paired with the meal, we drank a Sinatra selection.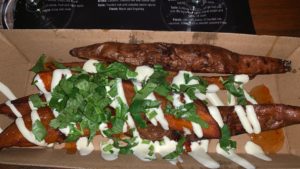 And lastly, my favorite part of the night…you guessed it, the dessert. We indulged in a Tennessee fire whiskey apple crumble. And only fitting, dessert was paired with Jack Daniel's Tennessee fire.
Overall, the night was extremely enjoyable as all attendees were educated on the growth of Jack Daniel's, given trivia and relaxed with live music from Volky. Everything I learned was interesting and an event I highly recommend to anybody — I know I will definitely be back.
Podcast: Play in new window | Download