Acworth, GA — Tuesday night, I had the opportunity to attend the Dalmore Scotch Dinner at Main Street Events by 1885 Grill. From the moment I walked in, I felt very welcomed by the owner and operator, Mike Schroeder, and his executive chef, Lauren McCormick. The interior design was very rustic and modern, and the dinner was very intimate. My favorite part of this four-course meal was the prime rib paired with the Dalmore 18-year-old Scotch.
The full menu details:
First Course – The Dalmore 15 Year – Paired with Salmon and Crab Sushi RollSecond Course – Dalmore Cigar Malt Reserve- Paired with Wagyu Slider topped with Brie and Apple SlawThird Course – The Dalmore 18 Year- Paired with Smoked Prime Rib and Balsamic Glazed Roasted VegetablesFourth Course – The Dalmore King Alexander III- Paired with Dark Chocolate Cake with Cinnamon Buttercream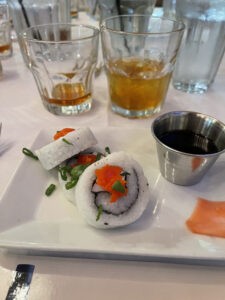 1885 Grill's success
After having a conversation with the owner/operator Mike, he mentioned that the event space where we had our scotch dinner is a new spot for them. Their other location, 1885 Grill, is so popular and in high demand that they had to open another space to accommodate their recent popularity.
1885 Grill opened up back in 2020 and has been a hot spot to get breakfast, brunch, lunch, or dinner ever since. Executive Chef Lauren is an all-star in the kitchen and is excited about all that 1885 Grill has to offer!
From start to finish, the dinner was very enjoyable, and the company was more than I could've asked for. And to be honest with y'all, I was not a scotch drinker before this event, but I am so glad I was able to experience this and will definitely be coming back and bringing my friends!