Corona Del Mar, CA — The Five Crowns restaurant in Corona Del Mar is a beautiful historic building that has been around since 1960. Formerly known as the Hurley Bell, The Five Crowns hosted a beautiful five course meal paired with amazing bourbon located inside this beautiful landmark. Featuring Woodford Reserve Mint Julep to start, following with bourbon meatballs garlic mashed potatoes and chives.
The Woodford Reserve is the Kentucky Derby staple when it comes to bourbon on the race track. A bottle was a prize awarded to the person who came with the most creative hat and the person who guessed the winner of the Kentucky Derby correctly. For the second course, "Few" Bourbon samples were handed out. Few Bourbon started in Evanston, Illinois, and was served with the citrus and beet salad topped with candied pecans, arugula and orange vinaigrette. It was light, fruity, and one of the best salads I have ever had.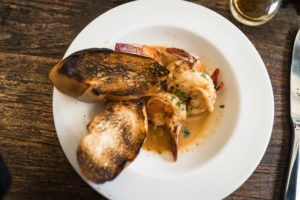 The following bourbon sample was Sonoma West of Kentucky number two served with barbecue shrimp, cajun butter sauce and toasted baguette. This seafood dish  was beautifully served and the flavor was nothing short of incredible.
For the next dish, we enjoyed a Hudson Four Grain Bourbon, which is made in New York.  It was served with pork belly, grits and red eye gravy green onion pickled Fresno.
After four incredible dishes, we enjoyed Breckenridge Colorado bourbon house made gelato for dessert. Referred to on the menu as "screwball" topped with caramel prosciutto crumble. It was amazing and appeared as though there was bacon on top. However, it was sweet prosciutto and felt way lighter.
Throughout the five course meal the start of the Kentucky derby was playing in the background. The Opening Ceremony was beautiful and the service at the restaurant  was absolutely perfect. All of the staff prides themselves on working at The Five Crowns for multiple years and were such great people.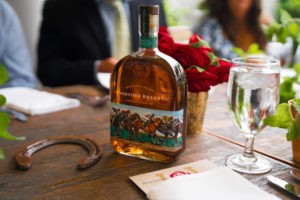 A lot of locals were in attendance because it is such a loved landmark with amazing service and food. It was a beautiful energetic atmosphere and the place settings was extremely charming. One of the staff members made her own Kentucky Derby hat. It was so cute, she hand-made it attaching a mini bottle of whiskey in the center with a beautiful floral arrangement around it.
A bottle of the featured Woodford Resserve was gifted to the best dressed with the best hat and to the winner of guessing which horse would take first place in the Kentucky Derby.
The Kentucky Derby went on shortly after dessert and games. It was a short race with a controversial tie between "Country House" and "Maximum Security." Maximum Security was disqualified leaving Country House as the winner. The event concluded after the winner was announced.
Podcast: Play in new window | Download