CHESTER, PA — You can't ask for a better way to be inducted into the first-ever Ring of Honor than with a 4-0 Philadelphia Union victory over Vancouver Whitecaps FC.
With 15,250 in attendance at the game, there was only one man of the hour, the face of the franchise: Sebastien Le Toux. After the former Union player announced his retirement from professional soccer, it seemed rather fitting to have Le Toux retire in the place he called home.
"This man embodies the city of Philadelphia," said coach Jim Curtin.
After ending an aggressive battle with the Union leading Vancouver 1-0 heading into halftime, Le Toux was officially unveiled as the first member of the Union's Ring of Honor. Fans rose from their seats, not for a half time bathroom break or food run, but to put on the warmest welcome and see their favorite Philadelphia Union ambassador.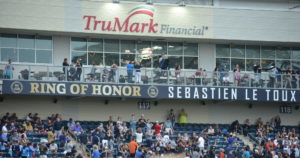 "There was an energy in the stadium, which was special," said Union manager Jim Curtin. "It was a really good job by our front office to honor him on a special day. With the signage, I think they renamed the stadium from the size of it."
As one of the greatest players in Union history, Le Toux is recognized for his contributions to the team and became the inaugural inductee of the newly formed Philadelphia Union Ring of Honor with former Union midfielder Brian Carroll and Zach Pfeffer.
The team presented Philly's favorite Frenchmen with a fan-signed jersey, framed jersey, tribute video with cameo appearances by former players including Conor Casey, Kyle Nakazawa, and Tranquillo Barnetta.
"It's great, it's an honor to be on the same team as him and I'm happy we were able to give him a good send off," said defender, Keegan Rosenberry.
Le Toux retires as the Union's all-time leader in nearly every major offensive category, including games played, goals, assists, shots, shots on goal, and corner kicks. With 59 goals and 57 assists across his MLS career, he is one of just 20 players in the league's 50-goal, 50-assist club, and one of eight to achieve those milestones for one team.
"It's great to have this moment and it was very emotional, but it was amazing," Le Toux said. "I cannot describe it. When you are a player, you cannot dream about it. For it to happen to me, it is weird but awesome at the same time."
As a native of Mont-Saint-Aignan, France, Le Toux first joined Philadelphia as a part of the 2009 MLS Expansion Draft and was a part of the club's inaugural roster and was a member of the Union's first-ever starting XI and went along to score the club's first-ever goal on match later at the Lincoln Financial Field vs D.C. United in April 2010.
If one wasn't enough, Le Toux recorded the club's first-ever hat trick (just one of three in Union history).
While an emotional day for Union fans, employees and players, Le Toux retires a Philadelphia Union legend.