Donald Trump, the 45th President of the United States, has been found liable for committing fraud in a New York civil lawsuit. The case, spearheaded by State Attorney General Letitia James, has unearthed a decade-long scheme of misrepresentation of wealth to banks, insurers, and other entities.
"Today, a judge ruled in our favor and found that Donald Trump and the Trump Organization engaged in years of financial fraud," said James. We look forward to presenting the rest of our case at trial."
This ruling is anticipated to send shockwaves through Trump's business operations in New York and possibly ripple out into his ventures beyond the state.
"This is Democrat Political Lawfare, and a Witch Hunt at a level never seen before," Trump wrote on Truth Social. "If they can do this to me, they can do this to YOU!"
Trump's Misrepresentation of Wealth
The crux of the lawsuit hinged on allegations that Donald Trump had "repeatedly" misrepresented his wealth, inflating his net worth by hundreds of millions, as detailed by the BBC. This deception was not an isolated event or confined to a single period, but a persistent pattern spanning over a decade, according to court findings.
The court documents painted a picture of how Trump, along with his adult sons, engaged in deceptive practices, which consequently led to the cancellation of the Trump Organization's business certification.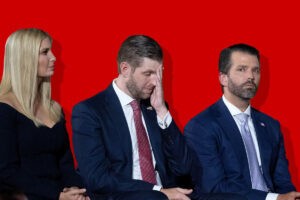 Implications for the Trump Organization
The judgment carries severe implications for the Trump Organization. The court ruled that some of Trump's business licenses should be revoked, which would pose significant obstacles for him to conduct business in New York.
In addition to this, an independent monitor will be assigned to oversee the Trump Organization's operations, introducing another layer of scrutiny to its activities. This oversight is predicted to make it nearly impossible for the company to continue its current operations as usual.
Today's outrageous decision is completely disconnected from the facts and governing law," Christopher Kise, a lawyer for Trump, said in a statement. "President Trump and his family will seek all available appellate remedies to rectify this miscarriage of justice."
Trump Urges Government Shutdown in Unlikely Bid
On Sunday, Trump has urged for a government shutdown. His motivations behind this move are unclear at this stage, with some speculating it's an unlikely bid to distract from the legal troubles surrounding him and his organization. However, it remains to be seen how this call will be received and what impact, if any, it may have on the ongoing legal proceedings.
"The Republicans lost big on Debt Ceiling, got NOTHING, and now are worried that they will be BLAMED for the Budget Shutdown," said Trump on Truth Social. "Wrong!!! Whoever is President will be blamed, in this case, Crooked (as Hell!) Joe Biden! UNLESS YOU GET EVERYTHING, SHUT IT DOWN! Close the Border, stop the Weaponization of 'Justice,' and End Election Interference."
Donald Trump Found Liable: The Road Ahead
This ruling marks a significant turning point in Donald Trump's career. Stripped of key business licenses and found liable for fraud in a New York civil case, his business empire is facing unprecedented challenges.
It remains to be seen how Trump will navigate these challenges, but one thing is certain: this case has brought about a seismic shift in his business dealings, the repercussions of which will be felt for years to come.
In conclusion, the landmark ruling against Donald Trump underscores the importance of transparency and integrity in business dealings. This case serves as a stern reminder that no one, not even a former President, is above the law. The verdict sends a clear message: fraudulent practices will not be tolerated, regardless of who commits them.
As we move forward, it will be interesting to see how this case shapes public perception and future legal proceedings involving high-profile individuals. The revelations from this case have the potential to change the landscape of business ethics, sending a powerful message to those in positions of power that they are not immune from the law.