In a shocking turn of events, the Portland Trail Blazers are trading Damian Lillard to the Milwaukee Bucks. This is part of a three-team deal, according to multiple reports. This blockbuster trade, which also involves the Phoenix Suns, has ended Lillard's 11-season tenure with the Blazers.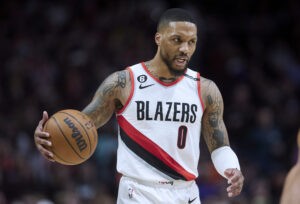 Damian Lillard to Bucks: A Power Move for the Milwaukee Bucks and Giannis
This trade is a power move for the Bucks, who are looking to solidify their status as a powerhouse in the Eastern Conference. By bringing in Lillard, a prolific scorer, and seasoned leader, the Bucks will not only bolster their offense but also provide reigning MVP Giannis Antetokounmpo with a proven co-star.
This could be the key to keeping Giannis content in Milwaukee and maintaining the Bucks as viable championship contenders for years to come.
Miami Heat's Complacency Costs Them Lillard
On the other hand, this trade signifies a missed opportunity for the Miami Heat. They had been rumored as a potential destination for Lillard, but their complacency in negotiations may have cost them dearly. The Heat were considered the frontrunner for months, as Lillard specifically requested to be traded to the Heat.
Reports suggest that the Heat assumed they could lowball the Blazers due to Lillard's interest in joining them. However, their strategy backfired, leaving them empty-handed while the Bucks capitalized on their proactiveness. And because of that strategy, now the Miami has a much tougher road going through the East now with a healthy Giannis, and a Lillard determined to win a ring.
Let's be honest: we never thought we would see "Damian Lillard traded to Milwaukee" or "Lillard traded to Milwaukee Bucks," but here we are, and that's exactly what we got in the ever-surprising world of the NBA: Damian Lillard to the Bucks.
For more NBA coverage, check out our NBA section.