Operation Napoleon is a 2010 Icelandic thriller film directed by Óskar Jónasson and starring Kristín Sesselja Sigmundsdóttir, Ingvar Eggert Sigurðsson, and Jón Gnarr. The movie is based on the 1999 novel of the same name by Arnaldur Indridason.
Unveiling the Mystery: Operation Napoleon's Intrigue and Suspense
The film tells the story of Kristen Lind (played by Vivian Ólafsdóttir), a young Icelandic woman, who sets out to investigate the mysterious disappearance of her brother. Her brother was involved in a plane crash in Iceland in 1945. As her investigation continues, she is led to uncover a dark conspiracy involving the Nazis, the CIA, and the Icelandic government.
Set in Iceland, Operation Napoleon, and the rugged landscape provides a unique and atmospheric backdrop for the story. Furthermore, the thrilling movie is also well-made with stunning visuals and a suspenseful plot.
Lind is the strong female protagonist of the film. She is determined to find her brother, and she is not afraid to ask tough questions. In addition, she also is a skilled investigator, and she is able to piece together the clues to uncover the truth. The other characters in the film are also well-developed. Ingvar Eggert Sigurðsson gives a particularly strong performance as the mysterious Oskar, who helps Kristen on her journey.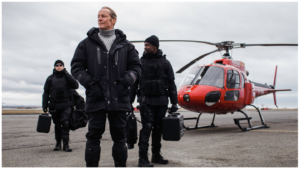 Diving Deep into the Conspiracy
Operation Napoleon explores a number of themes, including post-war trauma, conspiracy, and the dark side of human nature. The film also raises questions about the nature of truth and the limits of human knowledge.
Impacting Performances and Cinematic Excellence
Overall, Operation Napoleon is a well-made and suspenseful thriller that is sure to keep you guessing until the very end. The film is beautifully shot, with stunning visuals of Iceland's rugged landscape. The performances are also top-notch, with Sigmundsdóttir giving a particularly strong performance as Kristen.
If you are looking for a suspenseful and thought-provoking thriller, then I highly recommend this movie. It is a well-made and engrossing film that will stay with you long after you have finished watching it.
It will be released by Magnet via digital video on August 11.
For movie coverage, visit here!
Article written by Filipa Sampaio