Update as of July 27, 2022
This morning in court, Griner testified when she was detained in February, she had to deal with poor translation, no explanation of her rights and was given no access to a lawyer within the initial hours of her arrest. Instead, she had to use a translator app on her phone to get an idea of what she was encountering.
Furthermore, Griner testified she was instructed she had to sign papers — papers that were never explained to her what they were.
Today the Biden administration announced it has offered a deal in hopes of returning Griner home. Per reports, this could end up being a prisoner swap.
"We are going to continue to monitor the case of Ms. Griner very closely, as well as the case of all U.S. citizens detained or in prison in Russia," stated Elizabeth Rood, the U.S. Embassy's charge d'affaires.
The trial will return to court next week on Aug. 2. At this moment, it is unclear how long the trial will be. However, detention for Griner was authorized until Dec. 20.
Update as of July 15, 2022
Today in court, a doctor provided a note on behalf of Griner which discusses the use of cannabis in a medical form was granted to the WNBA star.
"The attending physician gave Brittney recommendations for the use of medical cannabis," expressed her lawyer, Maria Blagovolina. "The permission was issued on behalf of the Arizona Department of Health."
The recommendation from her doctor was to allow for the treatment of pain.
Furthermore, the defense submitted test results from an anti-doping check Griner underwent – nothing was detected of any prohibited substances in her system.
On July 26, she will return to court for the next hearing.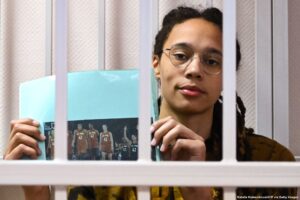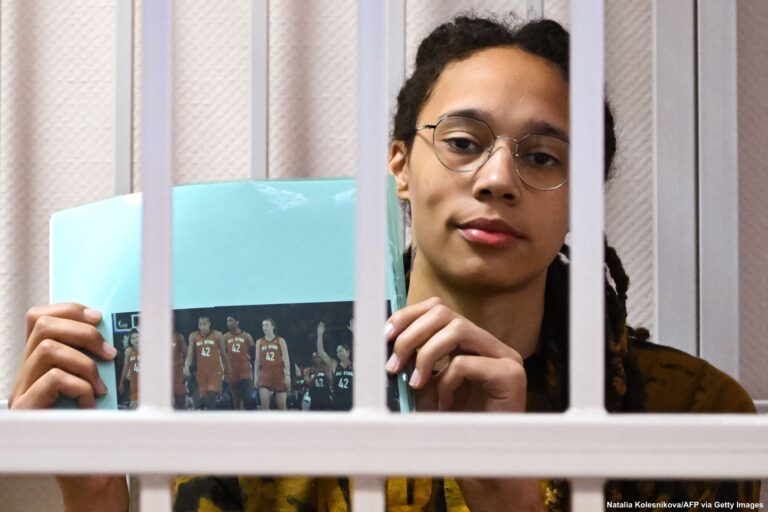 The Phoenix Mercury center appeared today in court with a picture from last weekend's all-star game when each player was wearing a uniform showing their support for her with.
Update as of July 14, 2022
Brittney Griner returned to court today where two club members appeared as character witnesses. For years, Griner has played for UMMC Ekaterinburg, one of the top teams in the country. The club's general manager Maxim Ryabkov, and her teammate Evgeniya Belyakova, both shared with the judge how exemplary and a citizen she has been for the past six years.
"Our task today was to tell the court about her characteristics as an athlete, as a person — tell about how she played a big role in the success of the Ekaterinburg club and Russian women's basketball as a whole," Ryabkov stated outside of the courthouse. "Today is the first day when we have seen our basketball player since February. Thank God, she feels well, looks good."
On Friday, Griner is expected back in court where the judge will directly interrogate her. In Russia, it is a common practice for a judge to interrogate an individual who is on trial. However, the judge will still have the words of Ryabkov and Belyakova in their head.
"I can say that Brittney has always been a very good teammate, so my role here is just to be with her, to support her," expressed her teammate. "We miss her very much. We miss her energy. I was very happy to see her, and I hope this trial will be over soon and with a positive outcome."
"It was an extremely emotional day for Brittney, who was touched by the appearance of the club director, head physician, and her teammate, who gave an extremely positive description of our client both personally and professionally," said her defense attorney, Maria Blagovolina, after court was dismissed for the day.
Update as of July 7, 2022
Court resumed today in Russia where Brittney Griner pleaded guilty to bringing hashish oil into the country. Per reports, it was expected for her to plead guilty. Furthermore, reports have been stating the resolution to return Griner home would be a prisoner exchange which could include fellow American Paul Whelan who has been detained in Russia since 2018.
"I'd like to plead guilty, your honor. But there was no intent. I didn't want to break the law," Griner expressed to the judge.
She did ask the judge for "time to prepare" her testimony as she will return to court next week on July 14.
The deputy chief of mission at the U.S. Embassy in Moscow, Elizabeth Rood was present at the court hearing.
"She's eating well, she's able to read books and under the circumstances, she's doing well. I would like again to emphasize the commitment of the U.S. government at the very highest level to bring home safely Ms. Griner and all U.S. citizens wrongfully detained as well as the commitment of the U.S. Embassy in Moscow to care for and protect the interests of all U.S. citizens detained or imprisoned in Russia," Rood shared on Griner.
Update as of July 6, 2022
Since Griner's letter, President Biden has now made contact with her family:
JUST IN: Pres. Biden, Vice Pres. Harris spoke to Cherelle Griner, Brittney Griner's wife, White House says.

"The President called Cherelle to reassure her that he is working to secure Brittney's release as soon as possible." https://t.co/aEfCwQMp9K pic.twitter.com/MitRRJLU4w

— ABC News (@ABC) July 6, 2022
Initial story

(July 4, 2022)
Brittney Griner has been locked up in Russia since Feb. 17 after being accused of carrying cannabis in her luggage into the country. Weeks later, the U.S deemed Griner to be "wrongfully detained". Today — on Independence Day — the Phoenix Mercury center wrote a letter to President Biden asking for his help to return her home.
"(As) I sit here in a Russian prison, alone with my thoughts and without the protection of my wife, family, friends, Olympic jersey, or any accomplishments, I'm terrified I might be here forever. On the 4th of July, our family normally honors the service of those who fought for our freedom, including my father who is a Vietnam War Veteran. It hurts thinking about how I usually celebrate this day because freedom means something completely different to me this year.
"I realize you are dealing with so much, but please don't forget about me and the other American Detainees. Please do all you can to bring us home. I voted for the first time in 2020 and I voted for you. I believe in you. I still have so much good to do with my freedom that you can help restore. I miss my wife! I miss my family! I miss my teammates! It kills me to know they are suffering so much right now. I am grateful for whatever you can do at this moment to get me home."
BACK STORY
Earlier last week, there was a closed-door preliminary hearing where Griner's detention was extended for another six months.
On July 1, her trial for drug smuggling charges finally started, allowing her lawyers to present her cast outside of Moscow in court. With the drug smuggling charges Griner is facing, if she's convicted, she could face up to 10 years in prison. A couple of months ago, the U.S. deemed Griner's arrest as being wrongfully detained.
Once the trial started, a prosecutor accused Griner via court documents of smuggling less than a gram of cannabis oil.
"Being sufficiently aware that the movement, of narcotic drugs is not allowed,… no later than February 17, 2022 at an unspecified location under unspecified circumstances from an unidentified person [Griner] bought two cartridges for personal use, which contained 0.252 grams and 0.45 grams of hash oil, totaling 0.702 grams," the prosecutor said via a CNN report.
The trial will continue on July 7. If Griner is charged, she could face 10 years in prison per Russian government rules.
This story will be updated as the trial continues.