Update as of March 24, 2022
After months of being in a Russian jail, Griner has finally been able to meet with U.S. officials.
"The consular officer who visited with Brittney Griner was able to verify that she is doing as well as can be expected under these very difficult circumstances," shared State Department spokesman Med Price. "We will continue to work very closely with her legal team, with her broader network, to see to it that she is treated fairly and that her rights are respected."
Update as of March 17, 2022
The Russian state news agency TASS reported Griner's detention will be extended until May.
"The court granted the petition of the investigation and extended the term of detention of U.S. citizen [Griner] until May 19," TASS stated in court on Thursday.
Update as of March 10, 2022
According to U.S. Congressman Colin Allred (D-Texas), Griner has been detained in Russia since Feb. 17 — almost a week before Russia invaded Ukraine. Furthermore, in his interview with ESPN, Allred stated the House Foreign Affairs Committee has been in contact with US personnel at the nation's embassy in Russia.
Update as of March 8, 2022
A photo of Griner, which seems to be similar to a mug shot, has been released:
Russian state TV has released a photo of WNBA star Brittney Griner, who was arrested on drug charges in the country after Russian officials say cannabis oil was found in her luggage. CNN's @RosaFlores has the story. pic.twitter.com/SzB9MSSQfY

— CNN (@CNN) March 8, 2022
Update as of March 6, 2022
Secretary of State Antony Blinken is aware of Griner's detainment and did make a comment on how he is helping to get her home.
"There's only so much I can say given the privacy considerations at this point," Blinken said of Griner. "Whenever an American is detained anywhere in the world, we of course stand ready to provide every possible assistance, and that includes in Russia. We have an embassy team that's working on the cases of other Americans who are detained in Russia. We're doing everything we can to see to it that their rights are upheld and respected."
Original story
Brittney Griner has played overseas in Russia (UMMC Ekaterinburg) for years after the WNBA season is over. Unfortunately, the Phoenix Mercury star has been arrested in Russia and sitting in a jail cell for the last three weeks, according to WNBA star Angel McCoughtry.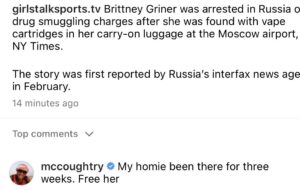 According to reports, Griner was detained at a Russian airport for having vape cartridges that contained hashish oil in her luggage at the Sheremetyevo airport near Moscow. A criminal case has been opened into the transportation of drugs and Griner has been arrested while the investigation is ongoing. In Russia, the transportation of drugs can carry a sentence of up to 10 years behind bars.
Phoenix did release a statement on the news of Griner being detained in Russia:
— Phoenix Mercury (@PhoenixMercury) March 5, 2022
For just over a week, Russia has been in a war with Ukraine. While civilians of Ukraine have fled the country, many American athletes who have been overseas in Russia have been working to leave the country as well and return home.
More details to come as this story develops.