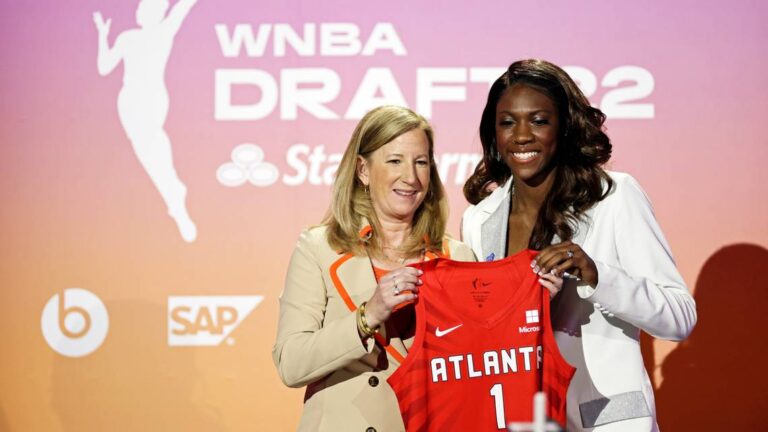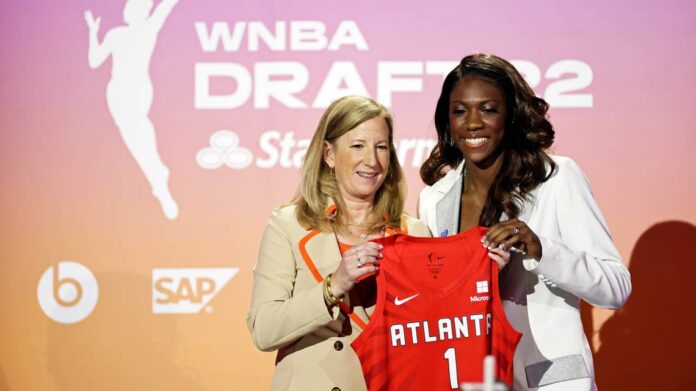 College basketball is over, and for women's basketball fans, that means the shift turns to the WNBA. For the first time since 2019, the WNBA Draft night returned to in-person in New York with 12 draftees invited.
Those invited were Shakira Austin (Ole Miss), Rhyne Howard (Kentucky), NaLyssa Smith (Baylor), Kierstan Bell (Florida Gulf Coast), Rae Burrell (Tennessee), Veronica Burton (Northwestern), Nia Clouden (Michigan State), Elissa Cunane (NC State), Emily Engstler (Louisville), Destanni Henderson (South Carolina), Naz Hillmon (Michigan), and Nyara Sabally (Oregon).
After a weekend filled with activities for the 12 prospects, the night they were waiting for had finally arrived: draft night. Along with 24 other prospects, these young athletes couldn't wait to hear their names.
With the No. 1 overall pick Atlanta — who traded with Washington last week for the pick, selected Rhyne Howard. Based on sources, the first three picks have essentially been locked in for weeks, but anyone could have been picked after that. Here's a complete list of who was drafted, plus an analysis of each round.
Round 1
1 Atlanta – Rhyne Howard
2 Indiana – NaLyssa Smith
3 Washington – Shakira Austin
4 Indiana – Emily Engstler
5 New York – Nyara Sabally
6 Indiana – Lexie Hull
7 Dallas – Veronica Burton
8 Las Vegas – Mya Hollingshed
9 Los Angeles – Rae Burrell
10 Indiana – Queen Egbo
11 Las Vegas – Kierstan Bell
12 Connecticut – Nia Clouden
Analysis: As Indiana continues to revamp this year under Lynn Dunn as its President, the roster is shaping up on paper. Each of the Fever's first-round picks is not afraid to get physical on the defensive end. However, they each can score the ball as well. Maybe the most shocking selection in the top 12 is Lexie Hull. She's a long guard who can hit the three but isn't afraid to drive to the rim. She's aggressive defensively and has a high basketball IQ.
The two picks from the Aces might be the biggest sleeper picks in the drafts. With Hollingshed, Las Vegas picked up arguably the best forward in this year's draft in terms of shooting percentage from beyond the arc. She finished this past season by shooting 40% from deep.
And ironically, new head coach Becky Hammon also added Bell to her Vegas roster — the two-time Becky Hammon Mid-Major Player of the Year. She's a big — and explosive —  guard familiar with a five-out offense, can shoot the three, finish at the rim, and dish the ball to her teammates very well. Bell is a massive steal at 11 and ironically was shocked to be picked by the Aces.
"The biggest thing is she is such a big shooting guard that she can shoot the lights out and she can defend 1-4," said Las Vegas Aces GM Natalie Williams. "We were surprised that she was still there for us to grab. She's got a pro body already and that's a bonus."
Multiple sources tell The Ball Out that Bell was in constant contact with the Indiana Fever; moreover, with the Fever picking four players ahead of her, this could haunt Indiana in the years to come.
Round 2
13 Las Vegas – Khayla Pointer
14 Washington  – Christyan Williams
15 Atlanta – Naz Hillmon
16 Los Angeles – Kianna Smith
17 Seattle – Elissa Cunane
18 Seattle – Lorela Cubaj (Traded to New York for future draft picks)
19 Los Angeles – Olivia Nelson-Ododa
20 Indiana – Destanni Henderson
21 Seattle – Evina Westbrook
22 Minnesota – Kayla Jones
23 Las Vegas – Aisha Sheppard
24 Connecticut – Jordan Lewis
Analysis: Cunane is a steal for Seattle as not only can she bang inside, but she can also stretch the floor by hitting the outside shot. She was a big piece to the late tournament run NC State had this year. One of the biggest surprises was Henderson falling to the second round after many thought she boosted her stock after an awe-inspiring run — en route to leading South Carolina to its second championship. She's a quick guard who can penetrate the paint yet get hot from deep and disrupt the opposition with her aggressive defense.
Round 3
25 Indiana – Ameshya Williams-Holliday
26 Phoenix – Maya Dodson
27 Los Angeles – Amy Atwell
28 Minnesota – Hannah Sjerven
29 New York – Sika Kone
30 Dallas – Jasmine dickey
31 Dallas – Jazz Bond
32 Phoenix – Macee Williams
33 Seattle – Jade Melbourne
34 Indiana – Ali Patberg
35 Las Vegas – Faustine Aifuwa
36 Connecticut – Kiara Smith
Analysis: A couple of eye-opening picks in the third round include Sjerven, who can battle on the inside for the Lynx. She was a centerpiece for South Dakota in their magical run this year and with Sylvia Fowles announcing this would be her last year, Sjerven could be a sponge to learn from the veteran post. With the most draft picks this year, Williams-Holliday continues the narrative Indiana is looking to correct: better on the defensive end. Williams-Holliday was the SWAC Defensive Player of the Year and training camp will be highly competitive with multiple women ready to get after it for the Fever.
With the new CBA, more rookies have a chance of making rosters this year. Training camp rosters will continue to fill out these next few weeks. It's a tough league to make with only 12 rosters sports per team — players are willing to compete.
Get ready, WNBA fans; the season tips off on May 6.
For more, especially about why certain players fell, sign up for our Insider!