Today is Cinco de Mayo and Avocados From Mexico is ready to take the celebration to the next level. Today, Avocados From Mexico will be introducing avocado fans to a very special drink, the Guactail.
"Cinco de Mayo sparks good times, just like our brand," said CEO and President of Avocados From Mexico, Alvaro Luque in a press release. "We invite avocado lovers everywhere to share a Guactail and add Avocados From Mexico to their celebrations to make it a memorable Cinco de Mayo filled with good taste and good times."
The Guactail was created by Antoni Porowski, best-selling author, and food and wine expert. It's a drink that take a spin on a classic fruit-flavored daquiri and of course filled with avocados.
"Two of my favorite things? Cinco de Mayo and guac," said Porowski. "And taking that to the level of creating my very own Guactail? Perfection. It's just not Cinco without a Guactail and Avocados From Mexico."
Porowski is even sharing the ingredients to his special Guactail. Here's how to make it and what you need: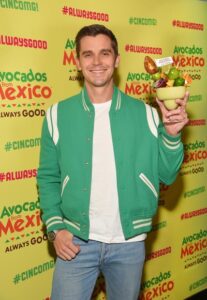 ·       6oz white rum
·       6oz pineapple juice
·       2 tablespoons fresh lime juice
·       2 oz cucumber, sliced and unpeeled
·       1 cup fresh or frozen mango
·       6 mint leaves, plus more for garnish
·       1 ripe avocado, peeled and pitted
·       3oz cream of coconut
·       Pinch of salt
·       2 cups ice
Add all ingredients to a blender and combine on high for 45 seconds until mixture is smooth, frothy and thick. Garnish with avocado frites, jalapeño poppers, tortilla chips and deconstructed guac ingredients like pickled onion and tomatillo, lime, and mint. After enjoying the Guactail, use garnishes to make even more guac! Makes two servings.
Hurry to the store and get these ingredients so you can enjoy a glass or two of Guactail — it's a drink you won't forget!