Update as of 3/24/22
President Biden announced the U.S will be welcoming 100,000 Ukrainian refugees.
The Ukrainian Navy claims it sunk the Russian ship Orsk on Thursday morning near the Ukrainian port city of Berdyansk.

Webcam footage shows a ship burning at the Russian-occupied port. https://t.co/sULUXUpMmp pic.twitter.com/LMQXbYPSkY

— ABC News (@ABC) March 24, 2022
Update as of 3/21/22
Russia is demanding Ukraine to surrender Mariupol but Ukraine has refused to do so.
President Biden will travel to Europe this week to meet with U.S. allies. Poland will be one of the countries he visits.
Update as of 3/18/22
While the U.S and NATO have fulfilled some of President Zelensky requests for help, he is still seeking more aid. Zelensky still wants a no-fly zone established over Ukraine to prevent Russian aircrafts from airstrikes. If a no-fly zone was established, then NATO forces could take action against aircrafts violating the zone. THe Ukrainian president is also seeking S-300 missile defense systems that allows for surface-to-air missiles to strike target. Another request is to acquire MiG fighter jets.
A military base in southern Ukraine (Mykolaiv) has been hit by Russian airstrikes in two locations. At this time, a number of casualties or injuries hasn't been announced.
The mayor of the Velykoburlutska, Viktor Tereshchenko, has been released from Russian forces.
Russia has now launched 1,080 missiles at targets in Ukraine.

Russian negotiator says progress has been made between Russia and Ukraine.

There have been 130 individuals rescued from the Mariupol theater bombing. However, hundreds still remain under the rubble. 
Update as of 3/16/22
President Biden responds to President Zelenskyy's message from earlier in the day:
President Zelenskyy again addressed President Biden, pleading for more help from the US.
Update as of 3/15/22
A 36-hour curfew has been issued in Kyiv following shelling that has hit residential buildings.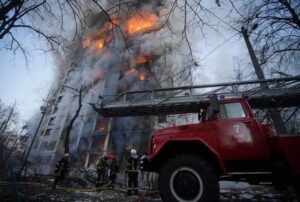 President Zelenskyy met with leaders from Poland, Slovenia, and the Czech Republic.
"There is no path to victory for Russia because the Ukrainian people will continue to resist."

Marie Yovanovitch, former U.S. ambassador to Ukraine, speaks to @ABCNewsLive about the war in Ukraine. https://t.co/6IC2OcF2dO pic.twitter.com/yOYnTp2FoV

— ABC News (@ABC) March 15, 2022
Ukrainian journalist and veteran Fox News cameraman, Pierre Zakrzewski, was killed while on duty.
Update as of 3/13/22
 Brent Renaud, an award-winning American journalist, has been killed in Ukraine by Russian forces. Fellow American journalist Juan Arredondo was wounded and taken to a hospital for treatment.
Update as of 3/10/22
Russian Major General Andrei Sukhovetsky was killed during combat the Russian government announced today. Sukhovetsky, who reportedly died on Feb. 28, was the deputy commander of the 41st Combined Arms Army of the Russian Ground Forces. He reportedly died "while performing a combat mission during a special operation in Ukraine."
President Zelensky stated there are about 100,000 people have used the evacuation corridors the past two days to evacuate.
As of today, Ukrainian authorities say 20,000 evacuated from Sumy region.
Russia is slowly inching closer to Kyiv. "We see Russian forces continue to advance their troops, they're really along two sort of parallel lines there, and we assess that the northern most of those two lines, the closest line has reached about 40 kilometers east of Kyiv," the official said.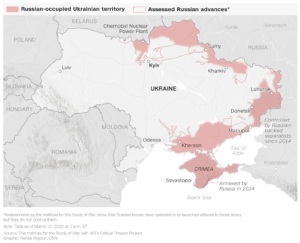 Ukraine continues to fight back against Russia:
A new video shared by Ukrainian armed forces appears to show a Ukrainian strike on Russian tanks. Retired Major General @PaulDEaton52 gives his take on what the video shows. pic.twitter.com/6XIS9b9xSm

— CNN (@CNN) March 10, 2022
Update as of 3/8/22
A new ceasefire will start tomorrow in order for evacuation to happen in Kyiv, Chernihiv, Sumy, Kharkiv, Mariupol, and other towns. Russia said the ceasefire will start tomorrow at 10 a.m. Moscow time (9 a.m. Ukrainian/2 a.m. ET)
In separate conversations, Israeli Prime Minister Naftali Bennett on Tuesday spoke with Ukrainian President Volodymyr Zelensky and Russian President Vladimir Putin.
One of the largest fast-food chain restaurants is also taking a stand against Russia's invasion:
JUST IN: McDonald's "has decided to temporarily close all our restaurants in Russia and pause all operations in the market," the company announces. https://t.co/N1fDqf7uHr pic.twitter.com/AN2gVVc1ja

— ABC News (@ABC) March 8, 2022
The Moscow Stock Exchange will remain closed on March 9 (has been closed since Feb. 28).
Per the US intelligence committee, there's an estimation of 2,000- 4,000 Russian troops who have been killed since the invasion started.
President Biden's administration announced it is banning Russian oil, natural gas, and coal imports. US imports from Russia make up about eight percent of the American energy portfolio. The US will be doing this without any European allies.
"Today I am announcing the United States is targeting the main artery of Russia's economy. We're banning all imports of Russian oil and gas and energy. That means Russian oil will no longer be acceptable at US ports and the American people will deal another powerful blow to Putin's war machine."
Update as of 3/7/22
Ukraine and Russia are meeting for a third time today in an attempt to end the war.
According to the United Nations Refugee Agency, more than 1.7 million people have left Ukraine in the last 12 days.
In Kyiv, Kharkiv, Sumy, and Mariupo, Russia's military has announced a ceasefire and opening of humanitarian corridors. Ukraine has declined the offer stating the evacuations were for civilians to go to Belarus and Russia.
Sadly there have been at least 400 civilian deaths reported in Ukraine, per a UN spokesman.
Update as of 3/5/22
Civilian evacuations from Mariupol and Volnovakha were halted after Ukrainian authorities cited Russia still shelling the areas.
The scenes in Mariupol and other cities are heart-breaking.

Our priority is the safety and wellbeing of all civilians living through terrifying situations in #Ukraine.

There have been lots of reports of humanitarian corridors set to happen today.

This is our statement 👇 pic.twitter.com/vxXtZveAm1

— ICRC (@ICRC) March 5, 2022
US State Department continues to urge American's not to fly to Russia and for those who are there to leave while commercial flights are still leaving the country.
Ukrainian President Volodymr Zelenskyy has stated more than 10,000 Russian army troops have been killed.
Russia announced a temporary cease-fire in two cities to allow citizens to evacuate. "Starting at 10 a.m. Moscow time today, on March 5, the Russian side declares a ceasefire and opens humanitarian passages for civilians to leave Mariupol and Volnovakha," the Russian Ministry of Defense's statement said. "Humanitarian passages and exit routes have been coordinated with the Ukrainian side."
President Putin shared his displeasure in the sanctions put on himself and other individuals in Russia. "The implementation of this demand is associated with colossal and catastrophic consequences not only for Europe, but for the whole world," he said.

"The current [Ukrainian] leadership needs to understand that if they continue doing what they are doing, they put under question the future of Ukrainian statehood. And if that happens, it will be entirely on their conscience," Putin disclosed.
Update as of 3/4/22
After attacking Ukraine's nuclear plant yesterday, Russia has now gained control of the plant.
US Vice President Kamala Harris is expected to make a trip to Poland as the White House continues to show its support for Ukraine.
According to The Times, President Zelensky has now survived three assassination attempts.
Ukraine had requested for North Atlantic Treaty Organization (NATO) to implement no-fly zones, but allies in NATO did not grant the request. NATO did state they would increase support for Ukraine.
"We are not part of this conflict, and we have a responsibility to ensure it does not escalate and spread beyond Ukraine," NATO Secretary-General Jens Stoltenberg told a news conference.
Update as of 3/3/22
Ukraine's largest nuclear power plant is under attack by Russia. The firing is coming from all sides as reported by Ukraine's Minister of Foreign Affairs.
For the second time this week, peace talks continued but the meeting concluded without a cease-fire agreement, as the war continued. The two sides did agree on humanitarian corridors for civilians.
Per Russian delegation Vladimir Medinsky to the media: "We have thoroughly discussed three points – military, international and humanitarian, and the third one is an issue of a future political regulation of the conflict. Both positions are clear and written down. We managed to agree on some of them, but the key thing that we have reached an agreement on today was a matter of rescuing civilians who found themselves in a military clash zone. Russian and Ukrainian defense ministries agreed on providing humanitarian corridors for civilians and on a possible temporary ceasefire in areas where evacuation is happening." Medinsky told media."
The US has announced new sanctions on Putin and the Russian elite. These sanctions include blocking block 19 oligarchs and 47 of their relatives and close associates from traveling to the United States. In addition, the White House announced a sanction on Kremlin spokesman Dmitry Peskov and Alisher Usmanov (one of Russia's richest men).
Saudi Arabia's Crown Prince Mohammed bin Salman has offered to mediate peace talks between Ukraine and Russia. Salman received a phone call from Putin today where he then offered his efforts to be the mediator.
There are now reportedly 1 million refugees who have fled Ukraine in the past seven days.
Earlier this week FIFA and UEFA both banned Russia from any upcoming international competitions. The Russian Football Union file an appeal with the Court of Arbitration for Sport. The Russian union is stating both organizations didn't have a legal basis on removing any of Russia's team.
Update as of 3/2/22
LATEST: https://t.co/lHzP7Z17Zo

– Nearly 9,000 Russian soldiers killed since start of invasion, Zelenskky claims
– U.S. official: Hundreds of anti-aircraft missiles delivered to Ukraine
– 7 Russian banks to be removed from SWIFT network

— ABC News (@ABC) March 3, 2022
The International Criminal Court says it has opened an investigation into alleged Russian war crimes in Ukraine. https://t.co/p2V1wX5rjI

— CNN Breaking News (@cnnbrk) March 3, 2022
Russia has officially overtaken the strategic hub of Kherson in southern Ukraine. This is the first major city to fall since the war began.
Update as of 3/1/22
A Russian missile has stuck the tower that provides the main signal to TV and radio in Kyiv. In addition, at least five Ukrainians were killed.
Currently, there have been 136 civilians killed in Ukraine, per a spokesperson for the U.N. High Commissioner for Human Rights. Spokesperson Liz Throssell stated 400 Ukrainian civilians have been wounded.
An estimated 677,000 civilians have fled Ukraine since Russia invaded last week.
Update as of 2/28/22
Zelensky signed an official request to join the European Union. We are living history

— Anastasiia Lapatina (@lapatina_) February 28, 2022
⚡️Zelensky has signed an official request to join the European Union. pic.twitter.com/5maLd8kESz

— Oleksiy Sorokin (@mrsorokaa) February 28, 2022
After six hours, discussions between Russian officials and Ukrainian delegations have ended with both parties returning to their respective capitols for consultation. Per reports, Ukraine discussed ceasing fire and Russian withdrawal. Negotiators for Russia have talked of striking a deal that could be of interest to both sides.
Putin has expressed to French President Emmanuel Macron that he'll stop strikes against civilian targets. He also stated he will preserve civilian infrastructure to secure main roads.
Update as of 2/27/22
According to reports, Ukraine and Russia have agreed to meet at the Belarus border on Monday. President Zelenskyy agreed to send a delegation to meet with the Russian negotiators. Monday's meeting will be held at the Pripyat river — an area that is currently under Russian military control.
President Putin has ordered Russia's deterrence forces to be placed on high alert. These forces also include nuclear arms. He made the announcement on a tv segment alongside Defense Minister Sergei Shoigu and Chief of the General Staff of the Russian Armed Forces Valery Gerasimov.
"Top officials in leading NATO countries have allowed themselves to make aggressive comments about our country, therefore I hereby order the minister of Defense and the chief of the General Staff [of the RF Armed Forces] to place the Russian Army Deterrence Force on combat alert."
Germany, Italy, and France have all announced each country has closed its airspace to Russian aircraft and airlines.
Antony Blinken (Secretary of State) stated the US would be sending nearly $54 million to Ukraine to help with humanitarian aid to assist. These funds will provide food, water, shelter, and health care.
Update of 2/26/22
Alongside the US, Canada, and European leaders released a joint statement on the economic actions they'll take against Russia.
BREAKING: White House releases joint statement with Canada and major European leaders committing to new economic actions against Russia, including "ensuring that selected Russian banks are removed from the SWIFT messaging system." https://t.co/rjazpbZl5u pic.twitter.com/Zwc8pSuLr5

— ABC News (@ABC) February 26, 2022
The US military will be giving $350 million in assistance to Ukraine. Secretary of State Anthony Blinken approved the assistance. 
"Today, as Ukraine fights with courage and pride against Russia's brutal and unprovoked assault, I have authorized, pursuant to a delegation by the President, an unprecedented third Presidential Drawdown of up to $350 million for immediate support to Ukraine's defense. This package will include further lethal defensive assistance to help Ukraine address the armored, airborne, and other threats it is now facing. It is another clear signal that the United States stands with the people of Ukraine as they defend their sovereign, courageous, and proud nation," said his statement.
Original story

Ukraine is an independent President Vladimir Putin has had Russia invade the country. Russia currently is trying to overtake the country and seeking to take over the capital, Kyiv, in the very early hours of Thursday morning.
On Feb. 24, Putin declared his country couldn't feel "safe, develop and exist" because he felt there was a threat from Ukraine. Russia first attacked airports and military headquarters in Ukraine. Next, tanks and troops stormed the country from the north, east, and south which also includes coming out of Belarus (Russia's ally).
Putin has gone on air warning other countries to not get involved or it would "lead to consequences you have never seen in history."
Ukraine President Volodymyr Zelenskyy has stated at least 137 Ukrainian soldiers and civilians have been killed in the attack already while hundreds more are wounded.
Thursday, President Joe Biden did address the media announcing a new round of severe sanctions against Russia. Biden's announcement came after meeting with his national security team and world leaders.
"(Vladimir) Putin is the aggressor. Putin chose this war. And now he and his country will bear the consequences," shared President Biden.
Thousands of individuals have started to flee Ukraine:
More than 50,000 Ukrainian refugees have fled their country in less than 48 hours — a majority to Poland and Moldova — and many more are moving towards its borders.

Heartfelt thanks to the governments and people of countries keeping their borders open and welcoming refugees.

— Filippo Grandi (@FilippoGrandi) February 25, 2022
This afternoon (Friday, Feb. 25) Delta has terminated its partnership with Aeroflot, a Russian airline.
"We have removed our code from Aeroflot-operated services beyond Moscow's Sheremetyevo Airport and removed Aeroflot's code from Delta-operated services from Los Angeles and New York-JFK," said a statement from the airline. "Accommodations will be made for customers affected by these changes."
Furthermore, in the wake of Russia's invasion, lawmakers are pushing for Biden to release emergency oil reserves.
"As Russia's invasion of Ukraine continues to cause volatility in the global oil market, we are writing to urge you to consider using all of the tools at your disposal to insulate Americans from rising gasoline prices," the letter stated.
According to one report, nationwide, the average price of regular gas is now $3.57 a gallon.
Original story published Feb. 24, 2022