For more than 50 days, protests in Portland, Oregon have not stopped. While protests over Geroge Floyd's death waned across most of the country, complaints, marches, and clashes with police have continued in Portland.
In the last week, the situation has progressed to being worse with the presence of unidentified federal agents, which has multiplied the reports of arrests, repressive tactics, and police brutality. In videos and photos that went viral on social media, federal officials appear, masked and unidentified, shooting tear gas and rubber bullets at crowds. But what has caused the most controversy have been other recordings in which they are seen forcibly detaining protesters in the streets and putting them in vehicles without identification. This action has generated criticism from civil organizations and local authorities.
"The US government should not use unidentified federal agents as a secret police force to terrorize US citizens and violate their constitutional rights," stated Massachusetts Senator Elizabeth Warren in a report by FR 24 News.
The authoritarian drift of President Trump's government is again under the spotlight. For the past few days, federal law enforcement agencies deployed since the beginning of the month in Portland, have been using aggressive and controversial tactics against protesters who have been keeping the nationwide racial and social justice protests alive after the death at the hands of the police of George Floyd. This government deployed dozens of federal agents from the United States Customs and Border Protection service days ago. The necessary jurisdiction came after the White House promised to intervene rigorously to prevent any type of federal property from being destroyed or damaged.
"I share the concerns of our state and local leaders — and our Oregon U.S. Senators and certain Congressional representatives — that the current escalation of fear and violence in downtown Portland is being driven by federal law enforcement tactics that are entirely unnecessary and out of character with the Oregon way. These tactics must stop," said Oregon Attorney General Ellen Rosenblum in a statement.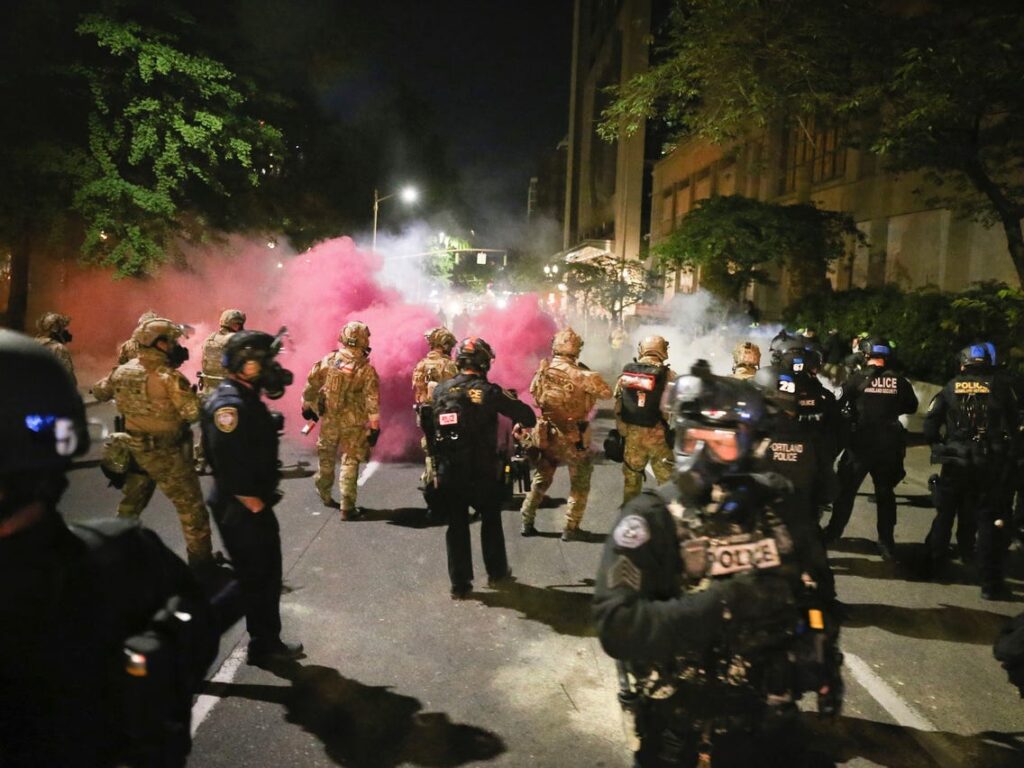 These federal forces have been using non-lethal ammunition against protesters, and last weekend one of those shots left a young man with a skull fracture. But there have also been scenes improper from democracies, with officers dressed in camouflage and unidentified making arrests in unmarked trucks, without giving any indication of which agency they belonged to or why they practiced the detention.
The episodes have created more than outrage. Oregon Governor Kate Brown has denounced this a "flagrant abuse of power" and "a politically motivated provocation of confrontation," as reported in a statement by FR 24 News.
Although some experts warn that the post-9/11 law gives President Trump legal protection, on Friday the state Department of Justice announced a lawsuit in a federal district court accusing several of the federal agencies of "illegal law enforcement in violation of the civil rights of Oregon citizens by forcibly detaining them and detaining them without probable cause, " expressed Kristina Edmunson, Oregon DOJ spokeswoman, in a report by NPR.
A restraining order will also be requested to "immediately stop the illegal arrests of the federal authorities" and a criminal investigation will be launched into the shooting of the young protester, Donavan LaBella, who was shot in the head, the NPR report stated.
"The federal administration has chosen Portland to use their scare tactics to stop our residents from protesting police brutality and from supporting the Black Lives Matter movement," Rosenblum stated in a statement. "Every American should be repulsed when they see this happening. If this can happen here in Portland, it can happen anywhere."