Atlanta GA — It was an emotional day for family and friends of Rayshard Brooks whose life was recently taken. Rayshard was an African-American man whose death at the hands of police sparked protests in Atlanta and other cities. The public viewing wake began at 3 p.m. at Ebenezer Baptist Church in Atlanta, the church where civil rights leader Martin Luther King Jr. served as co-pastor from 1960 until his assassination in 1968.
It was a public ceremony were Brooks's family, friends and others gathered to honor his memory.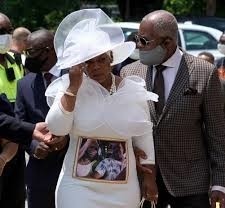 First came Rayshard Brooks' widow, Tomika Miller, who arrived for the public viewing at the Ebenezer Baptist Church dressed in white and with an image of her and her beloved pasted on her dress. Behind Miller, other family members, friends, and local individuals filed into the church. They came with their masks on and in silence formed a line to be able to enter to say goodbye to Brooks.
While maintaining social distance, some drops of rain began to fall on the people who lined up outside the church, but this did not drive them away. They decided to stay there faithful to Rayshard and his family.
Brooks was shot twice in the back outside a fast food restaurant in Atlanta by a white police officer. He died just days after another black man, George Floyd, died as a result of police actions in Minneapolis. The officer accused of killing Brooks, Garrett Rolfe, has been detained and is now facing multiple charges.
Both incidents, Brooks and Floyd, have sparked a wave of protests against racism and police brutality in the US and elsewhere.
Tomorrow, Tuesday, June 22, Rayshard Brooks' private funeral will be held at 1 p.m., also at the historic Ebenezer Baptist Church in Atlanta.