The NBA has become the first of the four major professional sports leagues to postpone its games due to the coronavirus pandemic.
The decision was made today by commissioner Adam Silver after Utah Jazz center Rudy Gobert tested positive for COVID-19 before Wednesday's Jazz-Oklahoma City Thunder game at the Chesapeake Energy Arena in Oklahoma City. While the report given to the league did not identify Gobert, sources have confirmed he is the player in question. The Jazz and Thunder players are being quarantined at the arena; Gobert was not at the arena.
The Jazz said in a statement that the player "tested negative for influenza, strep throat, and an upper respiratory infection. The individual's symptoms diminished over the course of [Wednesday], however, in a precautionary measure, and in consultation and cooperation with NBA medical staff and Oklahoma health officials, the decision was made to test for COVID-19."
The lineups had been announced and the game was about ready to begin when officials from both teams met up to discuss the matter. The halftime entertainment was moved up to the pregame, then the postponement came about 35 minutes later.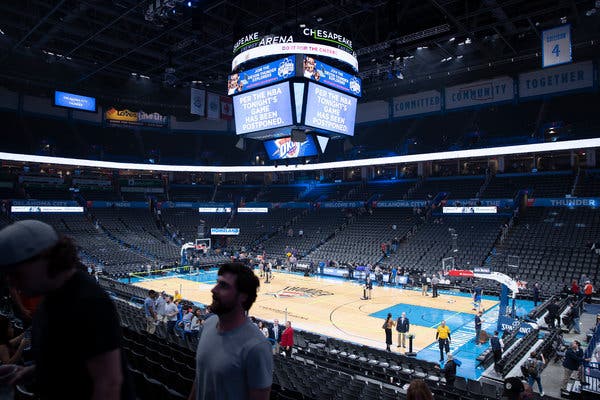 Players from teams the Jazz had faced over the last 10 days have been told to self-quarantine, according to ESPN's Brian Windhorst. The Jazz have faced the Cleveland Cavaliers, New York Knicks, Boston Celtics, Detroit Pistons and Toronto Raptors.
Around 9:30 p.m. ET, the league made an announcement that they would be suspending all games until further notice.
"The NBA is suspending gameplay following the conclusion of tonight's schedule of games until further notice," the league said in a statement. "The NBA will use this hiatus to determine the next steps for moving forward in regard to the coronavirus pandemic."
The last game to be completed was the Dallas Mavericks' 113-97 win over the Denver Nuggets.
Update: March 12
As of Thursday morning, it has been reported Gobert's teammate, Donovan Mitchell has now tested positive for coronavirus. According to ESPN senior NBA insider Adrian Wojnarowski, Utah players privately admitted Gobert over the last few days has been careless in the lockerroom.
Stay tuned for more details as the story develops.