San Diego, CA — As the last undefeated team in the country, the No. 4 San Diego State Aztecs (SDSU) had a target on their backs with the New Mexico Lobos coming to town on Tuesday.
With a chance to clinch the Mountain West Conference championship on the line, the Aztecs (25-0, 14-0 MWC) held New Mexico (17-9, 6-7 MWC) to 26 second half points in an 82-59 victory at Viejas Arena. Junior forward Matt Mitchell led the way with 22 points and 12 rebounds for his first-ever double-double while Yanni Wetzell added 20 points and nine rebounds.
Head coach Brian Dutcher expressed joy at his team's success but also mentioned that the hardest part isn't over.
"The hardest thing in basketball, obviously other than winning a Final Four, is winning a regular-season conference title, because you have to do it over the whole season," Dutcher said. "To have the title outright already with four games to play is an incredible accomplishment. I told them in the locker room, now we have to get greedy. We've got to try to win them all. It won't be easy. … Four really hard games to go, but now that we have the title, we have to have another goal, and that goal has to be to have a perfect season. That will be the next step, to try to finish with a perfect season."
The first half of the game was very competitive, as SDSU failed to break away at first from a short-handed New Mexico squad (JJ Caldwell and Carlton Bragg Jr. remain suspended). With only a two-point lead at halftime (35-33), trouble seemed to be on the horizon for the lone undefeated team left in the nation.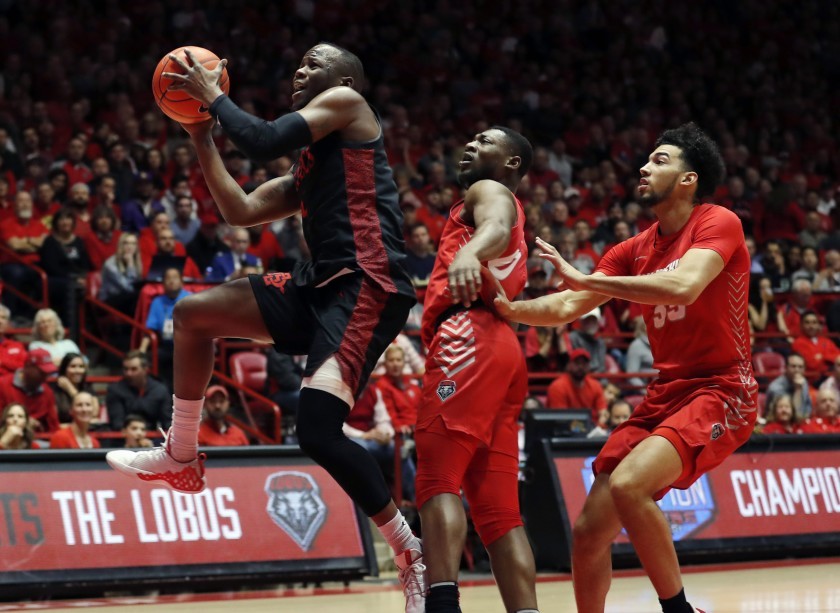 It was then that Mitchell started the rally, beginning the second half with a bank shot to put the Aztecs on the board first. He then added a tasty layup, followed by baskets from Malachi Flynn (15 points) and Jordan Schakel (11) to give SDSU a 44-35 lead that they would not give up.
"We definitely went into the locker and as a team told each other we needed to pick it up and be better," Mitchell said. "We came out in the second half and I think we definitely wanted this tonight and we wanted to win this on our home court and we came out and showed that in the second half."
With the win, SDSU won their 12th Mountain West conference championship – the most in the conference (New Mexico is second with eight) and fourth outright (2006. 20114 and 2016).
The Aztecs will attempt to maintain perfection on Sunday when they travel to face the Boise State Broncos, while New Mexico plays host to UNLV on Saturday. Before joining The Ball Out, Chris Bullock was part of SB Nation's Swish Appeal for nearly three years, covering everything women's basketball. Chris has had the honor of doing live coverage of the WNBA Finals, the NCAA Tournament, and also was given his own column, "The Triple Double". A self-described "foodaholic", Chris lives in the San Diego area with his wife and two daughters, and also hosts his own podcast, "Conscious Cravings", where he speaks about his experience as a mental health advocate.