Miami, FL — The Kansas City Chiefs outplayed the San Francisco 49ers in the fourth quarter of Super Bowl LIV to win by a final of 31-20. To say the least both teams made plenty of mistakes.
In the game of football, the team that makes the least amount of errors, will win the game. If you take out the dumb decision making by San Francisco before going into halftime, San Francisco made the least amount of mistakes headed into the fourth. They were up by 10 points with over nine minutes left in the final frame.
However, San Francisco didn't step up when the lights shined the brightest. Those are the mistakes that are the difference makers between being the Champion or earning a participation trophy.
WHERE DID SAN FRANCISCO GO WRONG?
One down fall for the 49ers was not being able to stop Kansas City's offense in critical moments of the game.
Giving up 21 points in the fourth period alone; along with not being able to convert offensively, they dug themselves into a hole they couldn't get out of before it was too late.
Another mishap for the 49ers was San Francisco did not value their possessions on either end of the field. More specifically, the 49ers allowed Kansas City quarterback Patrick Mahomes to throw for 286 yards, 26/42 on passing completions, including two successful touchdown passes.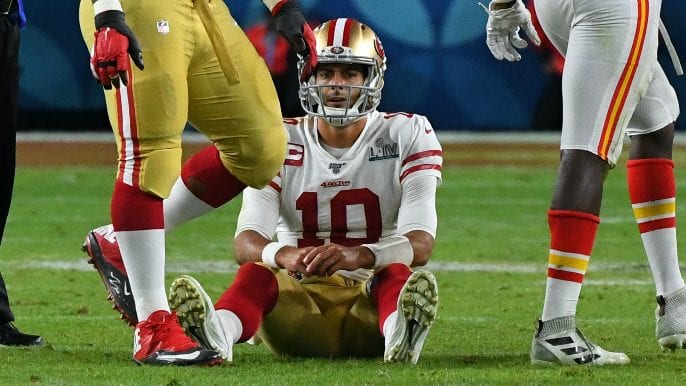 Mahomes is what many would consider to be the engine of the team. He's very good at scrambling outside of the pocket and getting downhill for positive yardage towards their first down. That type of a talent you have to stop by playing well defensively and scoring the football.
The Niners failed to do so in the game's final moments.
THE LACK OF STOPPING PATRICK MAHOMES
Furthermore, Mahomes had nine carries in the win over San Francisco. He sat back and picked apart the defense single-handedly when his team needed it most. Playing at a calm and steady tempo, he used his versatility to slither around 49er defenders.
If San Francisco could go back and look at the film of last nights game, their number one priority would be to stop Mahomes by completing missed tackles. Many times, there were defenders flying at him left and right. But, no one could bring him down before he got himself in good field position.
Last night's Super Bowl matchup was one of the best in the last few years. Congratulations to the Kansas City Chief organization.