LOS ANGELES – A bloodied Paul George led a furious comeback for the Los Angeles Clippers, who were down 15 early in the first half to beat the San Antonio Spurs 108-105.
The Clippers (35-15) needed every shot they could get from George, who got hit by San Antonio's DeMar DeRozan midway through the third quarter. At the 6:02 mark, DeRozan's left elbow got George, who fell down on his knees holding his face. A trainer came out to give him a towel as the blood flowed from George's face; George left but came back in the fourth.
The Spurs (22-27) – led by DeRozan (26 pts) and LaMarcus Aldridge (27 pts) – were up 63-54 at the end of the first half. But after being up 15 halfway through the second quarter, the Clippers came back to outscore the Spurs 31-19 in the third to take an 85-82 lead into the final frame.
Aldridge scored 13 points in the fourth for San Antonio, but with no help from DeRozan (zero points in the last quarter) the Clippers managed to stay in it. A dunk from Kawhi Leonard (22 pts) put the Clippers up two with 1:35 left. Leonard then blocked a shot from DeRozan, which led to a step-back jumper by George to give the Clippers a 106-102 advantage.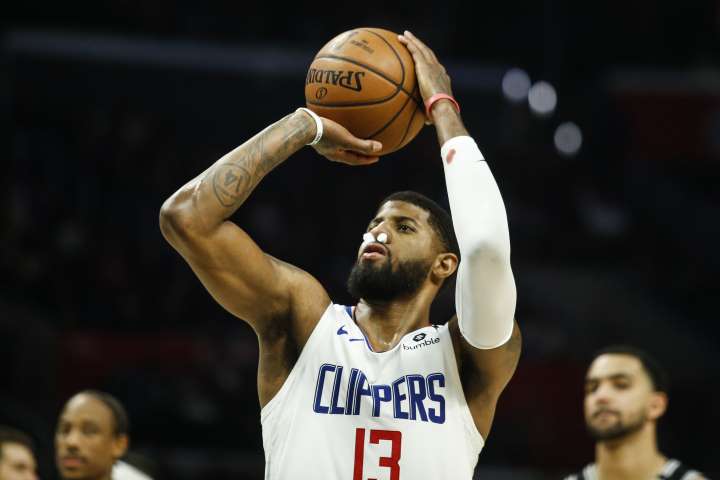 Patty Mills hit a three-pointer to keep the Spurs alive but Lou Williams ended any hopes of a comeback with a pair of free throws of his own to put the finishing touches on the Clippers' win.
The win keeps the Clippers on pace for second in the Western Conference, as they still remain three games behind their neighbor, the Los Angeles Lakers.
The Spurs will stay in town for a Tuesday night match with the Lakers, while the Clippers travel to Miami for a duel with the Heat.
BENCH WARMERS: Kawhi Leonard's streak of nine games with 30-plus points came to an end – the longest streak in the NBA this season and the longest by a Clipper in 38 years (World B. Free, 1982). That being said, Leonard has had a great start to 2020: not only was he named an All-Star starter but he recently had his no. 15 jersey retired by his alma mater San Diego State. The No. 4 Aztecs are the last undefeated men's college basketball team in America – 23-0.