Hello friends. It's been amazing to be able to write and give my thoughts on the happenings that are going around in the NBA. Hope that you have enjoyed it as we continue this journey together in 2020.
Steph over Kobe?
Sports is all about debates. However, there's one debate that captures fans attention. Who's the top-10 players of all time?
Last year, Bleacher Report came out with this list.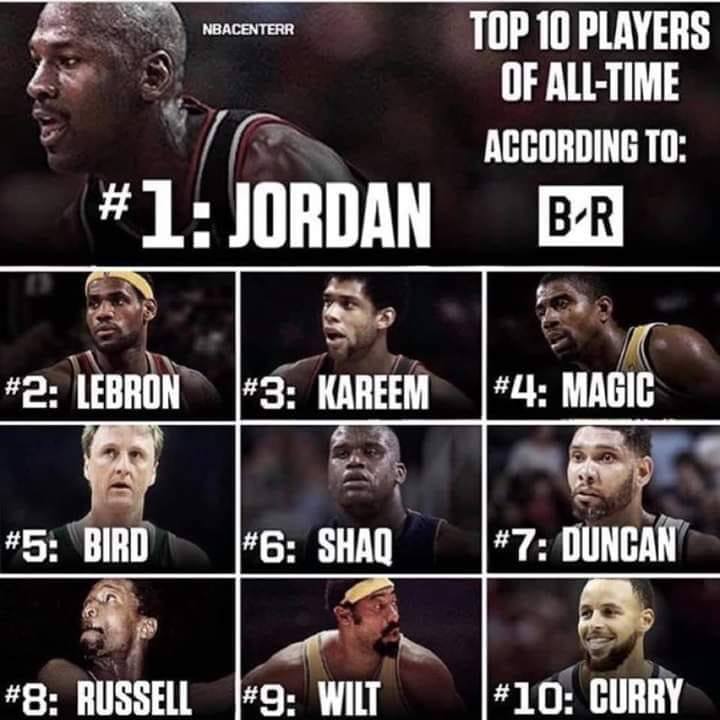 Immediately – being the Los Angeles Lakers fan that I am – I roared, "Where's Kobe Bryant?!"
For a second it was hard to look at. Stephen Curry number 10? Then to find out, they had Bryant ranked 14th behind Oscar Robertson, David Robinson and Hakeem Olajuwon. Woah.
Bleacher Report's Andy Bailey wrote an article in as to why he has Curry ahead of the Black Mamba in the all-time rankings. He broke it down by looking at each player's impact, both defensively and offensively and what they've done in a 10-year span.
He also did the one thing that I've essentially done in these who's in the top 10 or 15 of all-time polls. What did that player do to change the game? When you look at each of these players on this list, they were either behemoths at their position, their era or they did something to revolutionize the game.
Michael Jordan – Made the game global, Owned an entire decade
LeBron James – Made the game mobile in regards to player movement
Kareem Abdul-Jabaar – Most unstoppable shot ever, NBA's all-time scoring leader
Magic Johnson and Larry Bird – Saved the NBA
Shaquille O'Neal – Most dominant force we've seen in our generation
Tim Duncan – Greatest Power Forward of All-Time
Bill Russell – Greatest winner ever (11 rings)
Wilt Chamberlain – 100 points in a game, averaged 50 points in a season, most dominant of his era
Bryant and Curry, numbers wise, impacted the game. To stay consistent, I'll go with how I viewed the other players. Both of these players really influenced a generation.
Curry took advantage of the three-point shot. We've had three point shooters before, but Curry's ability and the shift of the league put him ahead of the pack. He also was the first-ever unanimous MVP.
Bryant remixed Jordan, period. However, he, like His Airness, influenced the next generation of players. If you look at guys in the league today, tell me how many take from the Black Mamba? Kawhi Leonard, Andrew Wiggins, Jayson Tatum, DeMar DeRozan, James Harden, Kyrie Irving, etc.
Yet, some people may say Curry is better. But I think they can only give it impact via team wise and his revolutionary shooting. I'm a guy that has said Allen Iverson changed ball-handling and made it okay for you to be yourself in the NBA. Yet, he's not one of the top-10 greatest players ever.
In my mind, Bryant's better than Curry. There's things on the court that will never be shown on a stat sheet. His mental toughness, his willingness to play through injury, guard the best player on the other team at 30-plus years of age and still drop 40 points.
Bryant extracted all he could from the game and himself. Curry, in my opinion, extracted and took advantage of the game systematically, which Clutch Sports made an argument about it.
Bryant made 12 All-Defensive Teams, including 9 appearances on the First Team in an era where defense meant as much as your offensive skills. His accolades surpass Curry as well, although Curry has more regular'season MVP awards.
Bryant was revered as a guy who wanted it more and he showed that. Curry above Kobe? That's a reach.
More Pieces to a Potentially Finished Puzzle?
Kyrie Irving returned to the Brooklyn Nets this past week. In addition, had a bit to say as far as needing more pieces to the puzzle.
Every championship team has a certain fit about them. From the system, to the players' dynamic, winning teams have had a fit. For the most part Brooklyn has stayed afloat and currently holds the 8th seed in the Eastern Conference. They're reminding me of the LA Clippers last season.
However, you have a guy on this team that is saying from where he sits the team needs more pieces. And Maybe they will. Or maybe your missing piece… IS NURSING AN ACHILLES!!!
Here we are 44 games into the regular season and Kyrie has only played 14. This is a team that has good, young talent, are well coached and are winning WITHOUT their two marquee free agents they signed this past summer. Think of how scary this team could be once they're fully healthy.
Kyrie is not thinking big picture. In addition, it's hard to lead a team when its leader doesn't see downfield. What makes this challenging is that the Nets let D'Angelo Russell go because they felt Irving was not only a better player, but one that could take them further.
With Russell, Brooklyn was a team that many felt after last year's run was going to become a top-4 or maybe even 5-seed in the East. They then traded Russell and got Irving and Kevin Durant, become next year's contenders, but that's not what you see? That rubs teams and players the wrong way.
This is why Boston couldn't deal with the antics. At some point, you just have to play. Everyone else seems to understand that this year was going to be a wash. Why is it hard for him to get?
When you do things like this… it questions a lot. Charles Barkley had a good take on it Thursday.
Kyrie is not seeing this season as letting the young players gain confidence so when Durant comes back and Irving plays a full 82, it's more of a smoother transition.
Kyrie wants to be LeBron but this isn't Cleveland. Brooklyn has the pieces that complement their two stars. We've seen in three different scenarios now with him. It's never enough for the All-Star guard.