Jacksonville, FL— National signing day has already begun, and one of the nation's top prospects, Sandalwood's Jeff Sims, is ready to make a splash in Atlanta as he announced that he would be playing at Georgia Tech next season.
"I'm just blessed to be in this position, and I'm ready to work," Jeff Sims said.
Sims had an unbelievable 2018-2019 campaign. The 6-foot-3-inch quarterback has been recognized as one of the top duel-threats, competing this summer at the Elite 11 showcase in Texas. However, he wasn't noticed for his mobility early on in his career. 
"He was originally classified as a pocket passer,"  said Denny Thompson, who is Sims' quarterback coach.  "He has since then been reclassified as a duel-threat guy."
The senior was able to showcase his talent this season as he rushed for 752 yards and nine touchdowns this season. In addition, Sims also completed over 50 percent of his passes for 14 touchdowns and three interceptions.
The decision to become a Yellow Jacket may come as a surprise to some, as Sims had been committed to Florida State before the beginning of this past football season. However, he announced his de-commitment from the Seminoles via Twitter last week.
Yet, he feels that Georgia Tech was the perfect fit as to where he wanted to continue his journey. 
"I kind of knew Georgia Tech was the place for me three days ago, but last night I was thinking about it hard," he stated. "Georgia Tech was the place for me to be."
According to Sims' father, Jeffrey Sims, things had been going relatively smooth up until November. The only point where it had gotten rocky, was when it was getting closer and closer to the date of when the star quarterback had to make a decision.
It was no secret that the young quarterback had grown up a fan of the Noles. However, once Taggart was fired, along with the fact it took so long before the Seminoles hired Memphis head coach Mike Norvell, it allowed the family to explore other options and take visits.
"We had hoped that everything would work out at Florida State," the father Jeffery Sims stated. "But after we took those visits, comparing what we already knew about Florida State and comparing what we had experienced on these other visits, we realized that there were other options out there for him."
"The time that we waited for Florida State to get a coach, then going out on a couple of visits to see what was out there, that's what came to us making the decision," he continued. "Before all of that, we were just on Florida State. That's all we knew."
According to reports, Norvell did talk to the quarterback. Both Sims and his father acknowledged that the conversation was a great one. However, Sims felt that Norvell's direction of how he wanted to take FSU was a different one than what Taggart would've gone in. 
"He just told me how I would fit and how it would be for me if I went there, and I didn't feel like that was something I wasn't expecting," the son Jeff stated. "It kind of felt like he had his own guy. So I was like I'm not his guy, I might as well not go there."
In addition, he has appreciated the supportiveness of his family through this time.
"They followed what I liked and gave me advice as to what I should do," he said.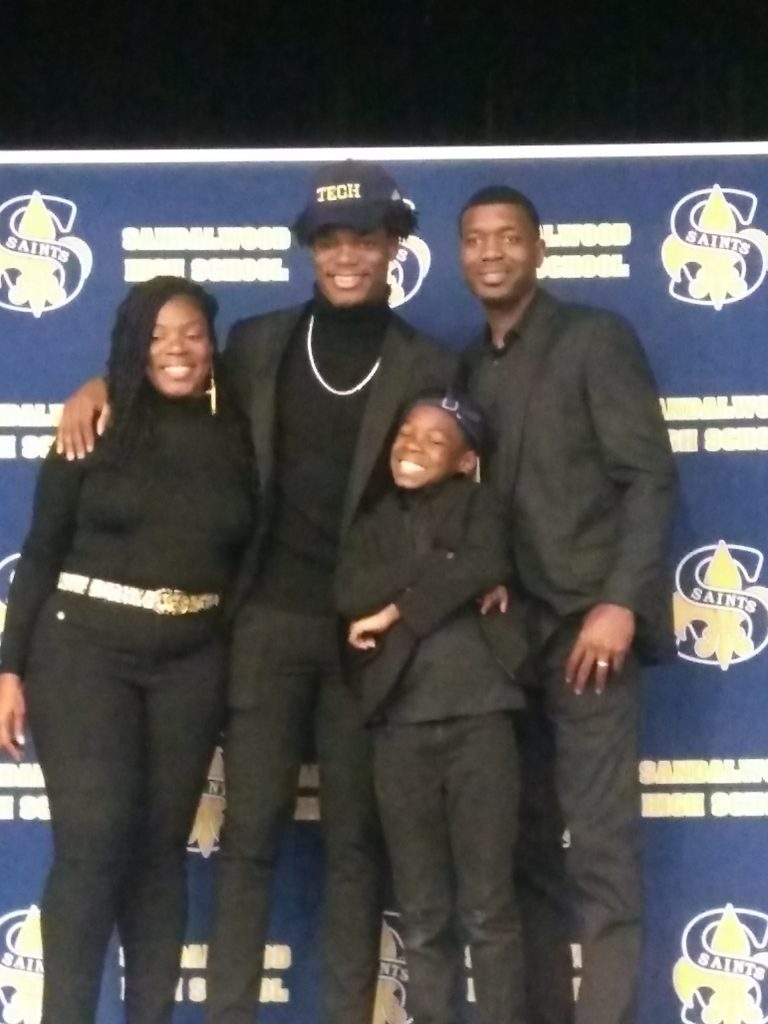 Now with Georgia Tech, Florida, and more, in particular, Jacksonville is a place that head coach Geoff Collins wants to get his hands in when it comes to recruiting talent. According to high school football insider Ryan Green, defensive back Miles Brooks has committed to Georgia Tech as well. 
"He (Collins) said that he wanted to get shirts made from the 904 to the 404 and really wanted a lot of Jacksonville athletes," said Green.
Collins has stayed true to what he's wanted to do regarding getting athletes from the Jacksonville area. However, offensively, Green says Georgia Tech will need to get help. Yet, he states the fact that with Sims and with the fertile recruiting ground that the Georgia area has, Collins has a chance to make a significant impact in a short amount of time.
The Noles may get stung in the event that a four-star quarterback becomes the second coming of Baltimore Ravens star Lamar Jackson on the fact that you allowed this man who was in your backyard to go to a conference foe.
Yet, it's very early, and there's a lot to be seen from both schools. However, today is Sims' day, and Thompson feels that Georgia Tech is going to get his absolute best.
"(He's) a good leader and a great program guy," Thompson said. "He's a plug and play guy. Put about 10 pounds on him, and you've got yourself a three-year starter."