Welcome to the weekend, and to start your weekend off right we've got a new edition of The Triple Double!
I originally intended to start this first thing on Monday morning, but as it always is when moving into a new apartment, you have certain things that need attending to first (cleaning, unpacking, setting up internet, etc.). And in the last few days, it looks like I'm not the only one whose bags have been packed and moved around.
Since the start of free agency on Sunday evening (June 30), we have seen many big names change the course of the 2019-2020 season just by switching teams. So instead of doing our usual three singular topics, we are going to break this down into the biggest winners and losers.
Without further ado, let's begin!
WINNERS
LOS ANGELES CLIPPERS: Yes, you are reading this right.
Up until Friday night, the Clippers were going to go into the honorable mention section. But with the massive news that dropped like the 7.1 earthquake, they instantly became not just the biggest winners of the off-season but possibly the scariest team in the NBA.
What massive news you say? There's two parts:
Free agent forward Kawhi Leonard has informed runners-up teams of his plans: He's signing with the Clippers, league sources tell ESPN.

— Adrian Wojnarowski (@wojespn) July 6, 2019
And when you thought the Clippers were done…
Sources: Oklahoma City is getting a massive package of future picks, including Shai Gilgeous-Alexander and Danilo Galllinari, to deliver Kawhi Leonard who he wanted to partner with: Paul George. https://t.co/4bGpMNat8K

— Adrian Wojnarowski (@wojespn) July 6, 2019
Let this sink in: the Los Angeles Clippers, a team with no major superstars, took the Golden State Warriors to six games in the first round of the playoffs with a healthy Draymond Green, Kevin Durant, Klay Thompson and Stephen Curry. And without losing any depth, they just added the two-time Finals MVP and a man who was a finalist for both the MVP and Defensive Player of the Year.
Now, let's take a look at this potential starting five that the Clippers will most likely put on the floor Opening Night:
Point Guard: Patrick Beverley (NBA All-Defensive First Team in 2017)
Shooting Guard: Lou Williams (three-time NBA Sixth Man of the Year)
Small Forward: Kawhi Leonard (two-time Finals MVP, three-time All-Star and two-time DPOY)
Power Forward: Paul George (six-time All-Star, two-time All-Defensive First Team and led league in steals last season)
Center: Montrezl Harrell (career high in blocks and rebounds last season)
There's a good reason the Clippers are now the odds on favorites to win the championship in 2020, leaping over their fellow Staples Centers tenants, the Los Angeles Lakers. While the Lakers had made the biggest trade of the off-season by acquiring Anthony Davis from the New Orleans Pelicans, the Clippers deal overshadows that by miles (more on this later in the column).
As a long-time fan of the Clippers (22 years and counting), this isn't just exciting; this was the biggest night of our lives. All of a sudden, the Clippers-Lakers rivalry has become one of serious consequences: they are no longer just fighting for bragging rights, they are fighting to determine who is truly the A-team in Los Angeles.
BROOKLYN NETS: Two words: holy cow.
That's the only real way in which to describe how the Brooklyn Nets went from the laughingstock of the NBA just a few seasons ago to potential Eastern Conference champions in one day. Within the first hour of free agency on Sunday, the Nets announced that D'Andre Jordan, Kyrie Irving and two-time Finals MVP Kevin Durant had agreed to terms on contracts with the team.
And just like that the balance of power in New York shifted. You don't have to believe this California native here, but you'll want to see what New York native Max Kellerman had to say immediately after the deal was announced:
#Knicks always ran unopposed in NYC, until 7 years ago, a team came to #Brooklyn. For the first time, the Knicks had to compete for NYC's NBA fans. Today that competition is over. The Knicks are finished as the #1 basketball team in town. The #Nets own NYC. It's Jim Dolan's fault

— Max Kellerman (@maxkellerman) June 30, 2019
Now you may be asking yourself, "why does getting a guy who has been a locker room headache and a man with an Achilles injury make them the winners of free agency?" Allow me to explain.
Kyrie Irving has been called many things in his career, but one thing he is not is a slouch on the court. In the course of his career (eight seasons) Irving has been a consistent three-point shooter (39 percent career), has averaged 22.2 points per game and is fairly accurate from the free throw line (87.5 percent). There have been two labels that have stuck with him, however: injury-prone and diva.
Not once in his eight years has Irving ever played a full 82-game season (not even in the strike-shortened 66-game 2011-12 season – he played 51 games); in his two seasons with the Boston Celtics he played 60 and 67 games respectively due to injuries. And in those two seasons, the argument could actually be made that the Celtics were better off without Irving. During the regular season, the Celtics were 26-11 without Irving on the court, including a miraculous run to the Eastern Conference Finals in 2018 where they took the Cleveland Cavaliers to seven games. With Irving, the Celtics weren't the same ball-sharing team; while they did win the first five games of the 2019 post-season, they went on to lose the final four games of the semi-finals against the Milwaukee Bucks. At one point in the series, Irving was 15-of-44 from the field.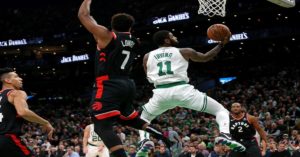 His tenure with the Celtics wasn't the most celebrated either. Irving came to the Celtics via trade from Cleveland, thinking he was going to become 'the top guy' on the team, yet his time was marred by inconsistent statements about where his loyalty lies and eventually stating that being a leader was tougher than it seemed. The upside, at least, is that in Brooklyn, he will for sure be the Robin to Kevin Durant's Batman.
Which leads us to Durant.
Yes, by the time Durant suits up for the Nets, he will be 32 coming off an Achilles tear – the most dangerous of injuries for a basketball player. In an earlier article from the San Francisco Chronicle, Tom Fitzgerald mentioned a 2013 study by Drexel University regarding NBA players and Achilles injuries. The numbers are staggering and quite devastating: seven of 18 NBA players who suffered Achilles tears never returned; three came back for one season; and of those who did return, they missed an average of 56 games the remainder of their careers. Notable players who have recently seen their careers ended by an Achilles tear include Anderson Varejao, Brandon Jennings, Chauncey Billups and Kobe Bryant.
While the Achilles injury isn't a complete career-ender, most players never regain the pre-injury form that they had – the rare exception to this case is Hall-of-Famer Dominique Wilkins, and he suffered his injury at 32. Those familiar with Durant's career (check the stat-line) know that this man is a first-ballot Hall-of-Famer who was more than worthy of a max contract. Yet, there was one team out there who decided to back off on offering him the max because of this injury (more on that in the losers tab). With the Nets, though, Durant can take his time recovering.
The Nets were a playoff team last season without Durant, Irving or Jordan, giving the Philadelphia 76ers a run for their money in the first round before being eliminated. With an already familiar core of Caris LeVert, Jarrett Allen, Rondae Hollis-Jefferson and Spencer Dinwiddie, the additions of Irving and Jordan can only help bolster the lineup. And adding Durant to that in 2020-21…all of a sudden you have the makings of a potential championship contender.
GOLDEN STATE WARRIORS
It is not often that you lose two franchise stars in a championship series, lose the Finals and somehow still come out relatively clean in the process.
Yet, here are the Golden State Warriors, still looking like a team that could make a sixth consecutive run to the NBA Finals.
Yes, they did lose Kevin Durant. But the most impressive part of it (and why they are winners) is that they managed to lose him and still get something out of it. The Warriors, after being informed by Durant that he was leaving, worked out a three-team deal with the Brooklyn Nets and Minnesota Timberwolves to acquire All-Star guard D'Angelo Russell from Brooklyn. Russell came into his own last season in Brooklyn, where he averaged 21.1 points per game and shot 37 percent from three to earn his first-ever All-Star appearance.
While gaining Russell meant having to sacrifice a key part of their five consecutive Finals runs (2015 Finals MVP Andre Iguodala was traded to the Memphis Grizzlies to clear salary for Russell), the Warriors were able to keep developing center Kevon Looney, as they owned his Bird rights. They also retained five-time All-Star (and one half of the Splash Brothers) Klay Thompson on a five-year, $190 million max contract despite the fact he will miss at least half of next season due to an ACL injury he suffered in game six of the NBA Finals.
Don't forget that the Warriors still have two of the biggest x-factors in the NBA as well: Draymond Green and Stephen Curry. Green is one of the few players in the league who can successfully defend all five positions, and is the Warriors' glue guy for all intents and purposes (many will argue, and wouldn't be wrong, that Green's suspension in game five of the 2016 NBA Finals cost Golden State the title).
And then you have Curry, the only unanimous MVP in league history and arguably the greatest three-point shooter of all-time (first all-time in playoff three-pointers made with 470; currently third all-time with 2,483). The Warriors proved to be a better team with Curry on the floor than with Durant, and this coming season might see a return to the 2016 Curry – which is not a good thing for the rest of the league.
LOSERS
LOS ANGELES LAKERS: There will be plenty of finger-wagging and pointing of blame as to what went wrong with these Los Angeles Lakers and how they didn't manage to snag ANY of the big-name free agents.
However, I'm going to say it like it is: the 'Showtime' era of the team in long gone, and with that the aura that comes with wearing the Lakers purple-and-gold.
It isn't enough to just throw any amount of money at a player and tell them of how they can go from being a regular Joe to a demi-god in Los Angeles. Look at the players who have turned down the opportunity to join Laker lore in recent years: Carmelo Anthony, LaMarcus Aldridge and most notably Kawhi Leonard and Paul George.
What stings most about losing out on Paul George is that he was so close to becoming a Laker just three seasons ago. Let's break down the timeline:
June 2017: George informs the Indiana Pacers that he will opt out of his contract after the 2017-18 season and become a free agent, with intentions to sign with the Lakers. The two teams begin discussing sign-and-trade options.
July 2017: Indiana trades George to the Oklahoma City Thunder.
July 2018: after playing one season with the Thunder, George signs a four-year, $137 million extension to stay – he didn't even grant the Lakers a meeting before agreeing to the extension.
Now, the Palmdale native will be tying his laces in the Staples Center…but for the Clippers red and blue.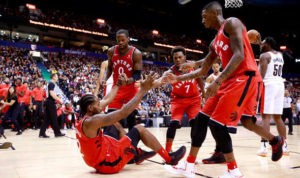 In regards to Leonard, it had been reported throughout the past couple of weeks that the Lakers were the front-runners for the multi-faceted talent. Yet, it turns out those reports were false:
In the end, Kawhi Leonard didn't want to construct a Super Team with the Lakers. He wanted a co-star across the Staples corridor with the Clippers, and made it clear to Steve Ballmer and Lawrence Frank: Get PG, and I'm coming.

— Adrian Wojnarowski (@wojespn) July 6, 2019
Yet all this could have been fathomable, except for this: the Lakers basically traded their entire future and sacrificed their depth just to make room for a third max impact-type player to fit besides Anthony Davis and LeBron James. While adding Danny Green, DeMarcus Cousins and Jared Dudley (and re-signing JaVale McGee and Rajon Rondo) may help fill out the roster, this wasn't supposed to be how the Lakers spent their summer.
They went from potentially being the biggest super-team in the history of the league to possibly becoming the B-team in their own city – something that no one would have thought possible EVER.
NEW YORK KNICKS: I almost didn't even want to write about them in fear that everything I said was going to be one of two things: very insensitive or too harsh.
But ultimately, the show must go on. And the Knicks definitely found a way to lose.
If you've been following Max Kellerman over the last week, you'll know that he has ripped the Knicks to shreds for whiffing out on free agency after promising the fans that they would be major players. Among the many things he has said:
Attn: James Dolan
When crosstown rival threatens to render you irrelevant for years, doing something is advisable. https://t.co/xmpMh7Hhwc

— Max Kellerman (@maxkellerman) July 6, 2019
Shrewd. Otherwise, the @nyknicks would've missed out on Reggie Bullock, and Wayne Ellington. https://t.co/mdbJywFDQF

— Max Kellerman (@maxkellerman) July 4, 2019
He is hardly the only media personality who has had negative things to say about the Knicks and how they handled themselves. Bill Simmons of The Ringer also put in his two cents on why they committed the most egregious of sins:
The Knicks could have done stuff like this but instead they paid five 10th men https://t.co/a7kHnshuof

— Bill Simmons (@BillSimmons) July 1, 2019
The Knicks spending 52m on 5 role players (Ellington, Payton, Portis, Gibson, Bullock) over just keeping that cap space so they could absorb expensive shorter contracts w/ picks from cap/tax-strapped teams is just phenomenally and indefensibly dumb. I disagree violently with it.

— Bill Simmons (@BillSimmons) July 1, 2019
I'm going to give credit where it is due: the Knicks did sign Julius Randle away from the New Orleans Pelicans. While Randle has the potential to be the no. 1 guy in New York (sorry RJ Barrett, you've gotta wait your turn), this wasn't the free agency that Knicks loyalists were hoping for when the team went 17-65 last season.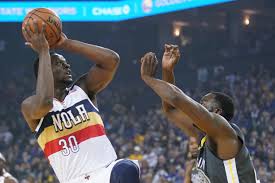 The last two decades since their last Finals appearance (1999), the Knicks have been run like a team with no direction. They've had terrible management (Phil Jackson), questionable free agent choices and the worst part about all that: their owner, James Dolan, has had his hand in ALL OF IT.
But this summer was supposed to be different. In February, Dolan expressed in a radio interview that he felt confident the Knicks would be able to draw a pair of superstars from this year's epic free agent pool. And for at least a couple of months, it seems like the dream would come to fruition.
Both Kevin Durant and Kyrie Irving had been rumored for a better part of the year that they would be signing with the Knicks, and with the team bottoming out after the Kristaps Porzingis trade, they cleared enough room a pair of max contracts. Then there was the hope of the NBA Draft, where the Knicks were in the running to draft a once-in-a-lifetime generational talent: Duke forward Zion Williamson.
Then the walls came crashing down with one ping-pong ball.
In the draft lottery, the Knicks ended up with the third pick instead of the first, ensuring they would not be drafting Williamson (who ended up going to the New Orleans Pelicans). Then reports were circling about that the Brooklyn Nets, not the Knicks, were slowly become the front-runners for both Durant and Irving.
Then July 1st came, and their worst dreams came to fruition: both Durant and Irving signed with the Nets, and the Knicks were left with egg on their face. But there is more to it than that, however:
The Knicks and owner Jim Dolan were not prepared to offer Kevin Durant a full max contract due to concerns over his recovery from the Achilles injury, league sources tell me and @wojespn. Knicks officials are in Los Angeles tonight, meeting with free agents such as Julius Randle.

— Ramona Shelburne (@ramonashelburne) June 30, 2019
The same Knicks who threw the bank at injury-prone players like Antonio McDyess and Amare Stoudamire decided to draw the line at Kevin Durant? That should say enough about the ineptitude of the franchise.
Thank you guys for tuning into this special free agency edition of The Triple Double, and we will be back in two weeks!