Los Angeles, CA — In beautiful downtown, the L.A. Clippers faced the Golden State Warriors as they attempted to tie up the series after a monster Game 3 from the Warriors. The Clippers ended Game 2 in shocking fashion after trailing by 31-points in a comeback win. Standout sixth man of the year candidate Lou Williams, put up 36 points tied for the fourth most of any reserve in a playoff game since 1985. It was also a franchise record for a reserve in the postseason.
The Warriors looked to pick up one more big win in LA before heading home for what they hope will be a final game five, but do so without their star big man DeMarcus Cousins. Defense will be key as it will most likely fall to Klay Thompson to cover William and mute the Clippers offensive firepower.
A strong first quarter from Golden State saw the Clippers fight to stay in the game and hold off the offensive pour from Kevin Durant and Thompson.
As half time drew to a close, veteran reserve Williams stepped up to hit a last minute three and dish an assist keeping the Warriors within four.  Durant completely derailed that push for moment with a fade away, falling three pointer with a made free throw bringing the first half to a close, 54-62 Golden State.
A strong third quarter saw a five point lead from the Clippers get upended by a uncontested run by the Warriors as the sleeping giant woke up and took the game over.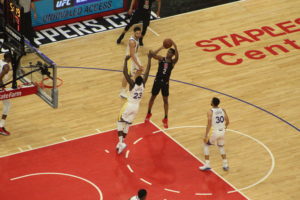 Strangely, Steph Curry was quiet on offense this game (12 points), with Durant and Thompson leading the scoring duties for Golden State. Los Angeles fought hard, staying alive throughout the fourth quarter as the Warriors continued to hold on to a 10-point lead with minutes left in the fourth quarter. Shai Gilgeous-Alexander led the Clippers with 25-points.
The Warriors handled business ending the game 113-105. Poised and looking ahead to game 5, head coach Steve Kerr addressed the media on his opponent.
"I thought the Clippers were fantastic tonight with their effort and their energy attacking us across the floor. I didn't think we fully engaged until they kind of took it to us in that third quarter. That's when our guys got engaged and started defending at a higher level."
Williams, star of Game 2, was held to just 12 points in the contest, when asked about adjustments on him, Durant had some insight, "[We] adjusted to the Lou Williams pick and roll, forcing him to his right side and making him pull up for a jump shot instead of getting to the paint and drawing guys. I think we eliminated that with our pick and roll coverage, having guys help out on the backside as well. They can score from anywhere so we try to make em see bodies, arms, and hands."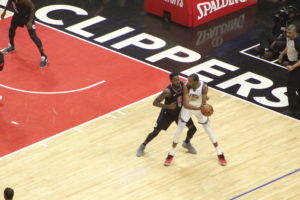 The Warriors will face a Clippers team facing elimination. Coach Kerr expressed his thoughts moving forward, stating, "I love their team, they're a young group that fights and scraps and plays together, plays hard. I just told our guys there can't be any letups. They play hard and are well coached so we must continue to stay locked in."
The Warriors were led by Durant who scored 33-points, seven rebounds and six assists while teammate Thompson contributed with 32-points. Golden State and Los Angeles will play Game 5 on Wednesday, April 24 at 7:30 pm PT in Oakland.