Atlanta, GA — Located at the timeless Intercontinental Hotel in downtown Atlanta, Whiskies of the World celebrated its sixth year of competition. With over 200 selections of whiskeys, the competition was fierce! There were cigar pairings to go with whiskeys from Scotch, Bourbon, Irish, Canadian, and even Japanese origin.
The event was packed with whiskey enthusiasts that were just as knowledgeable as the attending whiskey ambassadors. A sophisticated whiskey and cigar really brought the passion out of people.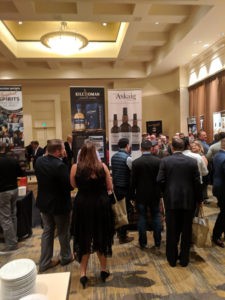 As an uninitiated whiskey drinker, I was pleasantly surprised by the knowledge and candor of the vendors. Learning about Islay whiskey and its origins in Scotland was a treat. Meeting whiskey fans was great too. We were able to speak with a few and gain insight into their favorite whiskeys of the day. One fan stated that the Corsair brand was his favorite with a smooth finish and smoky flavor.
Other guests had their eyes on special brands straight from Japan. One guest, Elektra stated, "Toki is like magic in a bottle. It has a smooth taste with a small bite, then it disappears making your confused taste buds wanting more."
Toki was one of my favorites as well.
As the night continued, I learned more about the process of creating a fine whiskey. The five-step process was detailed out to me and it seems like much has not changed over the course of time. That process includes three key ingredients: water, barley, and yeast. The process itself is broken down into five steps: Malting, Mashing, Fermentation, Distillation, and Maturation. The whiskeys that separated themselves were aged in special barrels or had unique ingredients local to their region that created different flavors.
Tony was another spectator who enjoyed tasting at the event.
Overall the event was an amazing time filled with great, enthusiastic people that love whiskey and the whiskey making process. As for my personal favorite, the Crown Royal XO brand was the smoothest finish of them all!
Always enjoy responsibly!
Podcast: Play in new window | Download