By Zoe Klopfer
Long Beach, CA — Pulling up to the Queen Mary ship in Long Beach CA, the spirit of Christmas hit you as soon as you enter the Queen Mary grounds! The whole Queen Mary was covered in beautifully sparkling Christmas lights and beautiful tables set for dinner. The mood was totally set for the "Oldies but Goodies Dinner Show" live music performance aboard the ship.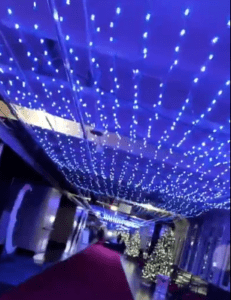 It is Victoria's (the coordinator of the event) dream to take the Oldies but Goodies show to many venues. It was a very special performance Friday night hosting at the Queen Mary since James King, the main performer of the night, used to frequently perform at the Queen Mary. Before he went on, James King shared his excitement on performing.
He sang beautifully and I felt as if I was full blown into the 50s/60s. He sang several Christmas classics and songs that were famously sung by artists such as Dean Martin, Roy Orbison, and even Frank Sinatra! I couldn't help but sing some of the songs that were performed and I even got serenaded during the performance of "Pretty Woman".
The vibe of all the guests was friendly and the food was amazing. I enjoyed the Chicken Florentine, while the vegetarian guests at my table had the Vegan Wellington dish. Of course, dessert was my favorite though, being the sweet tooth I am, with a deliciously rich chocolate mousse cake. Listening to my favorite Christmas classic songs in true Oldies but Goodies fashion!
James King even took me to the dance floor sharing a dance while he performed. The dance floor was flooded with cheerful dances and wonderful memories. The night was definitely memorable and I was able to enjoy it all while being aboard the beautiful Queen Mary ship! Views of the sea, city, wonderful music, and Christmas lights? What more can you ask for!
It was such a great time for the whole family to enjoy and to kick off the holiday season.
Thank you for having me, Oldies but Goodies Dinner Show!
Podcast: Play in new window | Download