Anaheim, CA —The 23rd Annual Taste of Anaheim event took place on May 17, 2018 — and it was nothing short of spectacular.
The event, which took place at the Anaheim GardenWalk, an outdoor shopping area, is a premier food and music festival which promotes Anaheim's food and beverage industry, while creating business development opportunities for a variety of Anaheim's businesses.
Over 45 restaurants were featured at the event, and I was able to get a taste of some of the best dishes they had to offer.
I started out at the Rainforest Café booth, which was decked out in tropical plants, beads, and white lights. I'm a BIG seafood fan, so I absolutely loved their Bollywood Grilled Swordfish and Shrimp with Curry and Anticuchera Sauce.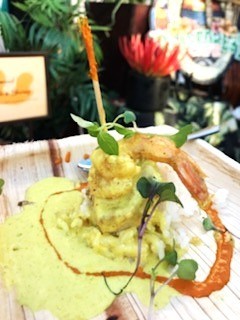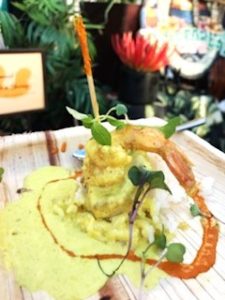 As I was enjoying my yummy dish from the Rainforest Café, I couldn't help but smell the sweet aroma of maple syrup. I looked around and noticed a long line outside the Roscoe's House of Chicken N' Waffles… so, that's where the smell was coming from!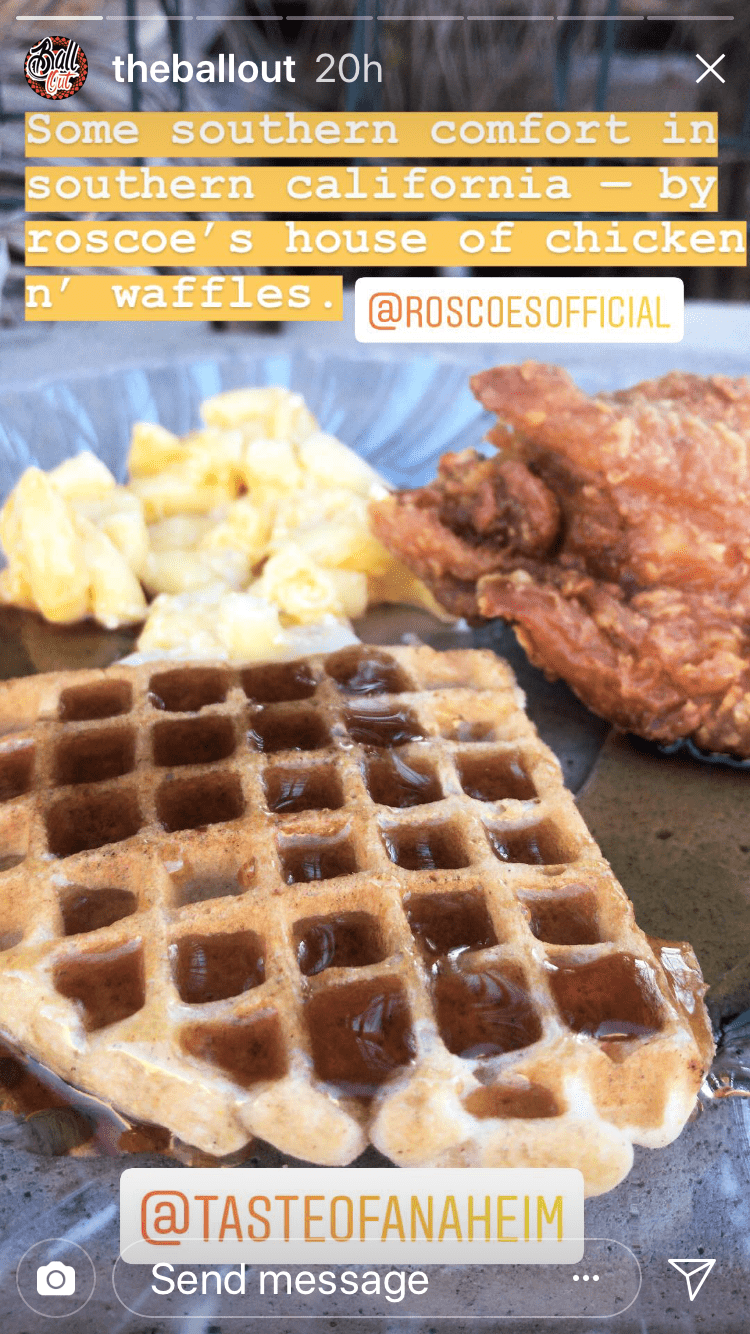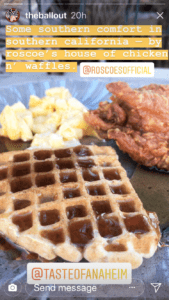 I waited in line for 10 minutes, so I knew this place had to be the real deal, and let me tell you — it was worth the hype! The fried chicken nearly melted in my mouth, and it was complemented with a crispy waffle doused in the best maple syrup I've ever had. Definitely a win!
This beautifully presented sangria from 5ifth Rooftop Restaurant and Bar caught my eye. It's five o'clock somewhere, right? I had to take a sip of the delicious drink, garnished with a lime slice and blackberry. 5ifth was also serving up some tasty chicken meatballs and chorizo macaroni and cheese. YUM!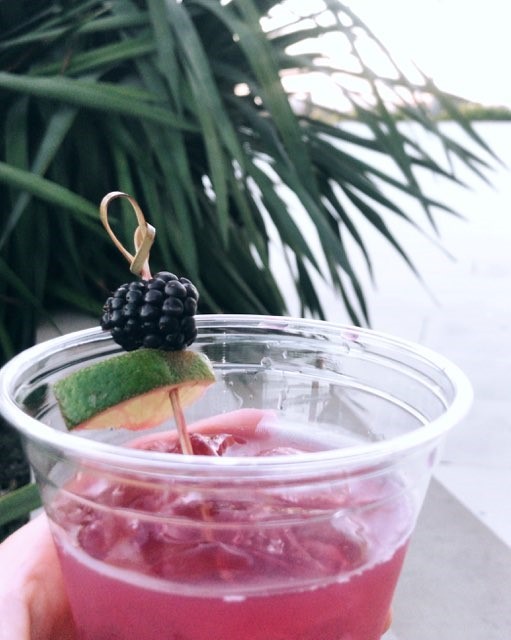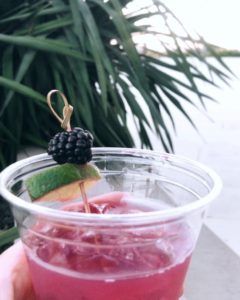 My next stop was Naples Restaurant & Pizzeria, where my taste buds were sent straight to Italy. Their bruschetta was INCREDIBLE, and it came with a side of tomato, olives and my favorite, mozzarella balls.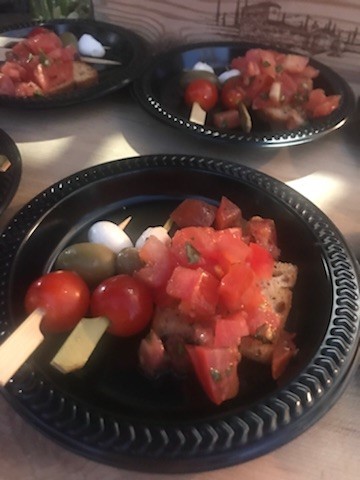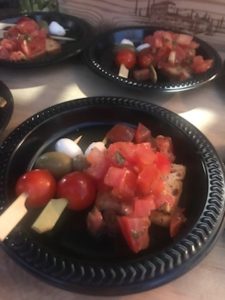 One of my favorite places to eat shrimp is Bubba Gump Shrimp Co., so I was pretty pumped to see they were one of the vendors at Taste of Anaheim! I had some delicious Marinated Garlic Shrimp and let me tell you it was AMAZING! Five out of five stars from me!
While passing by the McFadden's booth, I quickly snagged one of their samples. From the outside, it looked like a meatball. I was pleasantly surprised when I bit into it and tasted nothing but cheesy goodness; it was a macaroni ball! Let me say that again for the people in the back… a MACARONI BALL. Ugh, I'm in love.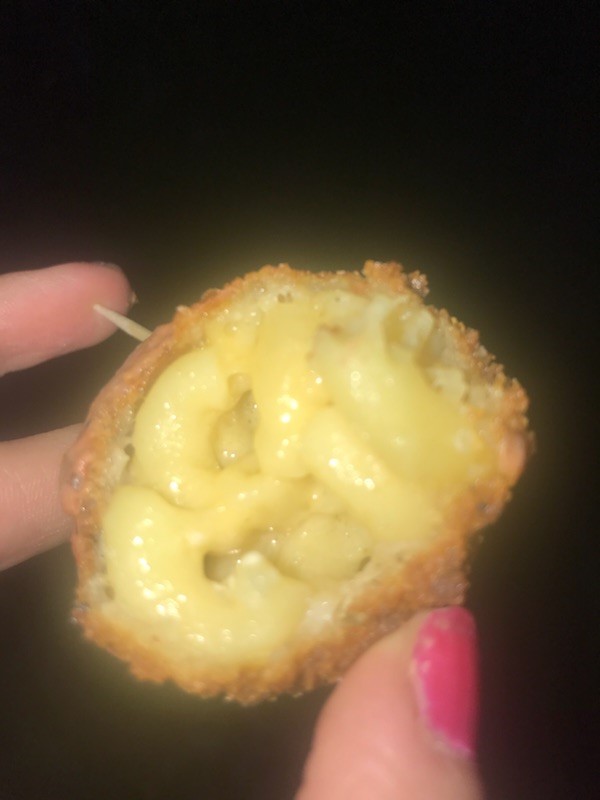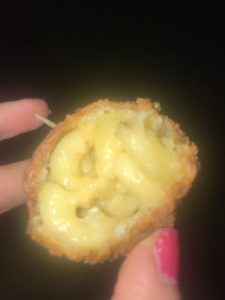 What's better than flowers? Flowers you can EAT! La Brea Bakery was giving out their signature bread pudding, topped with caramel sauce and edible flowers. Yes… it was as good as it looks.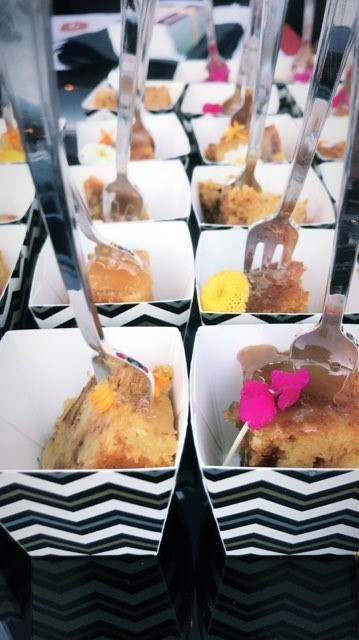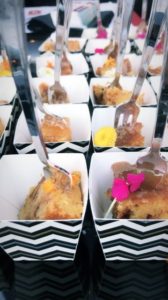 Even though I was stuffed from all the great food, it couldn't leave without something really sweet. There's ALWAYS room for more dessert, so I ended my night with a maple donut from Glee Donuts & Burgers, and an Suja Mighty Dozen juice from Suja Juice. I always buy this drink at Whole Foods — you'd never be able to tell it was packed with a punch of fruits and veggies because it's THAT good! I enjoyed my snacks while listening to The House of Blues Anaheim- a perfect end to a wonderful night!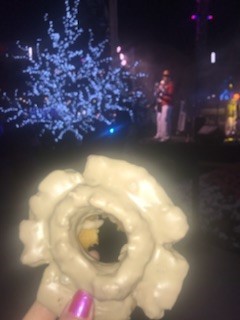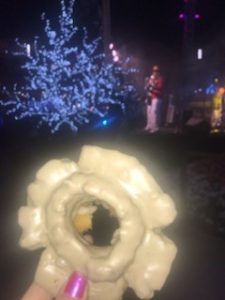 If you are local to Southern California, I highly recommend checking out this amazing event. And, if that's not enough to convince you, by supporting this festival, you are positively impacting Anaheim's overall economy. The Anaheim restaurant industry creates over 36,000 jobs in the City and generates over $900 million of economic activity in gross sales.
Come satisfy your cravings at the Taste of Anaheim!