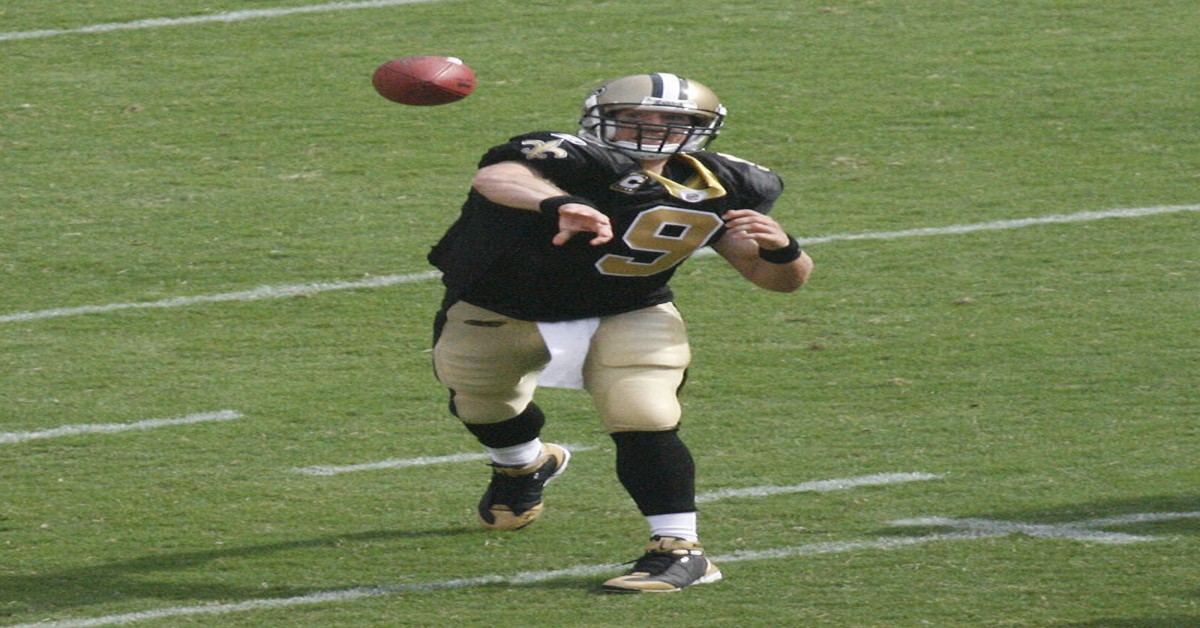 Peyton Manning has held the NFL's record for most passing yards with 71,940 – until now. Monday night, Drew Brees broke Manning's record after completing a 62-yard touchdown pass to Tre'Quan Smith to give him 71,968 passing yards.
Teammates rushed Brees immediately after he completed the pass understanding before the game history was on the line. Brees also was able to enjoy the moment with his family who was standing on the sidelines.
Drew Brees was mic'd up for the moment he made history ????

(via @NFL)pic.twitter.com/xGq1zjbFO0

— Bleacher Report (@BleacherReport) October 9, 2018
Last week the record was lingering and Brees discussed the special moment.
"It's crazy. I never would've dreamed. It just speaks to the longevity. And it says a lot about the teams I've been on, the coaches, the teammates, the players. Everyone has a hand in this, and I hope they know that."
With some comic relief, Manning had a special message for Brees on breaking his record.
Peyton Manning's message to Drew Brees is perfection ????

(via @Saints)pic.twitter.com/UooOSJRNFx

— FOX Sports: NFL (@NFLonFOX) October 9, 2018
Other celebrities also gave Brees praise for his record-breaking performance.
Congrats @drewbrees! What a way to set the record. Awesome to have your family there to enjoy that moment. #Respect

— kirkcousins8 (@KirkCousins8) October 9, 2018
Drew… you have inspired me. Grateful for you for doing it for the "Short Guys." @DrewBrees

— Russell Wilson (@DangeRussWilson) October 9, 2018
Incredible @drewbrees!!! #Legend

— JJ Watt (@JJWatt) October 9, 2018
Salute @drewbrees!! Congrats on the achievement/milestone. Sheesh that's a lot of passing yards!! ????????????????

— LeBron James (@KingJames) October 9, 2018
Congrats @drewbrees, proud to passed by a guy like you. All the best. https://t.co/CMd2G4nTZZ

— Brett Favre (@BrettFavre) October 9, 2018
Brett Favre also was passed tonight as he sits in third on the list with 71,838 yards.
Drew Brees' close friend and New Orleans' own @TheEllenShow with a message for No. 9! #goSaints pic.twitter.com/N9OzS565C8

— New Orleans Saints (@Saints) October 9, 2018
"[But] it's special, just to know that no one in the game has done what you've done," Mark Ingram II stated on his teammate. "And it just says a lot [about] him, about his work ethic. He works every day to be the best, and he deserves it. So we're all behind him and we all want to see him get every single passing record there is known to man, because he deserves it."
After the beating Brees and New Orleans put on Washington, there's no telling how many more yards he will add to his record. The new record holder finished Monday night's game with 26-for-29, 363 yards, with three touchdowns.
This won't be the last record the Saint' quarterback breaks either. As Farve said, Brees is knocking on the door of breaking the all-time record for touchdown completions, when will that milestone happen?