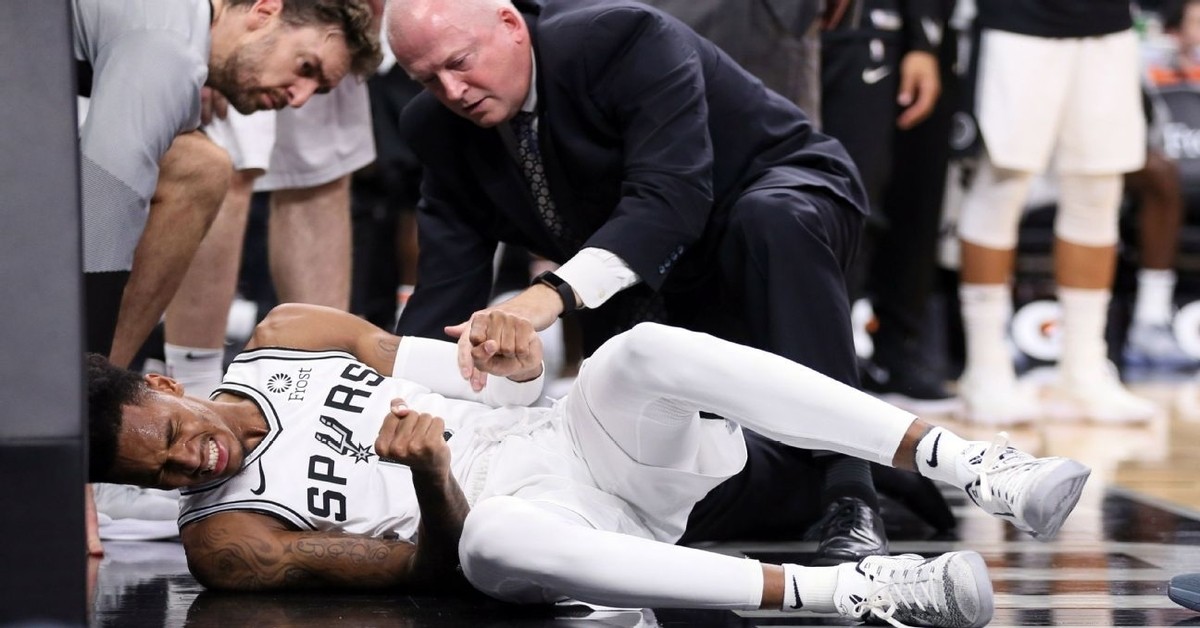 According to reports, San Antonio Spurs announced Monday that starting point guard Dejounte Murray tore his ACL. His injury occurred in the team's preseason loss to the Houston Rockets on Sunday. They did not announce a timetable for his return, however, it's likely he'll potentially miss the rest of the 2018-2019 season.
"Devastating injury for him and the team, but life goes on," coach Gregg Popovich said in a statement. "Everybody will pick up, and we will do the best job we can to carry on without him."
In the second quarter of the preseason contest, Murray drove past James Harden on the fast break looking to score an easy basket. But, as he was exploding to the basket, his knee would give out and he was on the floor wincing in pain. Murray would waive off the wheelchair that the Spurs medical staff would offer to him to help him off the floor and would leave under his own power. He would be applauded by Spurs fans as he walked off the floor.
Murray played in 81 games last season for the Spurs and replaced Tony Parker as the team's starting point guard. In his 48 starts, Murray averaged 8.1 points, 5.7 rebounds and 2.9 assists on 44 percent shooting.
The 22-year-old guard was named to the second-team member of the NBA's All-Defensive Team second-team last season, the youngest player awarded the honor.
The Spurs are in a funny place this season. Duncan and Ginobili are retired, Parker goes to the Charlotte Hornets and you shipped Kawhi Leonard off to the Toronto Raptors. So essentially, the "dynasty" is now over in San Antonio.
Even with players like Rudy Gay, LaMarcus Aldridge  DeMar DeRozan on the roster, you're looking at a team that honestly no one is really looking at as a threat in the Western Conference, but they're a team that you don't want to sleep on because we've done that for at least the better part of a decade and Greg Popovich is still the head coach.
However, this injury puts a big dent in San Antonio's sails because you're now going to be without your two young guards. Not only do you lose Murray for what could potentially be the rest of the year but you already lost your rookie guard, Lonnie Walker IV for several games as he nurses a torn meniscus.
So, now you're thin at the guard spot. Of course Patty Mills is always a guy that has and will be ready to take on that starting role for Popovich, however, he's now going to be looking down at that bench and realize that he doesn't have too many options coming off the bench. In addition, who does San Antonio find on such short notice to play backup point guard with the season beginning in a couple of days?
Are you going to play Bryn Forbes heavy minutes in the rotation? Derrick White is an option but he only played 17 games last year. Do you look to free agency for a point guard? This is a team that's looking to make the postseason for an NBA record 22nd consecutive year. In addition, were sold on Murray, DeRozan, and Aldridge to lead that ship.
This injury came at a bad time, however, if there's a coach that can turn lemons into lemon meringue pie… it's Popovich.
The San Antonio Spurs will start their season on Wednesday, Oct. 17 at home against the Minnesota Timberwolves.