The stage has been set, and the lights couldn't be brighter for what promises to be an exciting WNBA Finals.
On one side of the court, are the underdog Washington Mystics, who are making their Finals debut. On the other end, you have the highly favored Seattle Storm, two-time champions and the best team in the league. If their regular season match-ups are any indication, we are in for a potential all-time series.
While Seattle won the season series two games to one, neither of them were blowouts (winning by a combined 10 points). In Washington's lone win (August 9th), they stomped a mudhole in the Storm, winning by 23. However, that was the regular season. The postseason is a whole different beast, as Seattle guard Sue Bird can attest to.
The Storm beat the Phoenix Mercury in an intense five-game semifinal series, but it was far from easy. Bird had to wear a mask for the deciding Game Five after breaking her nose in Game Four. While she's been to the Finals before, she had been telling her teammates that this experience was much different.
"We talked in the semifinals and I think that was a great experience for our team to have to gut it out in a Game 5 and have to find a way to win," Bird said. "To have a tough loss in Games 3 and 4. Those were tough losses. Also to win in a tough manner. These are all experiences that you try to put into words but until you feel it you won't know. Some ways I'm really thankful we did all that in the semifinals and now we can take that with us to the Finals."
For Washington, this is a new frontier. Most of the players on the team were in elementary school when the Mystics made their debut in 1999, and of them, only two of them have made it to the Finals (Elena Delle Donne – 2014; Kristi Toliver – 2015, 2016).
For Toliver in particular, this appearance is special to her. As the lone champion on this roster already (2016 with the Los Angeles Sparks), she has now helped to bring her "hometown" team to their first-ever Finals appearance (Toliver was born in Virginia, and played her college ball at the University of Maryland). When asked about how she felt about this accomplishment, she was proud.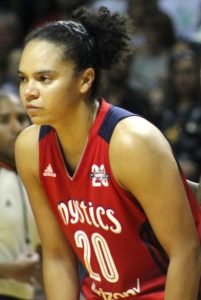 "It's why I left," Toliver said. "I wanted to make history, and we were able to do that by reaching the Finals, but it's certainly not the ultimate goal. There's still work to be done, but it feels good to be a part of something special and a part of something new."
Delle Donne, who went to the Finals with the Chicago Sky back in 2014, has maintained that the key to beating the Storm is to not get over-excited because of the stage they are on. When she was asked about how the Mystics plan to do that, she went into detail.
"We'll just keep reminding them of the specifics that we need to maintain throughout the game to try and get a win," Delle Donne said. "We will focus in on the process and what we can do in the moment. You can't look too far ahead or behind, you have to be in the moment. Everyone has done a great job so far with their nerves this series. We've had a few one-and-done games so we've had some nerve-wracking series so far and hopefully we can build on those."
One player who won't have to worry about nerves is Seattle's Natasha Howard. While this is her first trip to the Finals with Seattle, Howard has played in the last three as a member of the Minnesota Lynx, winning two of them. For her, the experience of past Finals appearances has helped both her and the team for what lies ahead.
"Those experiences have prepared me a lot, playing behind great players and Olympians," Howard said. "It prepared me and also my teammates the whole season, what we put in the off-season, the preseason and now. We put it all in and just played."
Howard, along with Bird, are the only members of the Storm with Finals experience. And while they are the veterans on this young squad, it was the youth movement, led by league MVP Breanna Stewart, that guided them this far.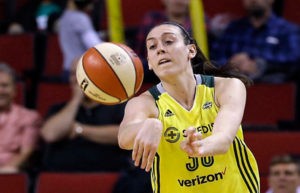 Stewart, in her third year, put the Storm on her 6'4″ shoulders and took them to the promised land. Her career-high 21.8 points per game (2nd in the league) and 41.5 percent three-point shooting was a primary reason behind the Storm's league-best 26-8 record.
Game One of the WNBA Finals is on Friday, September 7 at the KeyArena, with TV coverage on ESPNEWS.
Before joining The Ball Out, Chris Bullock was part of SB Nation's Swish Appeal for nearly three years, covering everything women's basketball. Chris has had the honor of doing live coverage of the WNBA Finals, the NCAA Tournament, and also was given his own column, "The Triple Double". A self-described "foodaholic", Chris lives in the San Diego area with his wife and two daughters, and also hosts his own podcast, "Conscious Cravings", where he speaks about his experience as a mental health advocate.