Hollywood, CA — Along the buzzing craziness of Hollywood Boulevard lays Wood & Vine, a New American restaurant and cocktail bar. I walked inside, and back to the courtyard, where I was greeted with smiling faces, a glass of sparkling rosé and charcuterie board complete with bread and prosciutto.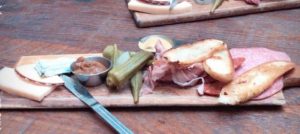 The quaint, little restaurant has a homie, backyard feel- one would never guess it was settled along the Walk of Fame. String lights hung from the trees, as an old romance movie projected onto the structured walls.
As we all took our place at the table for the 'Vine To Vine' food and wine pairing, Geoff Graber took the mic to explain his company, San Sé Wines. Named after San Sebastiån, the wonderful Basque city of epicurean delight, San Sé features extremely limited release Sauvignon Blanc and Pinot Noir from California's Santa Ynez Valley.
Graber discussed the subtle differences between vintages of Sauvignon Blanc and Pinot Noir.
https://www.instagram.com/p/BlH1pRHFqOT/?taken-by=theballout
Wood & Vine's Executive Chef, Jennifer O'Neil, paired the wines with four courses — all of which did not disappoint.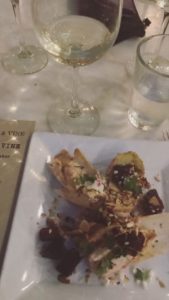 Course 1: 2014 Sauvignon Blanc, Endive, Feta, Roasted Red Beets, Candied Walnuts, Pomegranate Dressing
I was not a fan of beets… until I tried this dish. The Sauvignon Blanc was light and sweet, perfect for a hot, summer day. Course 1 was just a preview of the deliciousness that was coming.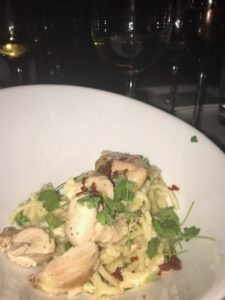 Course 2: 2015 Sauvignon Blanc, Chicken Carbonara, Peas, Bechamel, Prosciutto, Pasta
All I can say is, WOW. This dish left me at a loss for words. The creamy cheese on the Chicken Carbonara melts in your mouth, and the chicken was cooked to PERFECTION. The Sauvignon Blanc tasted similar to the one is Course 1, but a bit stronger.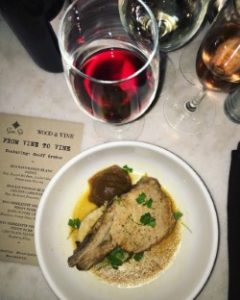 Course 3: 2013 "Fiddlestix Vineyard" Pinot Noir, Bone-In Pork Chop, Mandarin Orange Glaze, Rice Pilaf
I am not much of a red wine gal, but the Pinot Noir was definitely a win. It complimented the orange glaze on the pork so wonderfully. Chef O'Neil put an interesting spin on the dish by adding a small side of apple sauce, and I LOVED it.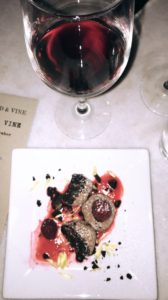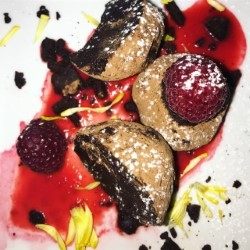 Course 4: 2014 "Fiddlestix Vineyard" Pinot Noir, Chocolate Truffles, Raspberry Filling
The moment we have all been waiting for… DESSERT, featuring my favorite: chocolate. These truffles were so rich and decadent. And, nothing pairs better with chocolate then some Pinot Noir. This Pinot was the driest of the bunch, but, needless to say, it was incredible.
It was a night well spent with lovely company in Hollywood. I left with a full heart and an even fuller stomach.
If you live in or near Los Angeles, I highly recommend attending Vine To Vine. It is the perfect way to unwind and enjoy some great food and quality wine.
The next event will be held on Wednesday, August 1st and feature Ascension Cellars, a premium, boutique winery specializing in barrel-select, handcrafted Rhône and Bordeaux-style wines. You won't want to miss it!