Kansas City, MO — Good food, good wine, and good company make for a perfect evening. The Orin Swift Wine Dinner in Kansas City provided me with all of these things. The all-inclusive dinner at the Pierpoint's restaurant in Union Station featured a four course dinner — three more courses than I'm used to — and a different wine with each course.
Before we were even seated, a Blank Stare Sauvignon Blanc wine was served with savory beignets as appetizers. I considered this part of the night the "pre-appetizer," however, on the menu it was officially named the "Amuse."
After all guests were settled, a roasted bone marrow was served to get the party started. The marrow was filled with broiled lobster and grilled peaches, providing the perfect combination of savory and sweet. A Mannequin Chardonnay was paired with the first course.
As the sky got darker, the wine did too. The second course highlighted a Slander Pinot Noir, my favorite, with gournay gnudi. For those of you that do not know what gournay gnudi is, the best I can describe it is a small fried ball full of cheese, but fancier. And delicious.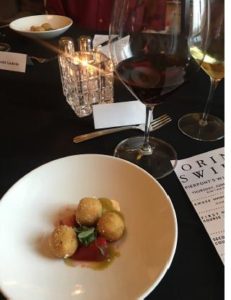 Finally, course three rolled around, offering the main course: a juicy, 28 day-dry aged Kansas City Strip steak. And of course, like the previous two courses, we were served with yet another decadent wine. This time we sipped on a Cabernet Sauvignon.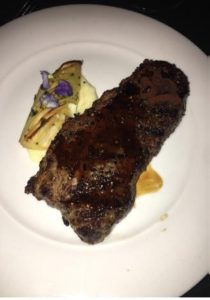 And last, but certainly not least, dessert was served. A dulce de leche tarta was paired with a sweet dessert wine, Nv Mutè. It was so pretty that I (almost) didn't want to eat it.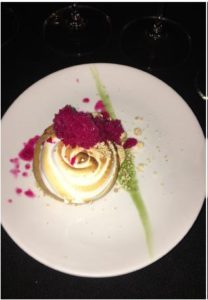 Overall, the entire evening was very high-class and full of excitement. There were less than 30 people at the event, providing a very prestigious feel. The food was amazing and the wines were perfectly paired.
However, the best part of the event was learning the history of all of the different wines and picking out favorites with everyone I was seated with.
I tasted foods that I had never even heard of and left with a satisfied stomach.
Cheers!