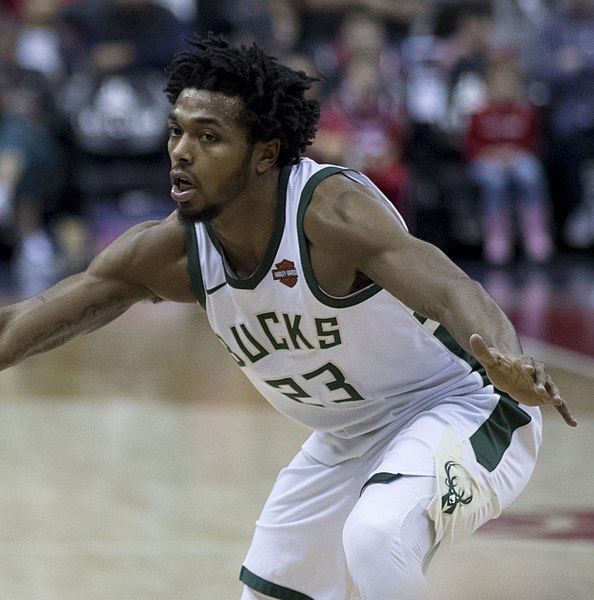 Sterling Brown of the Milwaukee Bucks has filed a lawsuit against the city of Milwaukee and its police department over its excessive use of force during an arrest for a parking violation in January.
The lawsuit, filed by Brown's attorney Mark Thomsen, accuses police of "discriminating against Mr. Brown on the basis of his race," alleging that the officers involved in the arrest framed the incident report in a way that made Brown look like he resisted and obstructed arrest.
After filing the lawsuit, Mr. Thomsen said that his client hopes the city will take accountability for their wrongdoing.
"Mr. Brown hopes that instead of the typical denial of the claims … the city actually admit to the wrongs, admit that his constitutional rights were violated," Thomsen said at a news conference outside City Hall.
According to police body-camera videos, Brown had been talking with officers while waiting on a citation for illegally parking in a disabled spot at a Walgreens around 2 a.m. on Jan. 26, when officers took him down after he did not immediately take his hands out of his pockets as ordered. While he was down, one of the officers yelled for a taser. In the videos, Brown never appeared to threaten police before or during the arrest.
Police Chief Alfonso Morales did not respond to an Associated Press request for comment, but apologized to Brown in May after footage of the arrest was released. Brown was not charged, and three officers were disciplined via suspension with varying lengths up to 15 days. Eight other officers were ordered to undergo remedial training in professional communications.
According to the lawsuit, a group of officers synchronized "their stories concerning what took place in the parking lot, in an attempt to protect themselves from backlash over confronting an NBA player.
One of the officers named in the lawsuit, Erik Andrade, reacted to the arrest in excitement, as screenshots of his Facebook page shared in the lawsuit. In one of the posts, Andrade mocked the Bucks' in-game war cry when talking about Brown's arrest.
"Nice meeting Sterling Brown of the Milwaukee Bucks at work this morning! Lol #FearTheDeer," Andrade said in that particular post. Andrade also made similar remarks about the Cleveland Cavaliers' J.R. Smith and Kevin Durant of the Golden State Warriors.
"Defendant Andrade's post is an admission that he and other Defendant officers are allowed to engage in unlawful attacks of African Americans without justification and then relish such events without any fear of real discipline," the lawsuit states.
While the police have only released body-camera footage of the first officer that contacted Brown, additional body-cam and squad car footage have shown the moments after the stun gun was used on him. In one, an officer put one of his boots on Brown's ankle after he had already been handcuffed and taken down. When asked why, the officer said it was to prevent Brown from kicking anyone. Other videos shows officers discussing the possible implications of them arresting a black Bucks player, with one saying that the department would be perceived as racist if anything went wrong.
In an interview with the Journal Sentinel last month, Brown said that he "gave in" when police used a stun gun and that he didn't do anything to resist because he didn't want officers to "pull out their guns."
"I was just being smart. I just wanted to get out of the situation and get home," he said.
In a written statement, Milwaukee Mayor Tom Barrett said that he hopes the lawsuit produces a positive outcome.
"I'm hopeful this incident will be a turning point and allow us to take those actions necessary to improve police community relations," he said.