Gabe Vincent doesn't give a damn!
Jimmy Butler doesn't give a damn!
The Miami Heat don't give a damn!
The Miami Heat's Unwavering Determination
In a postgame interview on NBA TV, after the Heat won 111-108 to tie the NBA Finals at 1-1, Gabe Vincent made it clear that the team is not concerned with anything but winning.
"I speak for my whole team when I say we don't give a damn," Vincent said. "We just want to get four wins. We don't give a damn about none of the other stuff. We don't care. Four wins, that's all that matters."
This unwavering determination has made the Miami Heat a formidable force in the basketball world, consistently proving themselves as more than just another eight-seed team.
The "Don't Give a Damn" Factor
The Miami Heat's grit, toughness, and fight have been apparent all season. Miami superstar Jimmy Butler attributes this to the team's "I don't give a damn" factor. It's time for fans and pundits alike to put aside assumptions based on seeds, player rankings, and other external factors and recognize the undeniable truth:
The Miami Heat are DAMN good!
Miami Heat's X-Factor in Heat vs Nuggets: Gabe Vincent
Gabe Vincent, an undrafted free agent from UC Santa Barbara, has been turning heads and dispelling the undrafted rookie narrative. Vincent has proven that he not only belongs in the NBA but that he thrives on the biggest of stages.
"I know the level of confidence that we have in him, that he has in himself," Butler said of Vincent.
Vincent credits his teammates for their unwavering support and trust in his abilities.
"Our stars, Jimmy, Kyle, Bam, they've just been in my ear," said Vincent. "They trust my IQ of the game."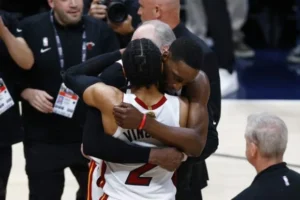 This level of confidence and trust has allowed Vincent and the Miami Heat to continue defying expectations and proving their worth in the NBA.
In conclusion, the Miami Heat's unapologetic confidence, unwavering determination, and "don't give a damn" attitude have made them a force to be reckoned with.
Led by Gabe Vincent, the team continues to defy expectations and prove that they are not just another eight-seed but a legitimate contender for the NBA championship.
Doubt the Miami Heat at your own peril because, guess what? They don't give a damn!
That's how they got to the NBA Finals in the first place!