Stewart Rhodes, leader of the Oath Keepers, sentenced to 18 years in prison
The founder and leader of the far-right, anti-government Oath Keepers militia, Stewart Rhodes, was sentenced to 18 years in prison Thursday on seditious conspiracy charges for his role in the attack on the Capitol on Jan. 6, 2021.
The sentence is the first handed down in over a decade for seditious conspiracy and the most severe sentence so far in all of the criminal cases stemming from the 2021 attack on the Capitol.
"What we absolutely cannot have is a group of citizens who – because they did not like the outcome of an election, who did not believe the law was followed as it should be – foment revolution," District Judge Amit Mehta said before handing down the sentence. "That is what you did."
The attack on the Capitol sparked following the news of then-President Donald Trump's defeat in the 2020 Presidential election.
"I dare say, Mr. Rhodes – and I never have said this to anyone I have sentenced – you pose an ongoing threat and peril to our democracy and the fabric of this country," Mehta said.
"A seditious conspiracy, when you take those two concepts and put it together, is among the most serious crimes an American can commit," the judge said. "It is an offense against the government to use force. It is an offense against the people of our country."
Serena Williams shared the news with daughter of new bundle of joy
Olympia, the daughter of Serena Williams and Alexis Ohanian, shared her excitement about becoming a new, big sister.
Williams posted Olympia's reaction on her YouTube channel, and the internet couldn't get enough of Olympia's anticipation.
"Olympia does not know right now that I am pregnant," Williams, 41, said in the video posted Tuesday.
"But she did call me fat, and then she got really stressed out," she joked. "She was like, 'Mommy, you're fat.' I try not to take it personal 'cause I'm, like, super into fitness, but I'm like, 'Um, am I?.'"
In the video, The 5-year-old, patiently listens to what her mother has to share.
"Well, we went to the doctor, and it turns out I'm not getting fat, but I have a baby in my belly," Williams said.
"Are you kidding me?" Olympia said before hugging her mom and jumping up and down. "Oh my god, I'm so excited!" she said.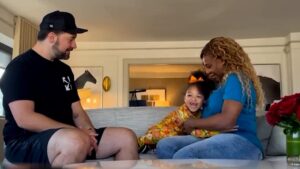 The couple shared the big surprise to Olympia right before they attended the Met Gala.
Remembering George Floyd three years later
Today marks the third anniversary of George Floyd's murder — a police killing that shocked the entire country and sparked a new conversation about police handling of Black men.
A white police officer named Derek Chauvin kneeled on Floyd's neck for more than nine minutes on May 25, 2020. The entire incident was caught on video — shocking the world. Floyd begged and pleaded with Chauvin to take his knee off his neck — claiming he couldn't breathe.
"I can't breathe," Floyd said numerous times to Chauvin, but Chauvin never moved.
Chauvin was found guilty of Floyd's murder and was sentenced to serve 252 months in prison with credit for time served for depriving George Floyd Jr. and a then-14-year-old child of their constitutional rights, according to the Department of Justice.
On Dec. 15, 2021, Chauvin pleaded guilty in federal court to violating a federal criminal civil rights statute on two separate occasions. First, Chauvin pleaded guilty to willfully depriving Mr. Floyd of his constitutional right to be free from the use of unreasonable force by a police officer, resulting in Mr. Floyd's bodily injury and death, according to the Department of Justice.
Now, since Floyd's murder, proponents of federal actions — such as banning chokeholds and no-knock warrants and changing qualified immunity protections for law enforcement — still await change.
Because this change still awaits, President Biden addressed the anniversary of Floyd's death by calling on Congress to pass police reform legislation.
"George Floyd's murder exposed for many what Black and Brown communities have long known and experienced — that we must make a whole of society commitment to ensure that our Nation lives up to its founding promise of fair and impartial justice for all under the law," Biden said in a statement.
George Floyd leaves behind a daughter, Gianna, who recognizes her father as someone who changed the world.
"I'll never forget Gianna Floyd's words: "Daddy changed the world," President Biden said in a post on Twitter. He has – unifying people of every race and generation in peace and with purpose to say: Enough. Hate can never have safe harbor in America."