Miami, FL– Miami Spice is one of the most expected times of the year for Floridian foodies! If you're new to the term, I'll explain: Miami Spice is a type of a restaurant trial, running every year from August to September with selected and premium establishments provide a special three-course menu at an affordable price (around 30-40% discount from original price).
One of the most sought-after participant restaurants is Juvia. Located in Miami Beach, in the middle of famous Lincoln Road, Juvia is a mix of French, Japanese and Peruvian cuisine that is named after the indigenous Brazilian nut tree. Due to its increased popularity and amazing food, Juvia couldn't be left out of Miami Spice.
This year, the three-course menu costs $60 per person, featuring a choice of appetizers, main course and dessert.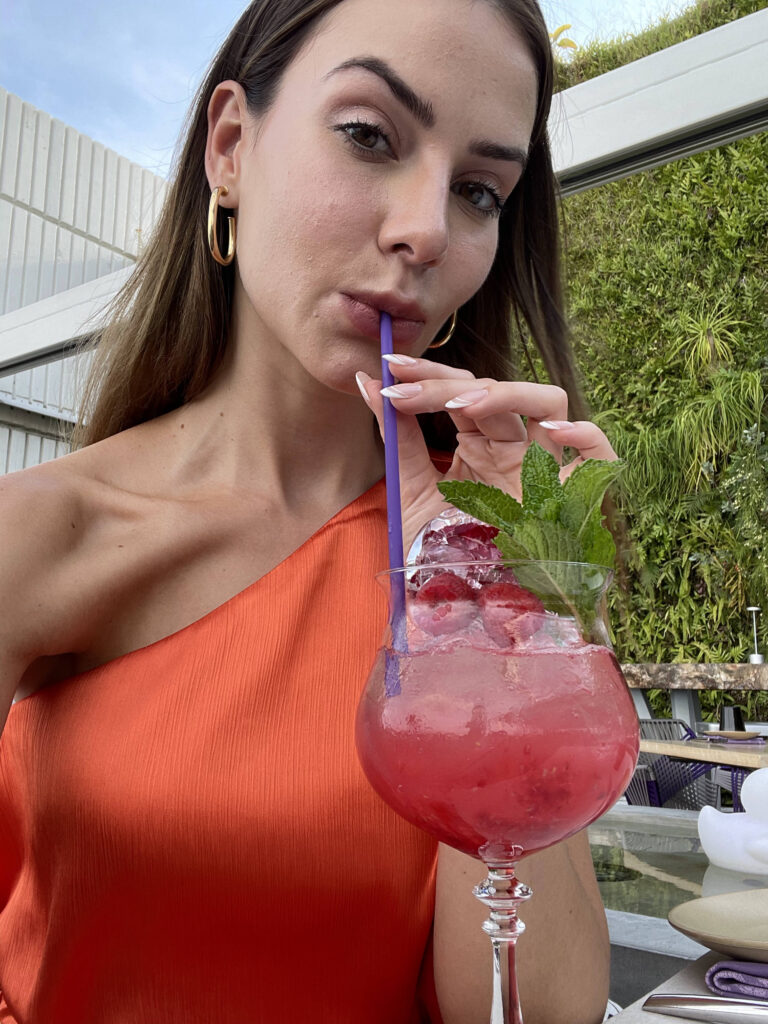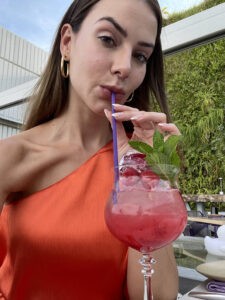 The appetizer options were a delicious vegan-lover option, the Miso Glazed Eggplant: an explosion of sweet and sour with a Japanese aftertaste – 100% recommended if you're not into meat. As for a lighter option, I would recommend the Watermelon Salad that is served with cherry tomato, feta cheese and cucumber in a white balsamic vinaigrette. Now, if you're not a vegan or into salads and you're looking for a spicy taste, I would totally recommend the Salmon Tiradito: fresh, citric and creamy at the same time. For a hot option, the Pork Belly Harumaki was my go-to! Mixed with carrots, mushrooms and bell pepper you just dive into its mustard honey sesame sauce and you'll thank me later.
While I waited for my main course I ordered a glass of Juvia's signature cocktail — the Glamour. In a beautiful presentation served with spherical ice that holds a flower inside, this drink mixes raspberry vodka, Prosecco, fresh raspberries, grapefruit juice, and lime juice. One word for this drink: fresh!
After a much-anticipated wait, the main course was finally here! I opted for both the fish and the steak and also a vegan option to give you my best opinion. Starting with the Branzino I was actually impressed with the variety of flavors this dish presents. Served with mussels, calamari, choclo butter rice, and ají amarillo cream sauce this is the typical plate that just makes sense! The final touch with pink pepper brings a slight necessary heat to your mouth that just wraps all the flavors together, it was very good!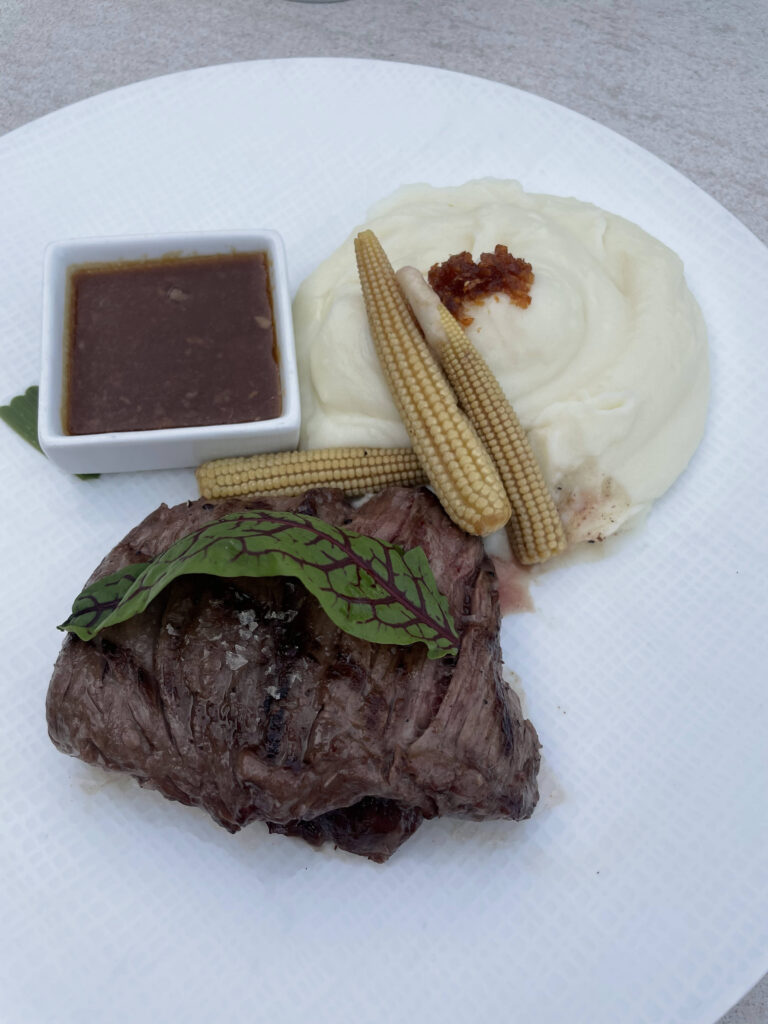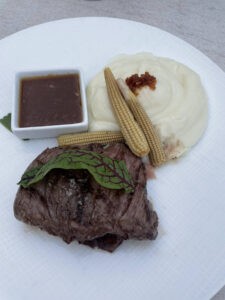 As for the steak, medium rare for me please, it was served with perfect garlic mashed potatoes with a ponzu glaze and baby corn that reminded me of home – I felt hugged.
Last but not least, the vegan option was a Grilled Tofu served with vegetables and spicy sesame hoisin sauce in a beautiful presentation that made me wish the Tofu was cheese. Sorry, I try… but I'm not a vegan! Hard assignment now, choose my favorite! To be honest and make it easy for me and you, if you're a traditional eater go with the steak, if you want to try something new go for the Branzino, you'll love it, and if you're vegan you can have the tofu.
While waiting on dessert, I just wanted to mention that not only is the food great and gorgeous, but the staff is impressively friendly and knowledgeable on the menu. The ambiance is suitable for a romantic dinner or gathering with friends!
Dessert was served and I had the Mango, Pineapple, and Passion-fruit Macedonia with Coconut Lime sorbet. This option is lighter and fresher and I love that the sorbet has lemon zest in it which makes it even better! The second option was the Crunchy Tiramisu with Mascarpone Vanilla Cream, Hazelnut Crumbles finished with Coffee and Milk Chocolate Chantilly which was actually my favorite.
The Miami Spice menu goes until Sept. 30th. Go check it out and let me know what was your favorite while dining at Juvia!