Inglewood, CA — Hey The Ball Out fam, it's your girl Lauren here, and I had the incredible opportunity to celebrate the progress milestone of Inglewood's Intuit Dome, aka, the future home of the LA Clippers. I was there last year for the groundbreaking ceremony. On Thursday, community leaders and media gathered at the construction site to hear the remarks of Mayor James Butts and Clippers Chairman Steve Ballmer.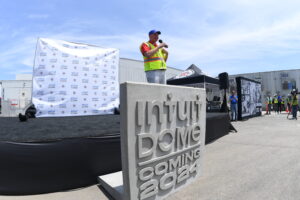 "I am incredibly excited about the building that we are building," Ballmer expressed. "For me, it has got to be a lot of things: we want the comfort and convenience of home, but the energy, excitement, and enthusiasm of being able to smell the leather on the ball as it's moving around the court."
Butts noted, "We really appreciate the Clippers not only for building this great addition to the city, but for committing to employing Inglewood residents at a rate of 30 percent. They have also committed to the biggest community benefits agreement in the history of sports, that's $100 million."
The Dome will feature a state-of-the-art scoreboard unlike anything seen in a basketball arena. It will also feature a section that Ballmer dubbed "The Wall," consisting of 51 rows of pure energy and cheering. The essence behind this was based on the exhilarating student sections at college hoops' top schools. The Intuit Dome is billed as the "sports, entertainment and retail Mecca of the world."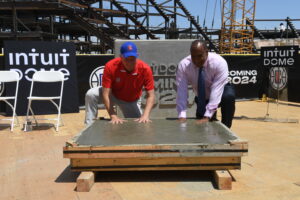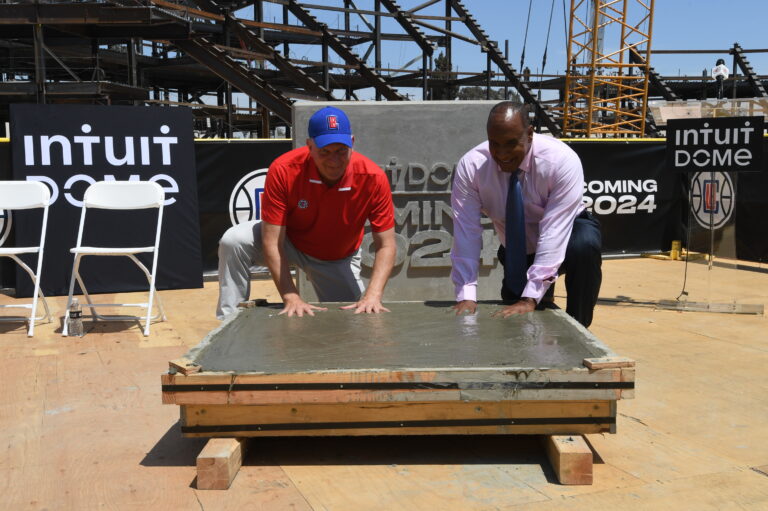 Thursday's celebration marked the completion of the steel and concrete frame that will become the 18,000-seat arena, which is on target to open in the fall of 2024. As Major Butts and Ballmer placed their hands in a special slab of cement as a construction keepsake, they cemented their legacy in what will be the Intuit Dome. Behind them lay the space that will become center court and the future site of the team's training facility, as well as the business offices.
The Dome will be lively with the sounds of music, chatter, and laughter in the outdoor area which will be full of bars and restaurants beckoning residents and visitors with sights, sounds, and smells. I can't wait to be there cheering loudly!